I love scrolling through Instagram, but my account has been looking rather sad of late. I was lying in bed the other night thinking, "Damn,  I forgot to post something on Instagram AGAIN!" I'm thinking about sewing and crafts everyday – so why is it so hard to remember to take a photo and share something on social media?
For me, it's difficult to think of what to post everyday and find the time to take photos. If only we had something beautiful at home to photograph and share with the world. THAT's when I had my "aha" moment.
We all have a stash of gorgeous fabric, pretty buttons and fluffy yarn in our cupboards, patiently waiting to be used. Let's show some love to our stash of beautiful things, with my 14 Day #ilovemystash Challenge!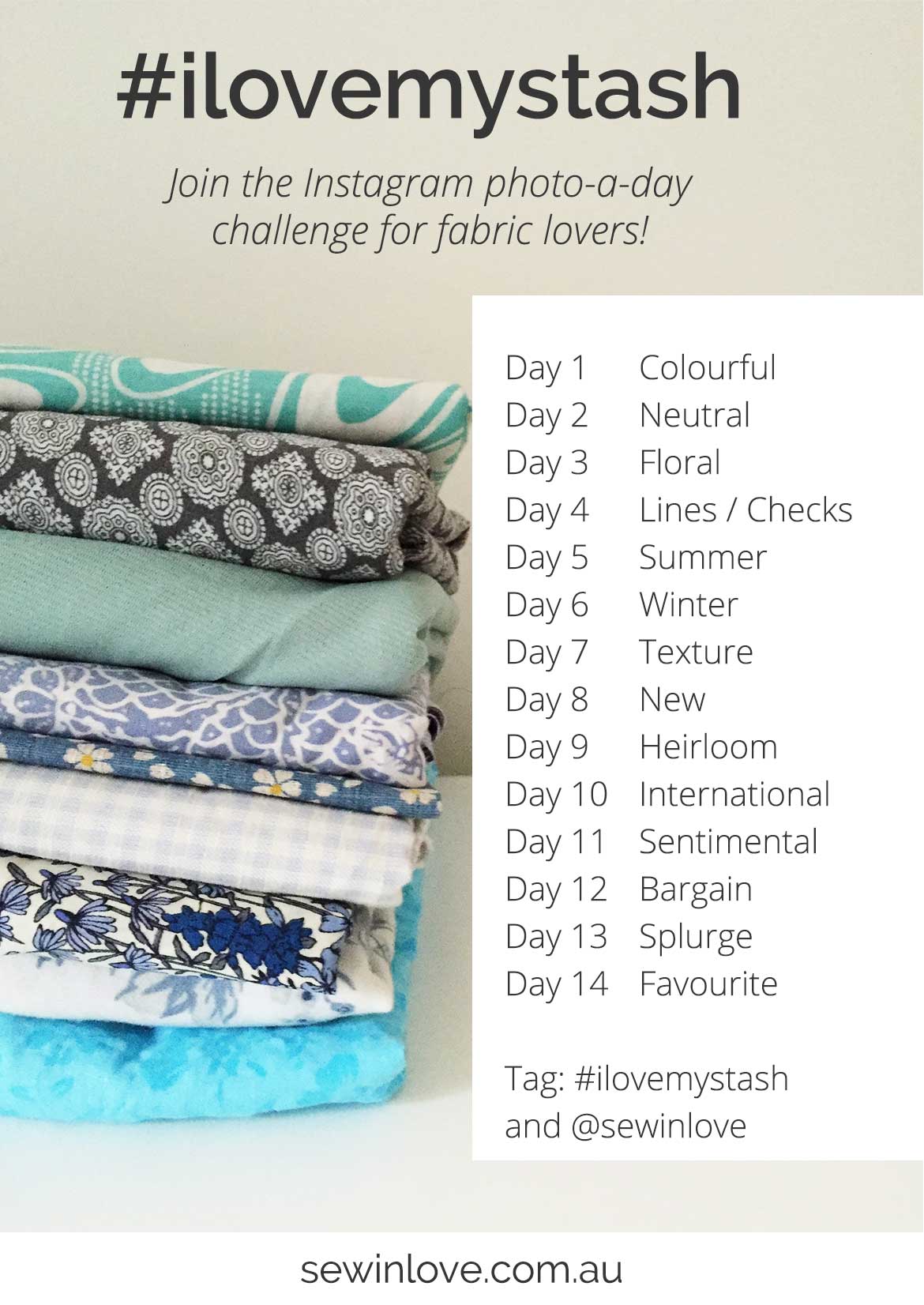 Join the #ilovemystash Instagram Challenge
Start Date:
Monday 18 July 2016
The Challenge:
Every day for 14 days, post a photo from your fabric / craft stash following the daily theme (below). You can post on Instagram, Facebook or Twitter.
Hashtags:
Let's all use #ilovemystash and make sure you tag me @sewinlove so I can see what you've posted!
End Date:
Sunday 31 July 2016
Themes:
Each day will have a theme to inspire your photo. For example, the theme for Day 1 is "colourful". Take a pic of the brightest fabric or craft notion in your possession and share it on Instagram! This is going to be fun 😀
Week 1 (18 to 24 July 2016)
Day 1
Colourful
Day 2
Neutral
Day 3
Floral
Day 4
Lines / Checks
Day 5
Summer
Day 6
Winter
Day 7
Texture
Week 2 (25 to 31 July 2016)
Day 8
New
Day 9
Heirloom
Day 10
International
Day 11
Sentimental
Day 12
Bargain
Day 13
Splurge
Day 14
Favourite
Are you ready to share your beautiful fabrics with the world? Let me know if you'll join me!