I have an exciting new sewing tutorial for you! It's a free sewing pattern for a reversible shift dress – or LBD (little boxy dress), as I like to call it.
The dress can be worn two ways; as a pleated crewneck…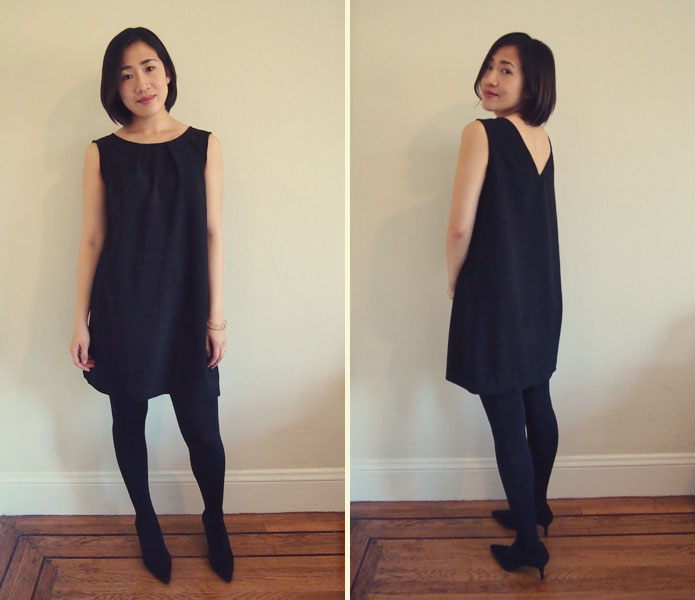 …or a simple v-neck.
You will need
Paper for drafting the sewing pattern
Muslin to test the pattern
Bias tape (0.5″ or 1.25mm wide) to test the pattern
Final fabric*
Matching bias tape (0.5″ or 1.25mm wide) for final dress
* I used a light to medium weight polyester suiting fabric.
You can make your own bias tape, especially for the test version of the dress. For the final garment, I used a ready-made black bias tape to match my final dress fabric.
Now a FREE online sewing workshop!
Due to the popularity of this tutorial, I've created a FREE sewing workshop to make it easier for you to keep track of all of the videos.
The Little Boxy Dress FREE Online Sewing Workshop includes:
5 x step-by-step tutorial videos to help you measure, draft, cut out and sew very own boxy dress pattern.
Invitation to my Facebook Group full of supportive women who will keep you motivated to stay creative and prioritise your sewing time.
NEW bonus video, "Way to Wear Your Boxy Dress" to show you all the wonderful ways you can enjoy wearing your new, handmade dress.
Join the FREE Boxy Dress Online Sewing Workshop now.
Over 2,000 Women Have Joined the Boxy Dress Workshop
Believe it or not, over 2000 people have now joined the boxy dress online sewing workshop since its launch. You are NOT ALONE in feeling the urge to make something with your hands!
Related post: See some of the boxy dress creations from other women who have completed the workshop.
PRIORITISE creativity in your life, by committing to an easy and fun sewing project. So you can feel a sense of accomplishment and rediscover the FUN and FREEDOM of creativity.
Join the free workshop today:
How to wear
Just a little sneak peek of the ways you can wear this dress once you've made it. This LBD is really versatile, so you can change its look by adding a belt or a statement necklace.
It's winter, so I've been wearing the dress with layers, like a shirt underneath or a cropped sweater on top.
Make sure you join the free workshop today: