I recently took part in my very first craft fair. My mum makes amazing bags and accessories from vintage kimonos (her shop
Umi Umi
has a new
Facebook page
), so we thought it would be fun to do a market stall together at a local Christmas craft fair. As a market stall novice, I can tell you that yes, it's most certainly fun to do a craft market, but it's also absolutely exhausting.
To ensure you get the best sales and impact for your hard work, here's 7 mistakes to avoid at your first (or next) craft fair: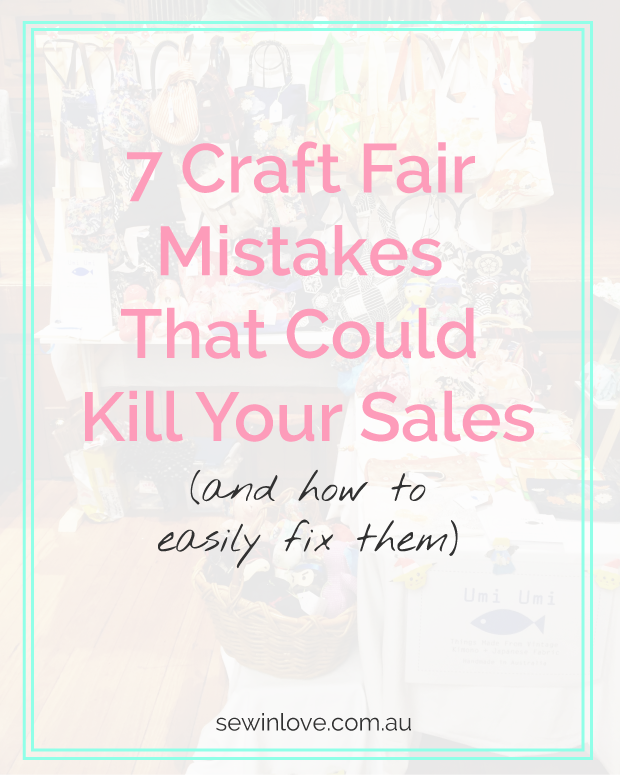 Giving Customers Too Much Choice

We had about 80 items for sale at our stall and none of them were the same. It's the nature of upcycling vintage fabrics, but I think the customers became a little overwhelmed by the amount of choice. For us, sticking to 3-4 bag styles only, such as a zipper pouch, a shoulder bag, a tote and a knot bag would have kept things far more simple. We would then just make as many of each style as possible in the same kimono fabric. Instead, we had multiple bag styles, each in a different fabric–way too much choice!

What I observed is that shoppers are limited for time as well as attention span. Many are shopping with kids in tow too, so getting them to stop at your shop for more than a quick browse is a huge ask. Try to stick to a streamlined range of products so that shoppers can take in all that you have to offer at a glance. If they like what they see, they'll hang around for a closer look.

Products Are Displayed Too Far Away

My Dad built us an amazing display stand for our stall. Lots of vendors commented on how quickly it came together; I think he should sell his CAD plans on Etsy! Whilst we had all our bags displayed beautifully, what I regret is the position of the display stand. We placed it at the back of our stall, whereas in hindsight, we should have placed it right at the front, next to the aisle. The reason for this, is that shoppers are extremely reluctant to walk off the aisle and enter stalls. Maybe they feel pressured to buy something once they enter "our" space? Whatever it is, people are much happier to browse from the safety of the aisle. That's why you need to place your products as close to the aisle as possible, like RIGHT ON THE BORDER of your stall perimeter.


Not Enough Lower Priced Products

Whilst we sold a good number of our $80+ bags, all the items we had for less than $35 sold out. People who bought the higher priced items were shopping for themselves, whilst the $35 products were purchased as gifts. Being a Christmas market, majority of people were shopping for gifts, so we really should have had more lower priced products available. I also believe the time factor applies again, in that the average shopper needs a lot more time to think about higher priced items–time they don't have at a busy weekend market.

Not Having Package Deals

You can make a purchase decision a lot easier for your customers by putting together deals. The shop next to us made baby accessories, and they had a special Christmas set consisting of a bib, teething ring and a headband. For us, we could have done a zipper pouch and tote set, because you can put little cosmetics in the pouch and stick it in the tote without the fear of losing all your small items in the tote. Special bulk buy deals gives the customer a nice gift package and a discount, plus, it helps you make more revenue per sale.

Pricing Can't Be Seen From Afar

We had each product very clearly tagged with a price, however, shoppers want to know the price before they enter your stall. Referring back to my point in #2, since they are reluctant to enter your shop, it's really important to have pricing written on a sign which can be read from far away. I think this gives shoppers reassurance that your products are within their price range before making the big decision to step into your stall!

Failing to Do Visual Merchandising

It's really difficult to imagine what a bag looks like on a person when it's just sitting on a table or hanging on a hook. Whenever we held a clutch bag or slung an obi tote on our shoulders, it's amazing how many people stopped to say, "waoh, that bag is really nice". I think a mannequin would have come in very handy at our stall as an additional display prop. But you can only put one bag on a mannequin, so perhaps some photos of a model holding a bag could help.

Take a look at window displays of retail stores you admire. They have Visual Merchandisers–people who specialise in making shop windows beautiful. It's a great source of inspiration for how to best showcase your products.

Treating Craft Fairs as a One Off

Don't think of your market stall as a one-off shop; rather, it's an important part of your entire marketing mix. You're putting your brand name out there and getting exposure to your target audience; people who appreciate handmade things. This is huge. Make sure you have business cards or a flyer stacked somewhere easy for shoppers to grab. Even better, get them to sign up to your mailing list. They might not be ready to buy something right there and then, but they could come back and buy something from your online shop later. This gives them time to think about buying a higher priced item as well.

Take the opportunity to talk to shoppers and listen to what they love about your brand. We had great conversations with people who had travelled to Japan and fell in love with the culture. It helped us learn that it's really important for our brand to emphasise our Japanese heritage because that's what makes us unique.
Did you find these tips helpful? Do you have any craft fair advice to share?