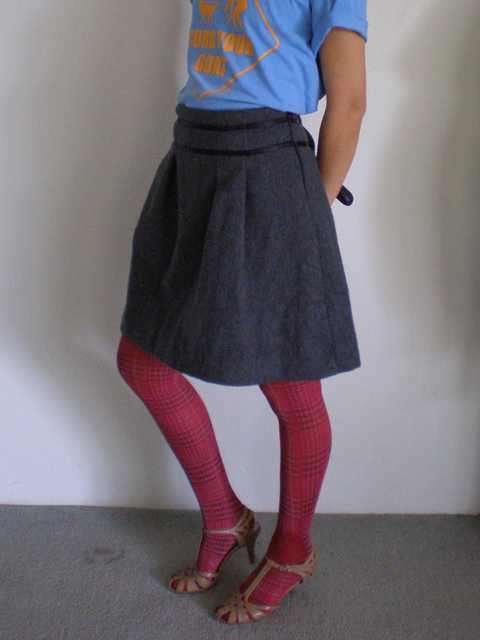 This is my first Burda pattern sewing project.  I was after a flattering skirt pattern, suitable to wear at the office, and found this A-line pleated skirt on BurdaStyle.  Apparently it is an "easy" pattern, but as usual, I made things far more complicated for myself by making it out of thick wool.  Believe it or not, this is leftover fabric from our dining chairs which I re-upholstered last year.  I covered the seats of our retro dining chairs using this grey wool.  It looks pretty strange when I sit at my dining table wearing this skirt!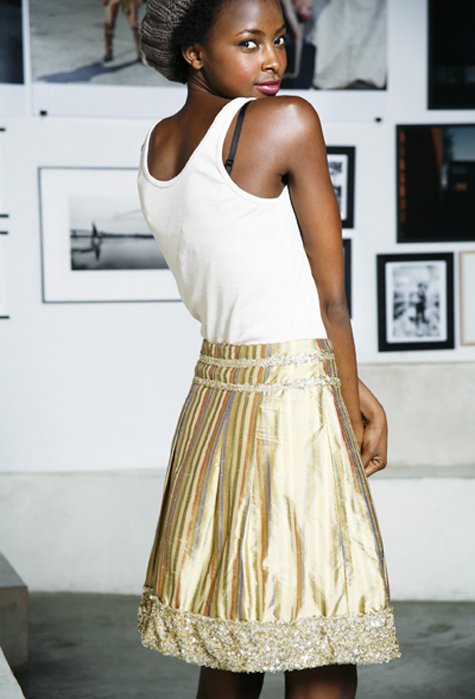 Perhaps the fabric is the reason why I failed.  I thought did a really good job making this skirt, however, it is way too big.  It's such a shame, because I went through the heartache to pressing pleats and basting them in place, taking weeks, because if the thickness of the fabric…but I can't wear this skirt.  I this photo, Dave used a clamp from his toolbox to keep the skirt from sliding down my waist.  Thats the black thing sticking out in the second photo.  Hilarious.
My mum thinks I may have stretched the fabric out, because I had to iron it to death.  I used the smallest size available.  I don't know what happened, but I am not that small, there are people a lot skinnier than me who have made this skirt successfully.  All I know is that I am keen to try again!