Our wedding was held on 5 May 2012 in Sydney at the scout hall where Dave did scouts as a young boy. This unconventional venue was just perfect for decorating with all sorts of lovingly handmade bits and pieces. Lots of vintage items were either hired, borrowed or brought in a van from our own apartment. This is just a snapshot of all the effort that our family and friends put in to make our wedding absolutely amazing. Most of the photos are courtesy of the very talented Vic from Victor Caringal photography. You can see more photos arranged in a far more artistic way on his blog post about our wedding.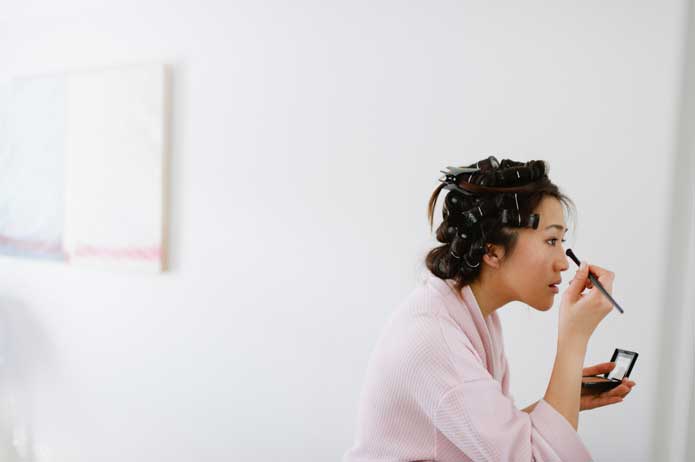 Getting ready: I did my own make-up and my Mum did my hair.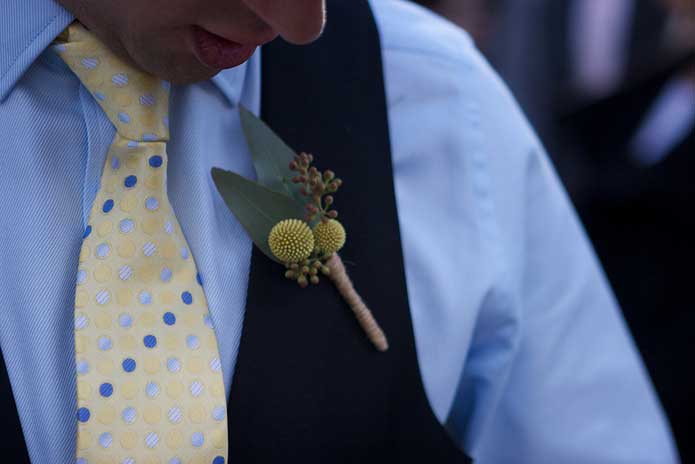 Beautiful bouquet made by our friend Tracey from The Designer Bird, answering my brief for a "rustic bouquet with Australian natives with lots of yellow" just perfectly. She also made a matching boutonniere for Dave, consisting of billy buttons, gum leaves and gum nuts.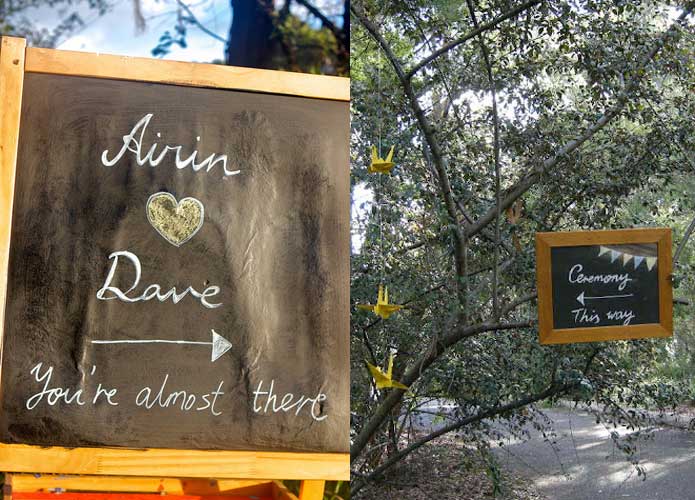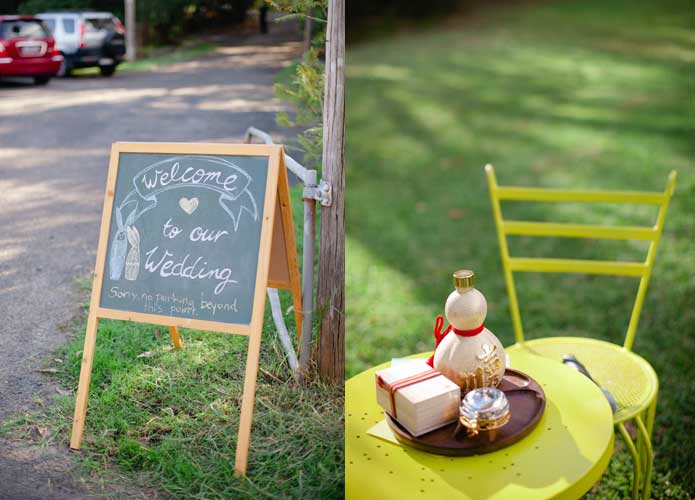 We had several chalkboard signs to guide our guests to our tucked away wedding venue. The ceremony included a Japanese sake ceremony. Dave and I spray painted two wrought iron chairs and a table in this sunshine yellow colour to use as our signing table.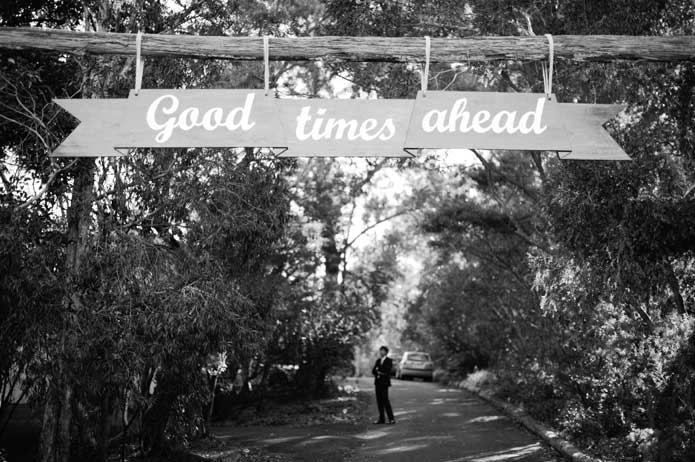 Our motto for the wedding, "Good times ahead" was made into a giant timber sign by my Dad. He based the ribbon banner effect on the design we used in our wedding invitations. Measuring almost 3 meters across, it was brought down from Brisbane to Sydney in sections and assembled at the venue.
Mismatched chairs lined up ready for the ceremony, some from our apartment, a few from Dave's Mum's place and the rest were hired from Ace prop hire. This flower ball on the right was made by my Mum, out of flour-based clay. She is Japanese and has that Japanese talent for all things crafty. She can make pretty much any type of flower, fruit or anything you ask for.
Handmade bunting lines up the aisle. Yep, it's the ones made in this How to make bunting tutorial.
Our first kiss as a married couple! The fabric backdrop was made with the combined efforts of my Mum and our very good friends from Japan who kindly helped out with way too much, even though they were our guests. We bought the fabric from thrift shops, eBay and Spotlight.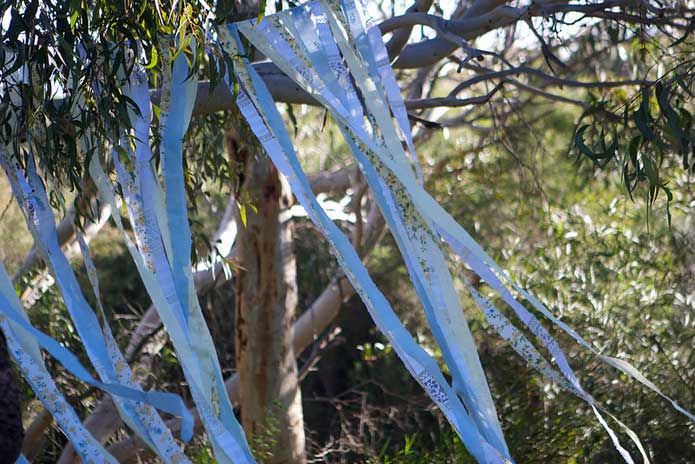 Adding that Japanese touch with yellow origami cranes. Little white birdcages were also hung up in the trees.
The shabby scout hall transformed with white fabric backdrops and draping on the ceiling. My parents spent months searching for blue and yellow wrapping paper, and countless hours making paper pinwheels to hang up on the far wall.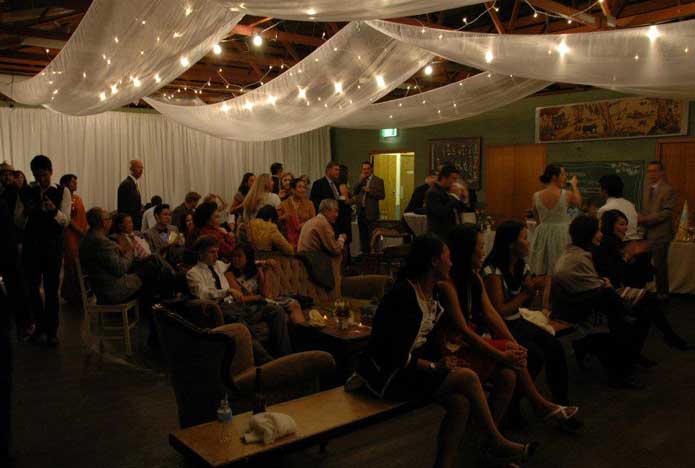 We filled the hall with rustic, vintage furniture, including a gorgeous chesterfield and two French style lounges. All hired from the friendly guys at Ace Props. Dinner was all served as finger food. We had modern Australian and Japanese inspired dishes, as well as morsels of Indonesian nibblies organised by my Dad who was born in Indonesia.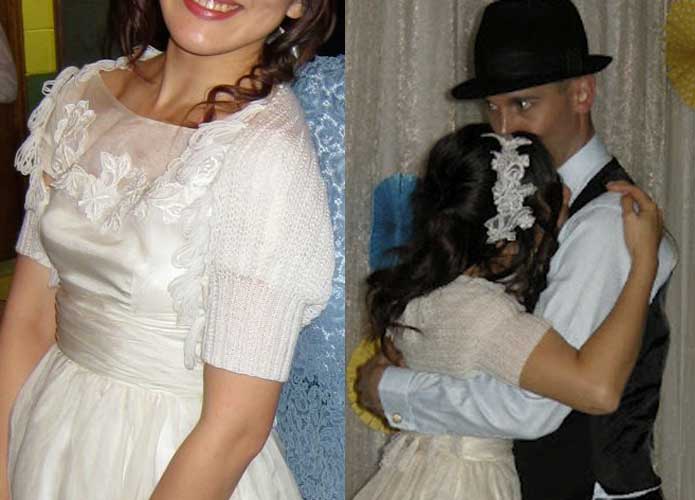 Dave's Mum knitted a shrug for me out of lambswool. I wish I  had better photos, because it's really beautiful with little tassels hanging off it.
Giant blank canvas, paper pinwheels and hot glue gun equals fancy wall hanging (and sticky fingers). We also had photos of our grandparents in vintage frames displayed around the hall. There were also many, many little flower arrangements adorning every space possible. I think Tracey and her friend ended up creating more than 30 arrangements for us. I collected random bottles, jars and tins for about 6 months.
This stunning menu board artwork was created by Dave's sister, Lesley Elkan, who is a successful botanical artist. Imagine doing something like this with chalk; what amazing talent! The cakes are by our local baker, except for the front chocolate cake, which was so kindly made by a family member. I made the cake stands out of random glassware and plates bought from thrift stores. All you need is silicon glue. Easiest wedding project ever.
This delicious chocolate torte was decorated with bunnies made by my Mum, again out of clay. I also had a lolly buffet, but no one took a photo of it!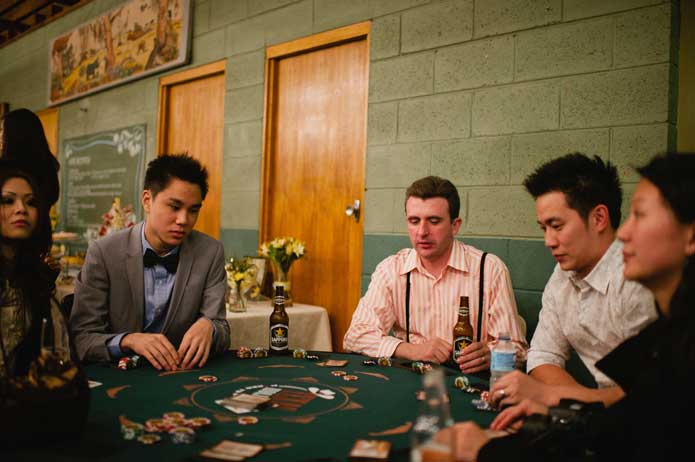 There was lots of fun to be had at our wedding, even if you weren't into dancing. We set up a poker table in one corner, complete with poker chips, cards and cup holders.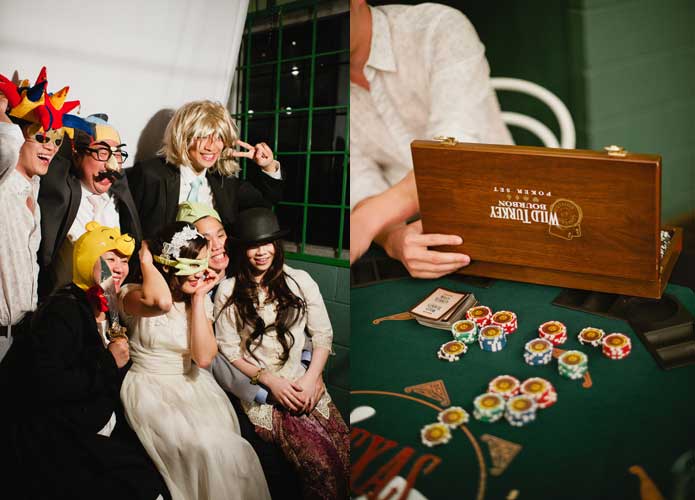 Everyone loved our photobooth, equipped with lots of silly props. Dave set this up on our 27″ Mac, Epson printer and software called Sparkbooth. I bought a piece of white fabric from a charity stall to use as the backdrop. This probably deserves a blog post all on its own called How to DIY wedding photobooth…stay tuned!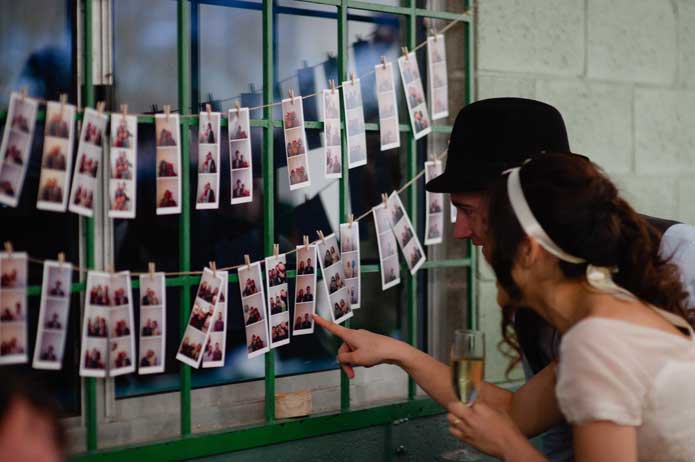 Looking back through all these photos, I'm so happy that we decided to put in all the effort to make our wedding very personal with our handmade touches. As a couple that loves to DIY, we had a great time with all of our wedding projects. I'm also very grateful for our friends and family who did so much, especially my parents. I'm a very spoilt daughter.
Our very cool vendors who come highly recommended 🙂
Photography – Victor Caringal
Flowers – The Designer Bird
Party hire – Ava Party Hire
Catering – Something from Kate
Furniture hire – Ace Props
Wedding coordinator – LeaBrook Planning
Wedding celebrant – Marina Bailey