Spring is almost here and with it comes the joyous wedding season. It's left me reminiscing about our wedding, and all the wedding crafts I was busy creating this time last year. Oh, that was such a fun time! Here are five wedding craft ideas that would suit a spring wedding 🙂
そろそろ春。春と言えばウェディングの季節ですね。去年挙げた私たちの結婚式を懐かしく思っています。去年の今ごろ、ウェディングのためのハンドメイドで一生懸命でした。本当に楽しかったです!さて、今日は5つ春にあうウェディング小物を集めました。
1. Paper Pinwheel Wall Art – 折り紙うちわのアート
Flower Ball – My Mum made this for me using flour-based clay. Maybe she'll do one for us? She used to teach this craft in Japan, so she is quite an expert.
You just need wrapping paper in your theme colours, paper doilies and a hot glue gun. Here is a great tutorial by Honest to Nod on how to make paper pinwheels.
パンフラワーの花飾り – これは母が作ってくれました。日本でパンフラワーの先生だったのでとても早くて上手です。
テーマカラーの包み紙で折ったものをグルーガンでキャンバスにはりました。英語ではピンウィールと言うのですが作り方はこちらです。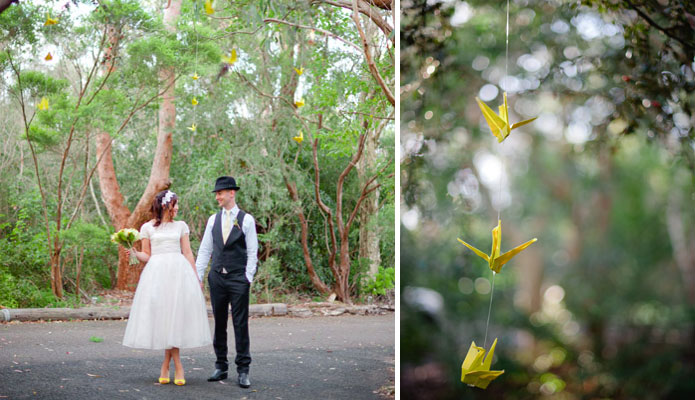 2. Paper Crane Mobile – 鶴のモービル
Paper cranes aren't hard to fold once you have done a few. I threaded fishing line using a needle, tying a not at the base of each crane. I find videos the best way to learn origami. Here's a video for how to fold a paper crane.
釣りで使うラインを針にとうしてモービルにしました。ちょっと和な感じがでますね。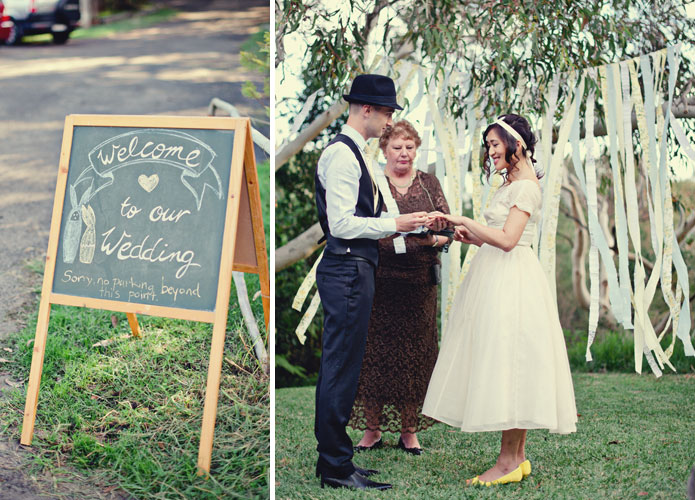 3. Blackboard Wedding Signs – 黒板ウェルカムボード
I painted easels and picture frames with chalkboard paint to make signs for our wedding. I recommend spraying with clear lacquer to keep the chalk in place after you have created your artwork. I also found liquid chalk pens to be the best if you have lots of writing to do.
絵描きエーゼルや木のフレームを集めてチョークボードペイントを塗っただけす。ラッカースプレーをすると絵が長持ちします。文字にはペンタイプのチョークが一番です。
4. Fabric Backdrop – ウェディングカーテン
Yellow floral fabric, blue sheer fabric and white broderie anglaise were cut into 3cm strips using serrated scissors. Hang off a long rope and simply staple in place!
黄色い花柄の生地、ブルーのシアー生地、真っ白のカットワークレース生地をギザギザ切りはさみで3cmほどに切りました。長いロープにかけてホチキスで留めれば完成!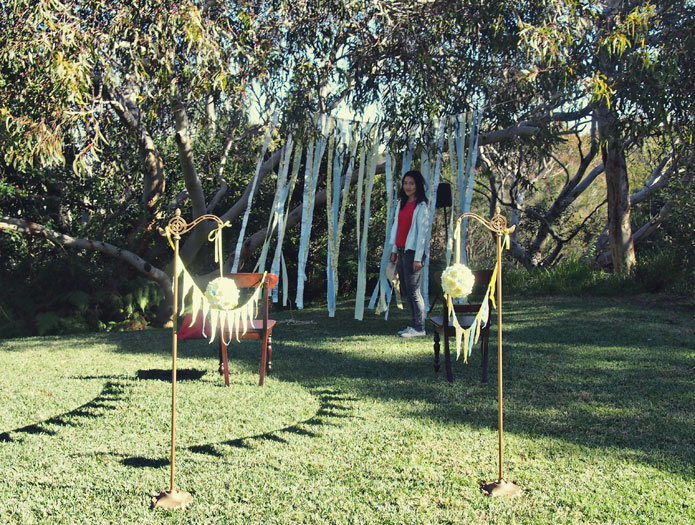 5. Bunting – フラッグガーランド
Here is my super easy bunting tutorial.
This is a picture of me on the day before the wedding, setting up the venue. It's the only photo I could find where you can see the aisle and all the handmade things in place. I look so daggy in my hoodie :oops: Here are more pictures from our handmade wedding.
とっても簡単なフラッグガーランドの作り方。
この写真は結婚式の一日前の準備中です。ハンドメイドした物がウェディング アイルを飾っています。ジャージ姿がちょっと恥ずかしいです。(≧∇≦)
私たちのハンドメイドウェディングの写真をどうぞご覧ください。