I was so excited to find this magazine, "FEMALE" Spring 2013 edition in Tokyo. It looks like a fashion magazine, but it's so much better, because you can make everything that the models are wearing! How cool is that? All designs come with a real-size sewing pattern.
この雑誌, 『FEMALE』春 2013年号を東京で見つけた時ウキウキしました。見た目はファッション雑誌、でもモデルが着ている服をすべて作れるなんてすごいですね。実物大の型紙付きです。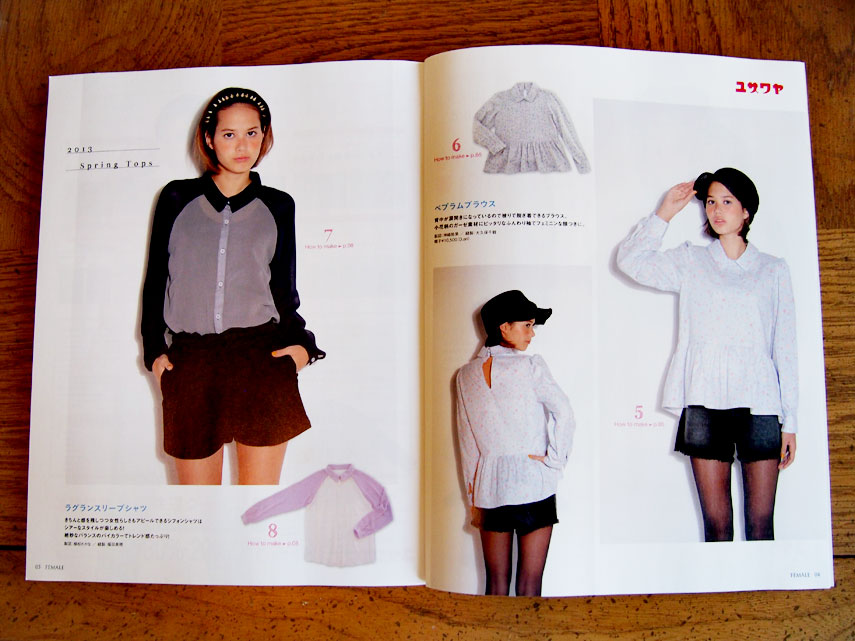 Unlike the majority of Japanese sewing patterns which are cute and girly, I really like the edgy, street-style designs in this magazine. These shirts are totally my style and I am loving the peplum blouse on the right!
This magazine is available for purchase from Amazon:
普段の日本で見る洋裁の本と違って、FEMALEのクール系なファッションが気に入っています。右のペプラムブラウスが気になります。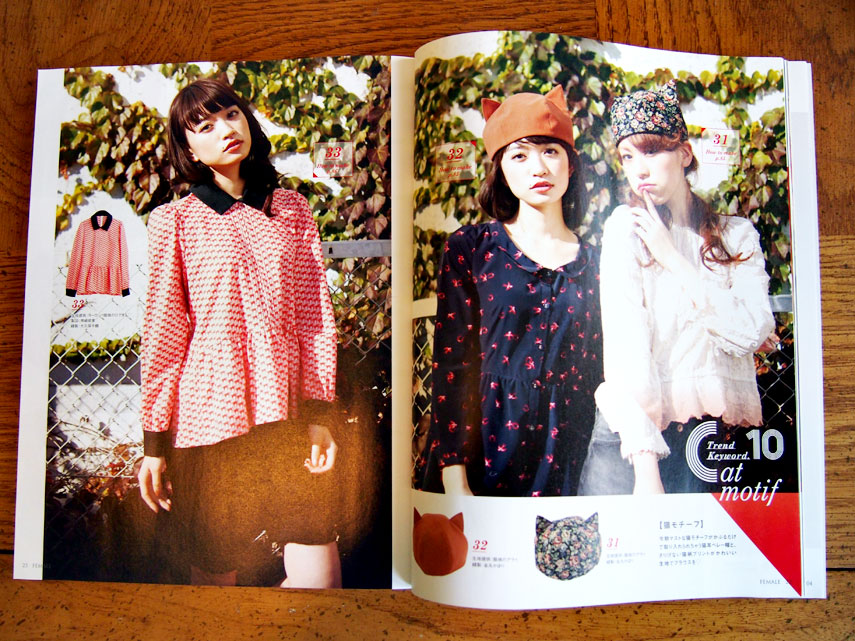 These cat ear hats are very Harajuku aren't they?
この猫ハットは原宿ファッション系ですね。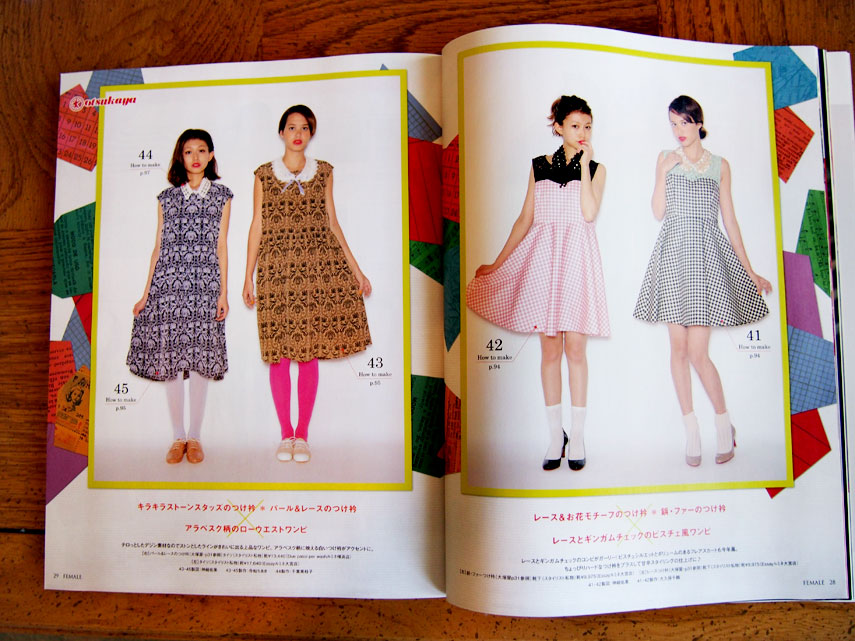 Patterns for six different dresses and four different detachable collars to mix and match. So much fun!
ワンピース6枚と付け衿4個をコーディネートできます。楽しそう!
この雑誌はアマゾンで買えます: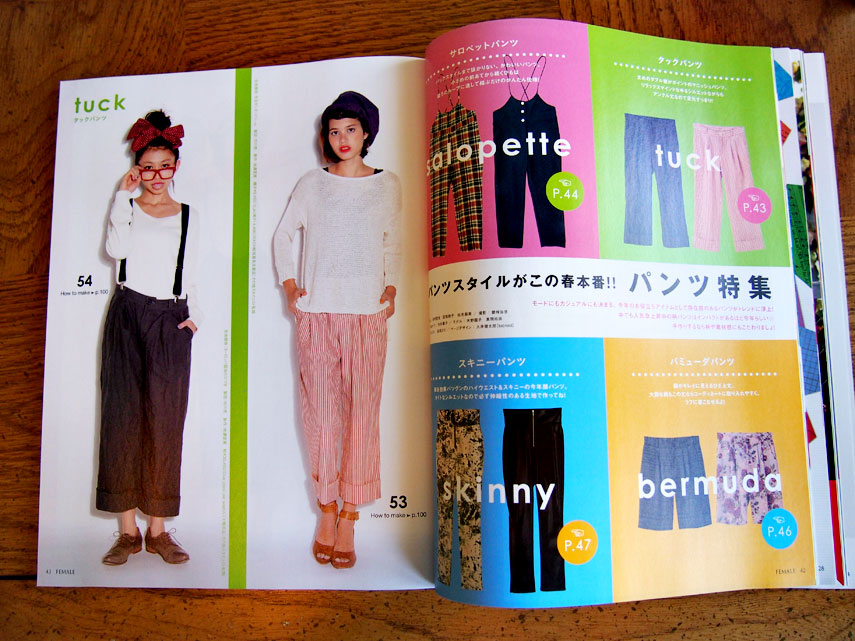 Four types of pants to make; tuck pants, salopette (overalls), bermuda and skinny.
パンツスタイルもいっぱいあります。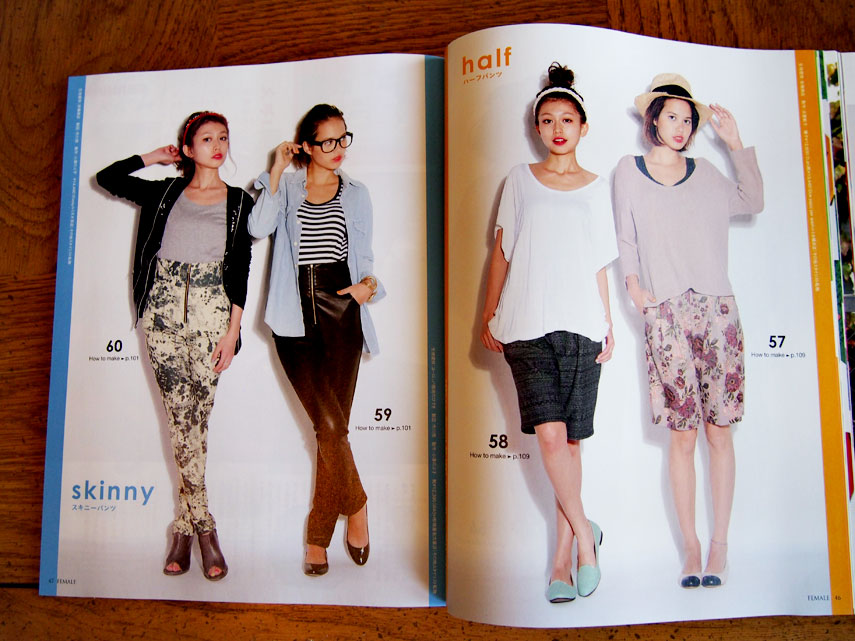 I think there are 50+ garments to make in this magazine, including peplum skirts, maxi skirts, bags, cardigans, motorcycle jacket, sweatshirts…just to name a few!
50以上の服の作り方が入ってると思います。写真の他にペプラムスカート、マキシスカート、バッグ、カーデ、ライダーズジャケット、スウエットなど色々です。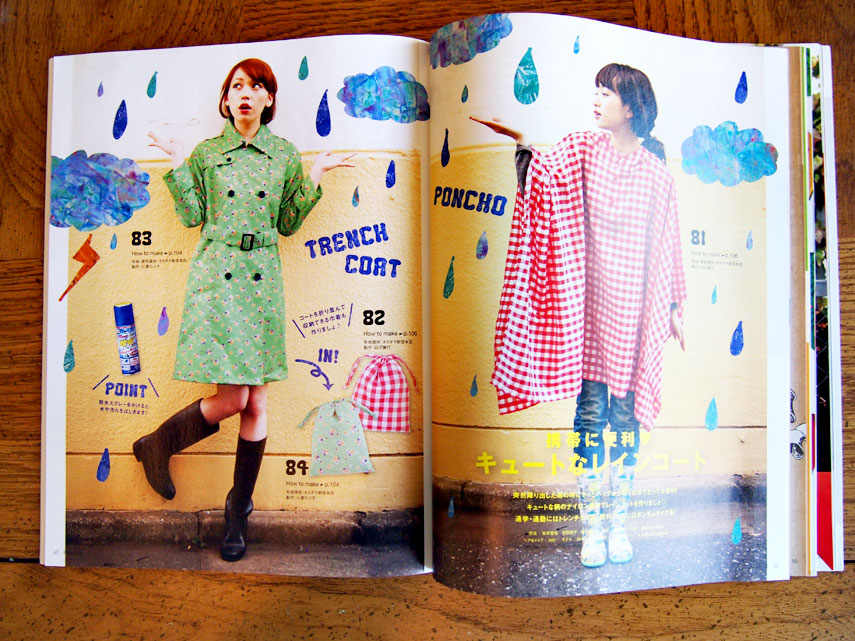 There are also sewing patterns for a rainy day. It doesn't seem to rain much here in San Francisco, but if it did, I would love to look chic in a waterproof raincoat.
梅雨に備えてレインコートの型紙もあります。サンフランシスコでは雨はあまり降らないようですがもしもの時にはこうゆうシックなトレンチが着たいです。