On my last trip to Japan, I was inspired by a daytime cooking show to start making bento box lunches for my husband. I've eased myself into it by making lunch twice a week. When I first started, it used to take me over an hour to prepare! With practice, I am now far more efficient and only take up to 45 minutes. It's still lots of effort (and planning) but I really enjoy it; especially at the end when I get to make the food look pretty! Oh and I have one, very happy husband.
Here are 16 of the many bento lunch boxes I have made this year.
Clockwise, from top left (below):
Cod with sweet miso sauce, Purple cabbage coleslaw, Nori egg rolls
Tuna and corn rice, Carrot and bean sprout namuru salad, Fish cakes, Mini chicken rissoles
Oyako-don (chicken and egg on rice), Pickled carrot and celery salad, Hijiki and soy bean salad
Hijiki brown rice, Vegies and kombu stir-fry, Ginger chicken stir-fry, Dried daikon salad
Kobe beef stir-fry, Potato salad, Green salad, Edamame beans
Chicken karaage (fried chicken), Hijiki and carrots, Egg rolls
Natto pasta, Chicken rissoles and mushrooms, Steamed vegetables
3 types of rice balls, Beans and cucumber salad, Ham egg rolls
日本で料理番組を見て、夫のために弁当を作り始めたくなりました。まだ初心者なので週二回だけやっています。最初は一時間以上かかったのが、だんだんと慣れてきたようで今は45分ほどで出来上がります。かなり大変ですが楽しいです。とくに最後の盛り付けが!夫も幸せそうですし。
今年の弁当16個の写真見つけました。
時計回り、左上から:
味噌焼き魚、赤キャベツコールスロー、のり卵焼き
ツナコーン炊き込みご飯、ナムル、さつま揚げ、つくね
親子丼、人参とセロリの酢の物、ひじきと大豆サラダ
ひじき玄米炊き込みご飯、塩昆布の野菜炒め、鳥肉の生姜焼き、切り干し大根サラダ
神戸牛、ポテトサラダ、グリーンサラダ、枝豆
鳥の唐揚げ、ひじき煮物、卵焼き
納豆パスタ、つくねとマッシュルーム、蒸し野菜
おむすび3種類、きゅうりとグリーンビーンズサラダ、ハム卵焼き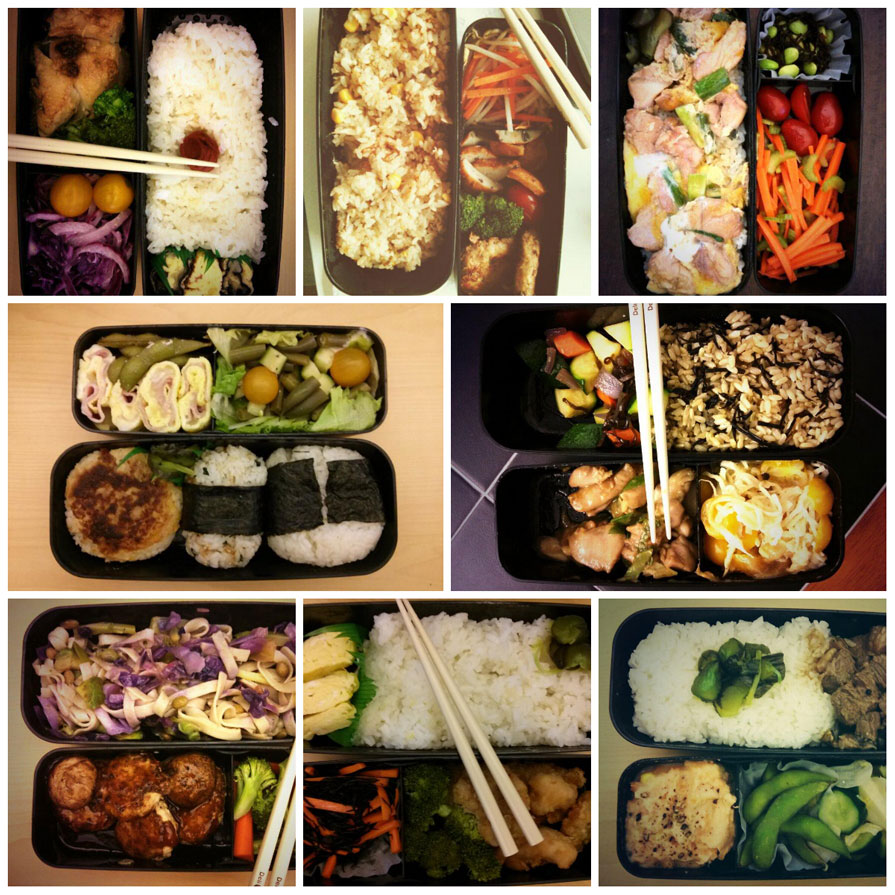 Clockwise, from top left (below):
Tofu steaks, Daikon salad, Mini sausages
Three-colour rice, Tofu chilli salad, Cheese-stuffed fish cake
Beef sukiyaki, Boiled egg, Spinach salad
Gyoza, Green salad, Broccoli and mushroom stir-fry
Beef steak, Mashed potato salad, Cucumber and ume salad
Dry beef curry, Apple and cucumber yoghurt salad, Steamed vegetables
Mini rissoles, soybean salad, Egg rolls
Salmon rice (with Hubby's name in Japanese), Pickled cucumber, Coleslaw, Egg rolls
時計回り、左上から:
豆腐ステーキ、切り干し大根サラダ、ウィンナー
三色ご飯、ピリ辛豆腐サラダ、チーズちくわ
すき焼き、ゆで卵、ほうれん草のおひたし
餃子、サラダ、ブロッコリーの炒め物
牛ステーキ、ポテトサラダ、梅きゅう
ドライカレー、リンゴとキュウリのヨーグルトサラダ、蒸し野菜
ミニハンバーグ、大豆サラダ、卵焼き
鮭ごはん(夫の名前付き)、きゅうりの漬け物、コールスロー、卵焼き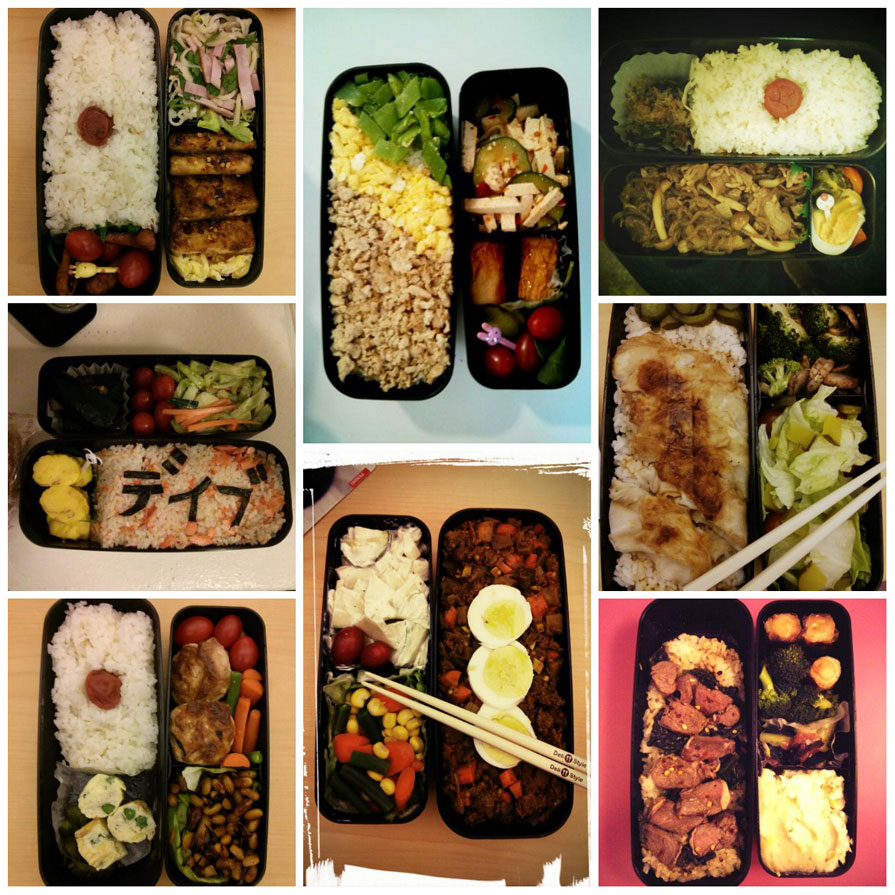 I rely a lot on the Japanese cooking community, Cookpad for recipe inspiration. Apparently, they are bringing out an English version too!
レシピはよくクックパッドからインスピレーションをもらっています。英語バージョンももうすぐでるようです。