Ever since I cut my hair short, I've started to dress more girly. This is a DIY sewing pattern for the ultimate girly dress, complete with lace, ruffles and big bow!
なぜか髪を短くしたとたんガーリーな服が着たくなりました。ガーリー感たっぷりな自分で作れる型紙を紹介します。
Step 1
Using a tank top as a guide, trace the neckline and armholes to make your sewing pattern. I used my crop tank top sewing pattern, available for download from the free sewing patterns page. Extend the side seams to the length of your desired dress. Also measure a rectangle for your ruffles.
For the back of the dress, cut out the circular opening in the centre.
Cut the dress and two rectangles for ruffles from your lace fabric. Only cut the dress from your lining fabric. You don't need ruffles for the lining; simply extend the dress to reach the end of the ruffles.
手持ちのタンクトップをうつしてネックラインとアームホールの型紙を作ります。私はこのタンクトップ無料型紙を使いました。脇線をワンピースの長さまで伸ばします。フリル用に長四角の型紙も必要です。
後ろの中心に丸いあき口を切ります。
ワンピースとフリルをレースで切断します。裏地ではフリルはいりません、裾がフリルと一緒になるようにワンピースを伸ばしましょう。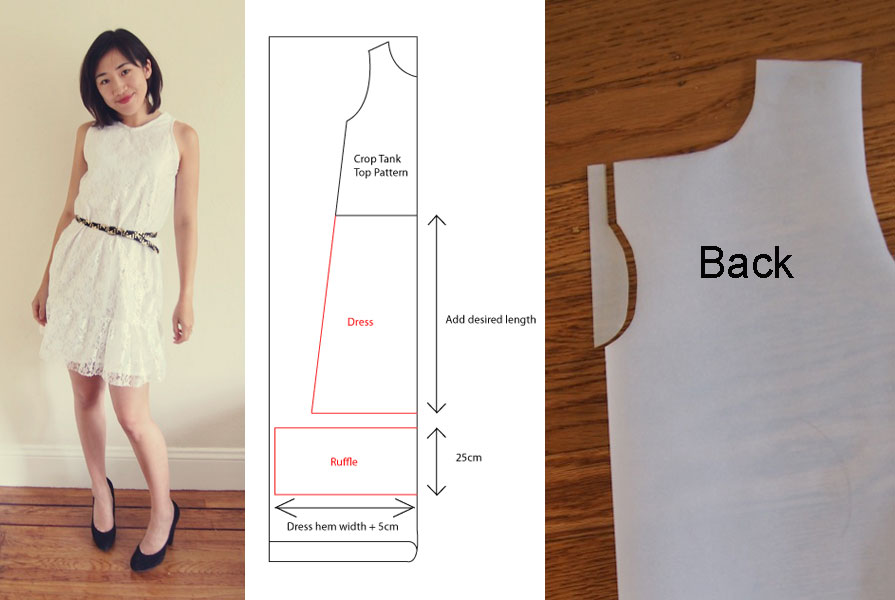 Step 2
Right sides facing, stitch the side and shoulder seams of the lace dress. Do the same for the lining.
レースと裏地の脇線と肩線を別々に縫う。
Step 3
Stitch the side seams of the ruffle rectangles. Gather ruffles and attach to bottom of lace dress. Hem the ruffles and lining.
フリルの脇線を縫ってギャザーを入れる。ワンピースにつける。レースと裏地、両方の裾の始末をする。
Step 4
Insert the lining inside lace dress. The right side of the lining should be facing the wrong side of the lace dress. Fold the back closure inwards and stitch.
裏地をレースワンピースの中に入れる。後ろのあき口を折って縫う。
Step 5
Use bias binding tape to finish the circular back opening (5a), the neckline and armholes (5b).
バイアステープで後ろの丸いあき口(5a)、ネックライン、アームホール (5b)を始末する。
Step 6
Attach ribbon to the wrong side of back opening.
リボンを後ろに縫い付ける。
There's lots of ways you can wear this white lace dress. It's such a plain piece so you can belt it, wear it with a detachable collar, or even tuck it into a high waisted skirt! This high waisted skirt is Pattern B from my Japanese sewing pattern guide, "Easy Japanese Sewing Patterns", available from www.japanesesewingpatterns.com.
着まわしがエンジョイできるワンピースです。シンプルなのでベルトをつけたり、付け衿を合わせたり、スカートに入れてもいいです。このスカートは私の本のパターンBです(www.japanesesewingpatterns.com)。