This is my first quilt, ever! If you're also a beginner, I highly recommend trying the quilt-as-you-go method. As the name suggests, it means you sew the backing, quilt wadding and the topper fabric all together at the same time. The result is a simple quilt in next to no time.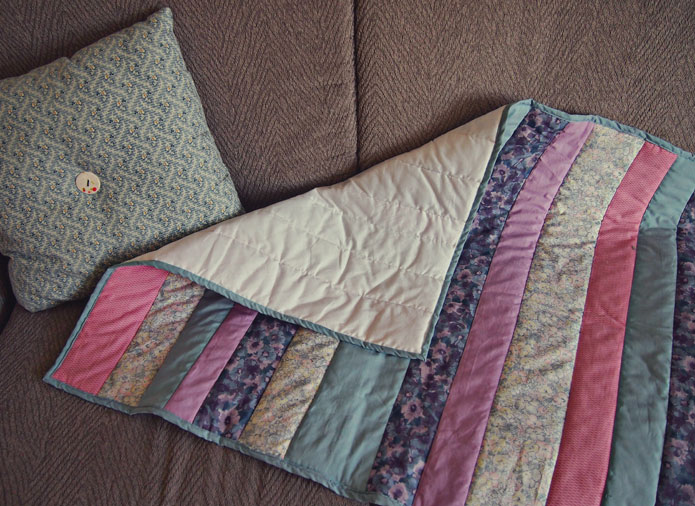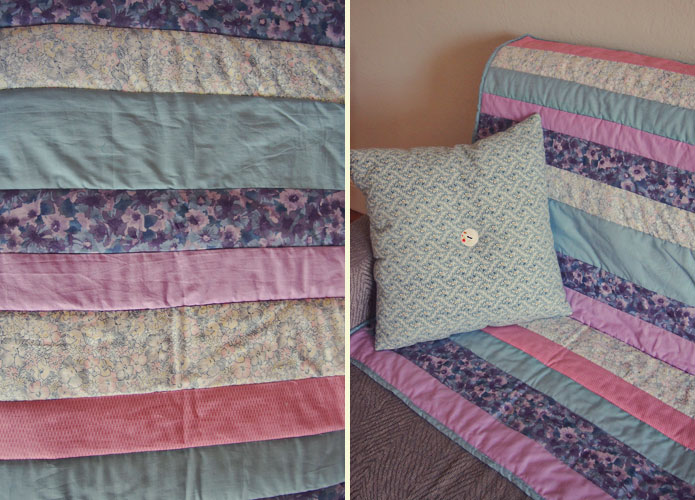 The Tutorial
I followed the Missouri Quilt Company's video tutorial, How to quilt as you go! available on YouTube.

For the binding, I followed another video my Missouri video, How to bind a quilt with a sewing machine. Jenny explains the steps clearly, and I like it even better that she repeats the complicated parts, SLOWLY.
Tips for beginners
Here's some learnings from making my first ever quilt. I hope this helps you get started on your first quilting project!
Use a rotary cutter: I don't have a rotary cutter (yet), and cutting the strips of fabric with scissors is a tedious task. It's also far less accurate. I'm definitely investing in a rotary cutter before I attempt my next quilt.
Plan ahead: Once you have your strips of fabric, take some time trying different arrangements. I found I liked it better when the strips were random; not following a specific order. Take a picture of your final arrangement (I just used my phone) so you can refer to it later.
Explore different binding options: I wish I had looked at more binding tutorials before jumping into the machine method. It looks ok, but being my first time, I probably should have tried doing it by hand to get a neater finish.
Anne at Mama Says Sew has been teaching quilting for over 18 years, and her Anne's Top Tips is free to download.