I finally managed to finish Dress T from the Japanese sewing pattern book, Stylish Dress Book 1. I'm really happy with the result, but it's going to be a loooong time before I sew anything using crepe de chine ever again!
Since moving to the US from Australia, I no longer have my serger with me. Working with silk fabric was so frustrating with my standard sewing machine, I had loose threads from fraying seams everywhere. I just had to put the dress away for a few months before facing the project again. Have you done that with your sewing projects?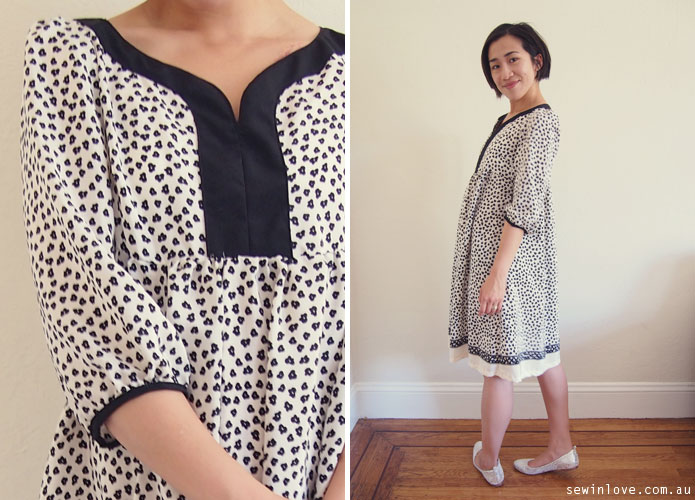 They yoke was not as difficult to make as it looks. I think it makes the dress really unique. I found the hardest part to be all the gathering and stitching gathered fabrics into place (waistline, shoulders and cuffs). The fabric just refused to stay in place, so in the end I ended up basting the gathered fabric by hand before machine stitching.
The book makes this dress out of cotton. I'm sure it'll take half the time it took me to make this dress if you choose cotton instead of silk! The cotton inevitably puffs out a lot more in the waist, so I do prefer the subdued look of the silk.
The good thing about crepe de chine is that it doesn't wrinkle easily, making it ideal for travel. I think I can wear this dress into winter, with a turtleneck sweater underneath, tights, and knee high boots.