There's nothing quite like giving homemade baby shower gifts. It's a very exciting time for the Gomura household; we are about to welcome another baby into our clan! My brother and his wife are expecting their first baby in February. That's right, little Umi will soon have a little cousin to play with. And it means I'll soon have another little person I can make adorable things for 🙂
When I was pregnant, I went on a baby crafting frenzy. 4 months into motherhood, there's a few things which stand out as my "essentials", and that's the type of thing I'd like to make as baby shower gifts. Newborn clothes and toys of course make lovely gifts, but I guess I am of the practical type (aka Virgo).  Here's a list of extremely useful homemade baby presents which will be loved AND used well beyond the newborn days.
1. Burp Cloths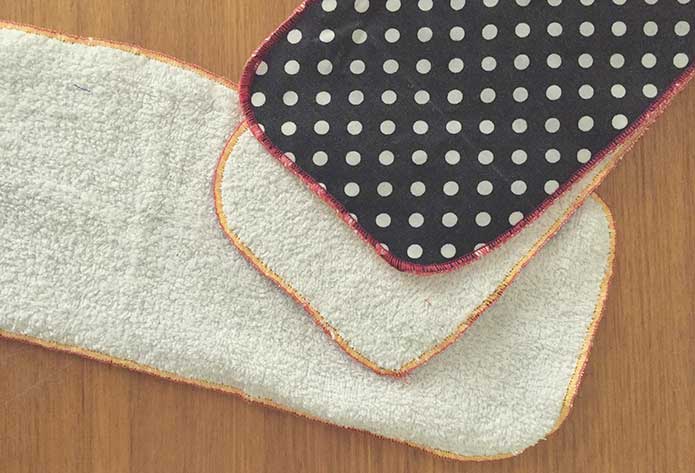 It's only from the second month that Umi really needed burp cloths. And from then we couldn't do without them. Now we go through at least two burp cloths per day. These are so easy to make – the trick is to get the size right. Mine are 15cm x 45cm (6″ x 18″), with rounded corners. Just grab a pretty cotton print fabric and some towelling, cut, and serge together. Easy!
Top Tip – For some reason, towelling fabric is really expensive in Australia ($40/meter!), so I bought a huge white bath sheet for $8 and used that instead.
2. Washcloths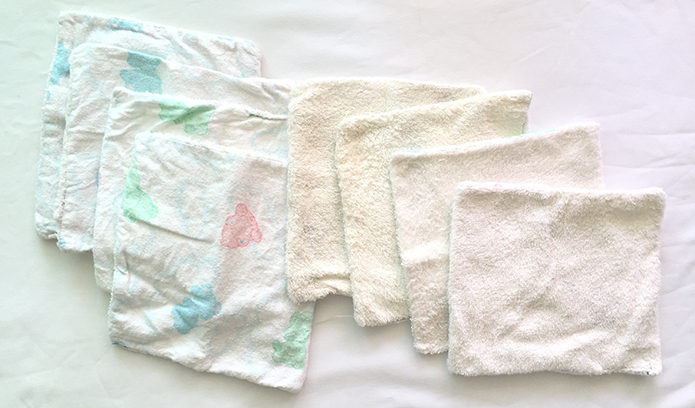 Little babies have adorable chubby chins, but milk and drool love to gather in those lovable skin folds. My soft washcloths made of flannel and towelling have been perfect for wiping delicate baby necks.
Top Tip – Look for flannelette sheets at secondhand / thrift stores. You'll get plenty of fabric and used flannelette is very absorbent.
3. Gauze Swaddle Blankets
I stocked up on double gauze when I went fabric shopping in Japan. You just have to hem the edges and you have the most versatile item in your diaper bag. As for the size, I looked at commercially available swaddle blankets, and decided that about 1m x 1m (1.1×1.1 yds) is a good size. Other than swaddling Umi, my gauze blankets have been used as a: Nursing cover, sun shade, sling, changing mat and a stroller liner. I need to make more!
Here's Umi all swaddled up in a homemade gauze blanket when she came home from the hospital, and more recently sitting on the same blanket in the car. Don't you just love the sloth print fabric? It's Japanese double gauze fabric 😀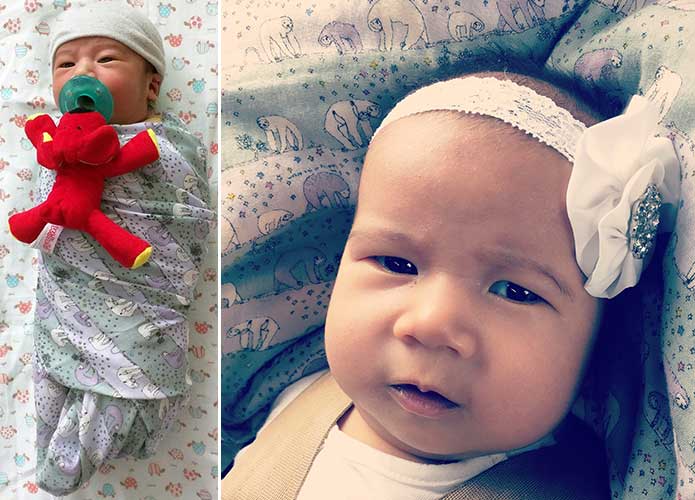 4. Changing Mat
Every time I need to change Umi in a public bathroom, I'm so happy I made this roll-up changing mat. You'll also find changing mats / clutches with built-in pockets to store diapers and wipes, but I like the simplicity of my version. Umi uses it as a play mat when we are visiting friends, and she has had naps on it many times too. Here's how I made a changing mat recently for my sister-in-law's baby shower gift:

Top Tip – Whilst your at it, make a matching wet bag (below). You can use the same outer and inner fabrics – just add a zipper.
5. Wet Bag
We use cloth diapers, so a wet bag is essential to store soiled diapers when we are out and about. Even for non-cloth diaper babies, this is a pretty handy bag to keep dirty clothes and bibs separated from clean items in your bag.
There's a ton of sewing tutorials for making wet bags. Below is a very detailed one:

6. Ring Sling
When we lived in San Francisco, we walked absolutely everywhere. The ring sling was super handy for this, especially when Umi was too tiny to fit into the Ergo baby carrier. My ring sling is made of linen. I went for a unisex neutral tone fabric because Dave usually ends up carrying the baby. 🙂 I added a zippered pocket too to stash money, keys etc so I don't have to carry a handbag as well as wear the sling.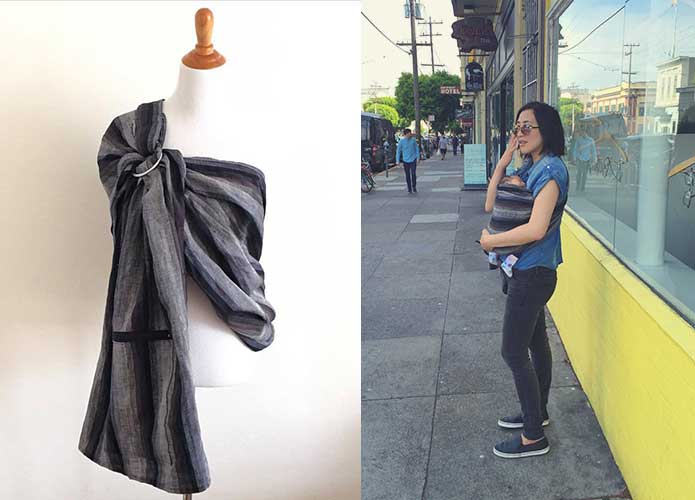 I used this ring sling tutorial combined with the method below to create the pleats:

7. Diaper Bag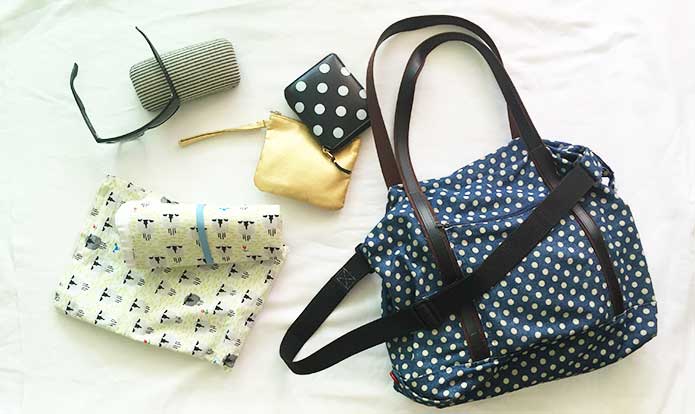 My mum is very talented at bag making, so she made me a diaper bag out of denim polka dot fabric 🙂 I love that it has both shoulder straps and a cross-body strap. There's also an external zipper pocket, to keep my keys, wallet and phone handy. It fits all the baby essentials, and so much more!
8. Swaddle Wrap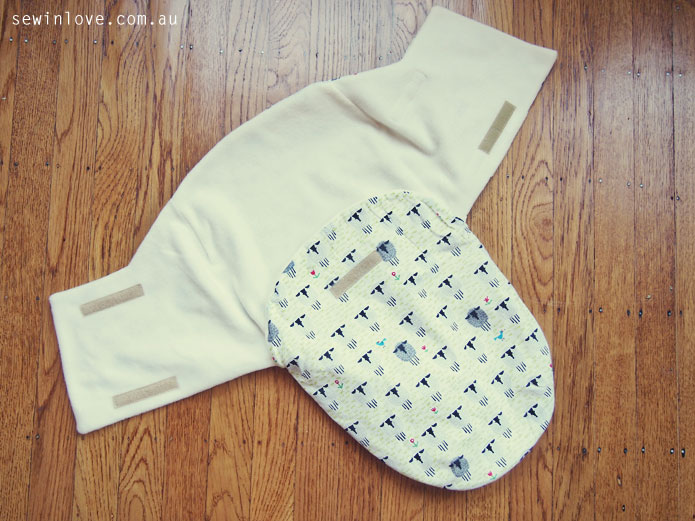 For those days when the baby is far too wriggly to wrap with a blanket, or it's 3am and it's all too hard, the swaddle wrap is your best friend. I've made a few from this free swaddle wrap sewing pattern.
9. Mittens
Dave and I went to a parenting course before Umi was born, and we were told that mittens are not recommended because babies learn so much from touching things with their hands. So we were all for a mitten-free baby, until Umi started scratching her face. Actually, it's more like crawling at her face. Even with trimmed nails, she did a lot of damage to herself, so we've introduced mittens for night time only. Here's a great tutorial for diy baby mittens, and another version with ribbed cuffs.
10. Freezer Friendly Food
I had to include homemade freezable food in this list, because it was one of the best things I received from my awesome and generous girlfriends. We knew we were leaving San Francisco as soon as we could fly with the baby, so we wanted to minimise the amount of luggage to take with us. That's why I requested food gifts at my baby shower. It turned out to be the best decision ever – our freezer was full to the brim with nutritious homemade food cooked lovingly by our friends. Curries, lasagne, pasta sauces and soups just needed to be defrosted and we had a healthy meal to enjoy, despite being sleep deprived and exhausted from looking after a newborn baby.
What are some "baby essentials" you've made which should be included in this list? Do you have any suggestions for practical homemade baby shower gifts?