I tried my best to take part in Me-Made-May last month, documenting all the handmade clothes I wore. But May turned out to be a crazy month, including moving house and then travelling to Europe! So I didn't manage to wear a handmade item every single day (like on moving day for example), but I did learn a lot about my personal style and what items I would like to add to my handmade wardrobe.

If you follow Sew in Love on Instagram or Facebook, you might have seen some of my outfit photos. Here's a roundup of my handmade outfit photos. You'll notice I have some photos from Barcelona, Spain where we spent 10 days of May. I'm all smiles in Barcelona, but oh my gosh, 24 hours on the plane with an 8 months old was insane. Let's just say Dave and I are in no hurry to fly long haul with Umi again, haha.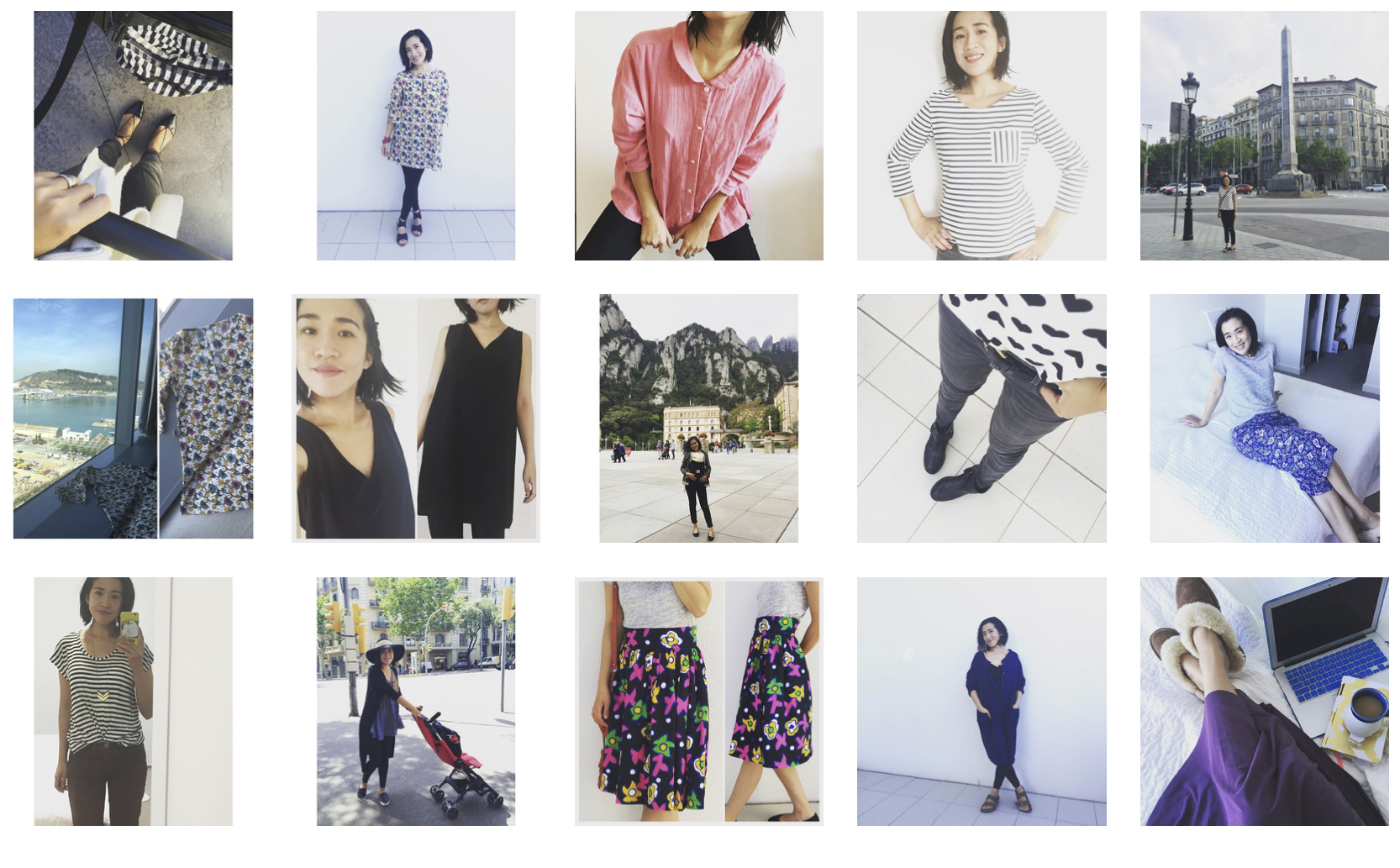 As I lamented in my last blog post about pants patterns, I do own a lot of handmade dresses which were not suitable for Me-Made-May (because I'm still nursing). So it was a real challenge to find something to wear everyday. I was pleasantly surprised though, that I somehow managed to wear something either myself (or my mum or grandmother) had sewed for most days of the month.
Breakdown of My Handmade Wardrobe
Heart Print Tee
I made this using only my overlocker / serger. I have a book from Japan which teaches you all the basics of using your overlocker (book review coming soon). This t-shirt is the first garment the book shows you how to make. I love monotone dressing, so when I found this fabric on Ebay, I had to make something out of it. What's more, this fabric is made in Australia. This cotton jersey makes nice and thick t-shirts, so I'm sure I'll be back for more Aussie knits from this eBay store!
Striped Ponte 3/4 Sleeve Tee
Believe it or not, I used the same sewing pattern as (1) to make this tee. I changed the length of the sleeves and drew a higher neckline. I used a sewing machine to finish the neckline and sleeves using floral bias tape. You can't see the pretty bias tape when you're wearing the top, but it looks so pretty inside. Who knew floral bias tape could make me so happy!
Round Collar Shirt
Made of double gauze, this is a super comfy shirt to wear. It's from the Japanese sewing pattern book, Simple Chic (review coming up soon!). I'm really loving the loose, understated and natural look of Japanese fashion at the moment. The round collar and the subtle gathering adds a touch of whimsy to this very chic shirt.
Striped Tunic with Pockets
If you're looking for a free sewing pattern that can be sewn up in a few hours, this is it! I translated this Japanese sewing pattern on DIY Maternity when I was still pregnant with Umi. 9 months later, I'm still wearing this top. The longer length covers my bum so I can wear it with leggings. And again, I love monotone dressing, so this top has been on high rotation in my wardrobe.
Batik Tunic Dress
This is that one piece in my handmade wardrobe that's a real show stopper. The ethnic neckline is something I haven't tried before, but because I lowered it to accommodate for nursing, it's been really easy to wear. The real statement of this dress though, are the sleeves. The ties look really cute dangling off your arms; I highly recommend this pattern! More pics of this dress here.
Knee Length Skirt with Bow
Back when I picked the fabric to make this skirt, I wasn't so sure about the loud print. It's been a few years now, and I am still really happy with my choice. This sewing pattern is part of my ebook package for How to Sew Japanese Sewing Patterns. You can buy just the sewing pattern on my Etsy store.
Stretch Midi Skirt
This is a super easy skirt you can whip up in a few hours. There's something very feminine and classy about the way a half-circle skirt falls. It looks gorgeous when you walk as well!
Linen Shirt Dress
The pink shirt (3) is the base sewing pattern for this dress. It's also from Simple Chic and it's supposed to be a reversible dress. I'm yet to wear it with the buttons facing the back, but my Mum and I decided to add side pockets which would work either way you wear the dress. I think this dress has ignited a linen obsession in me. Oh yes, there will be many more linen items to come!
Reversible Little Boxy Dress
My most popular free pattern ever, this little dress is a hard worker in my wardrobe. You can wear it as a v-neck or crewneck, and it's such a simple design, you can dress it up or down depending on the occasion.
Front Zipper Dress
I found this knit dress at a thrift store a while back and it was a favourite during pregnancy because it's so soft. I wanted to keep wearing it so I decided to add a front zipper for nursing access.
Knee Rip Jeans
Is something still considered "upcycled", if you destroy the item for the sake of fashion? I added rips around the knee area to these secondhand jeans. I love the casual, lived-in look of my "upcycled" jeans.
Batik Culottes
My mum made me these when I casually mentioned in a phone conversation that I want to wear one of her many culottes from the 90's. She couldn't find them so she made me a pair instead. With side pockets. Thanks Mami!
Lace-up Flats
I've worn these shoes to death and they are starting to look a bit ratty, but for a $25 DIY project I think they've done very well.
Lessons About Personal Style
One thing that's been made very clear is that I wear jeans far too often. Button up shirts and jeans are my uniform at the moment, so doing Me-Made-May really pushed me out of my comfort zone. It was actually quite nice to wear a dress on a "normal" day, instead of saving them for special occasions. You don't often see me going to playgroup in a dress or a skirt, but in May, I was that well-dressed mum in a linen shirt dress or midi skirt 🙂 It felt pretty good to make a bit of an effort in my appearance everyday; maybe I'll do it more often!
What has handmade clothes taught YOU about your personal stye?