I've found a video which shows you how to crochet a very easy scarf so I just HAD to share it with you guys. I followed the video and then added a button and loop to the original pattern. I definitely consider myself a beginner when it comes to my crochet skills, so the fact that I could complete this scarf in a week whilst running after my 18 months old AND being 6.5 months pregnant is a real testament to this pattern!
Chilling out and just crocheting is such a luxury in our busy lives. I've just found out I have gestational diabetes, so more chilling out what I need to be doing right now—before things get crazy with two kids under two! I really hope this easy crochet pattern inspires you to sit down and relax a bit too.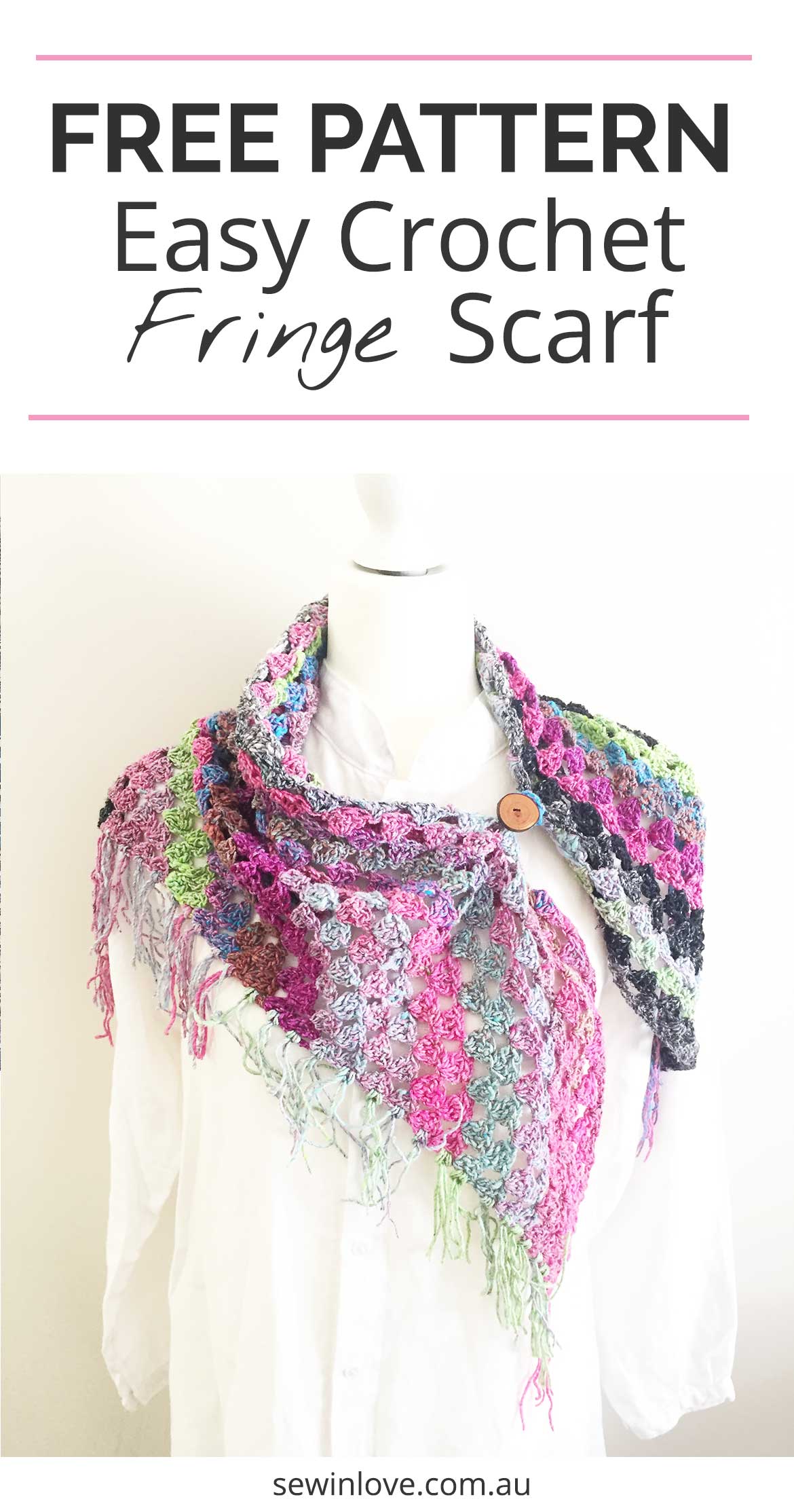 Silk + Wool = Noro Love
Anyone else a Noro fan? These yarns are made in Japan and designed by Eisaku Noro. The company places a huge emphasis on using natural materials and colourways inspired by nature. I've always had a closet full of neutral clothes, so a colourful Noro scarf is exactly what I need to bring some life into my outfits this winter.
The yarn I've used is Noro Janome in #12, a mix of pink, black, blue and green. These colours sound awful together, but somehow, Noro makes them work! Janome is made up of 60% silk and 40% wool, so it's feels light to wear and doesn't have the itchiness of wool yarns. I've realised now that yarns which mix silk or alpaca with wool feel the best on my skin. Noro's Silk Garden seems to be a very popular yarn outside of Japan, so I'm very keen to have a feel of it next time I'm at a fancy yarn store.
Free Crochet Pattern
The free crochet pattern I used to make my Noro scarf is the Bernat Big Fringe Triangle Scarf—minus the big fringe! My version has a much more modest fringe…and a few other modifications. Even if you don't know how to crochet, this pattern only involves a double crochet stitch (super easy), so you'll pick it up in no time. The beauty of a video pattern is that you can pause and rewind as many times as you need.
Modification 1: Yarn Weight
This crochet pattern uses Bernat Satin Sparkle yarn, which is a Worsted weight (10ply) and 100% acrylic (boo) yarn. Noro Janome is a slightly thinner DK weight yarn (8ply). I don't think it matters too much what weight you use, as long as you are happy with the look of your scarf. I used a 5mm crochet hook to get bigger "holes" throughout the scarf. Whatever size yarn / hook you use, just keep crocheting until the scarf is your ideal size.
Modification 2: Button and Loop
Whilst I love the idea of tossing a shawl over my shoulder oh so elegantly, the reality is that I chase a toddler all day. To keep the shawl from sliding off me, I decided to add a button and loop. I think this addition allows you to wear your scarf in more ways as well. I used a thick cotton thread to stitch on a wooden button, and created the loop by crochet chains. Both the button and loop are positioned about 30cm(12″) from the ends of the shawl.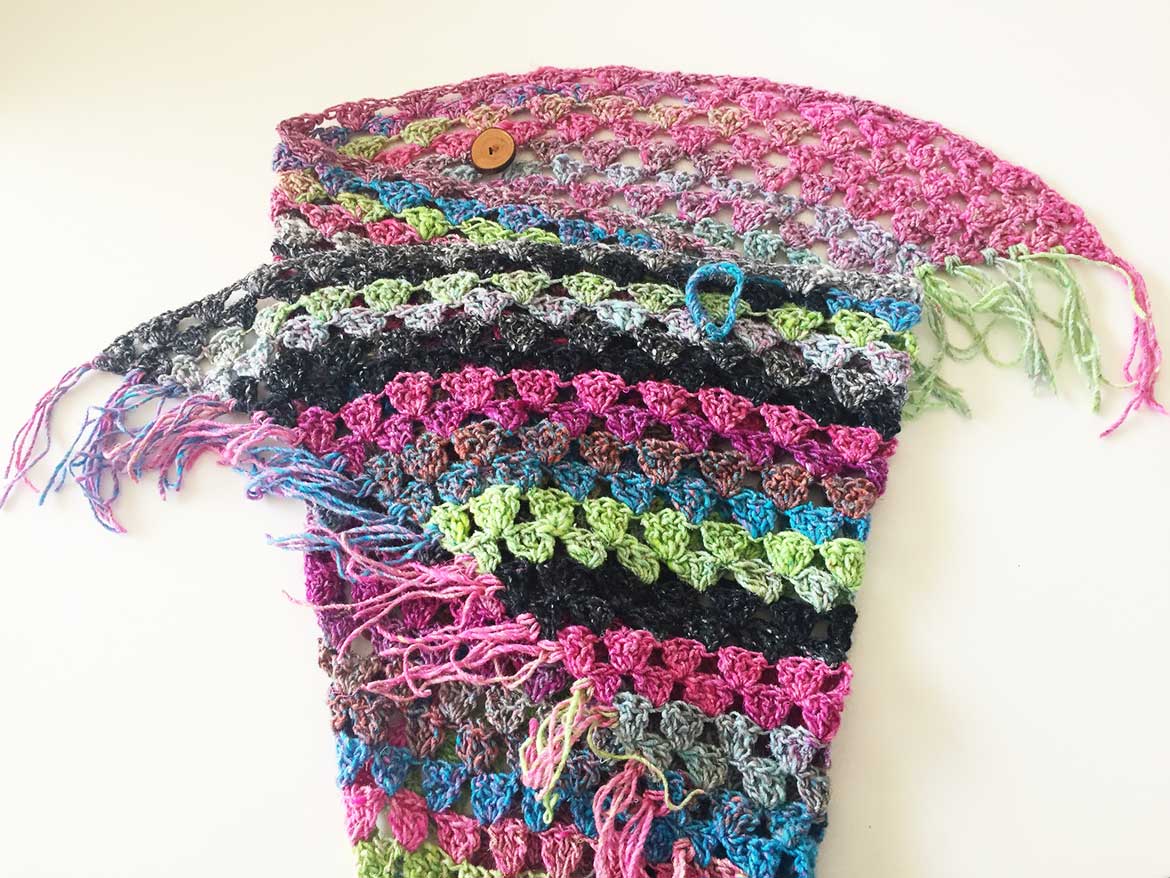 Ways to Wear Your Crochet Scarf
Just by adding the button and loop, this scarf becomes so versatile! If you love minimalist, neutral clothes like I do, a colourful scarf is an easy way to add some interest to your outfits. My new Noro scarf looks great with the Haiku mandarin collar shirt from Hana Patterns (in white linen) 🙂
Whether you're experienced or still learning how to crochet, this free crochet scarf pattern is highly recommended!