As promised in my house tour, it's time to share our little living room with you all. I'm calling it our temporary living room, because within the next year to 18 months, our house will be knocked down and rebuilt from scratch. For now, this is where our family sips tea, reads, does yoga stretches and hosts impromptu dance offs!
There's No Entryway 🙁
The front door opens directly into our living room and visitors can see straight through the house from the door. For this reason, we tend to keep the front door closed during the day. Being a Japanese household, we take our shoes off inside the house, so we always use the back door, where we have a shoe cupboard. We also have a "landing pad" just near the back door, to place keys, wallets and sunglasses as we enter the house.
In our brief to our architect for the new house, we've asked for a "genkan"—a Japanese entryway. It's usually a lowered entryway where you have to step up to get into the house. The lowered area is where you take your shoes off and guests are always offered indoor shoes, such as slippers.
I grew up this way, but I still do find it awkward to ask visitors to take their shoes off in our house. Dave is new to the "shoes off" culture, but he is more insistent on it than I am. We like to do stretches on the floor or roll around with Umi, so it is an important thing for us to keep the floors clean. I'd love to know your thoughts on shoes off policies when you visit people's homes. Or if you have a shoes off home, how do you ask people to take their shoes off?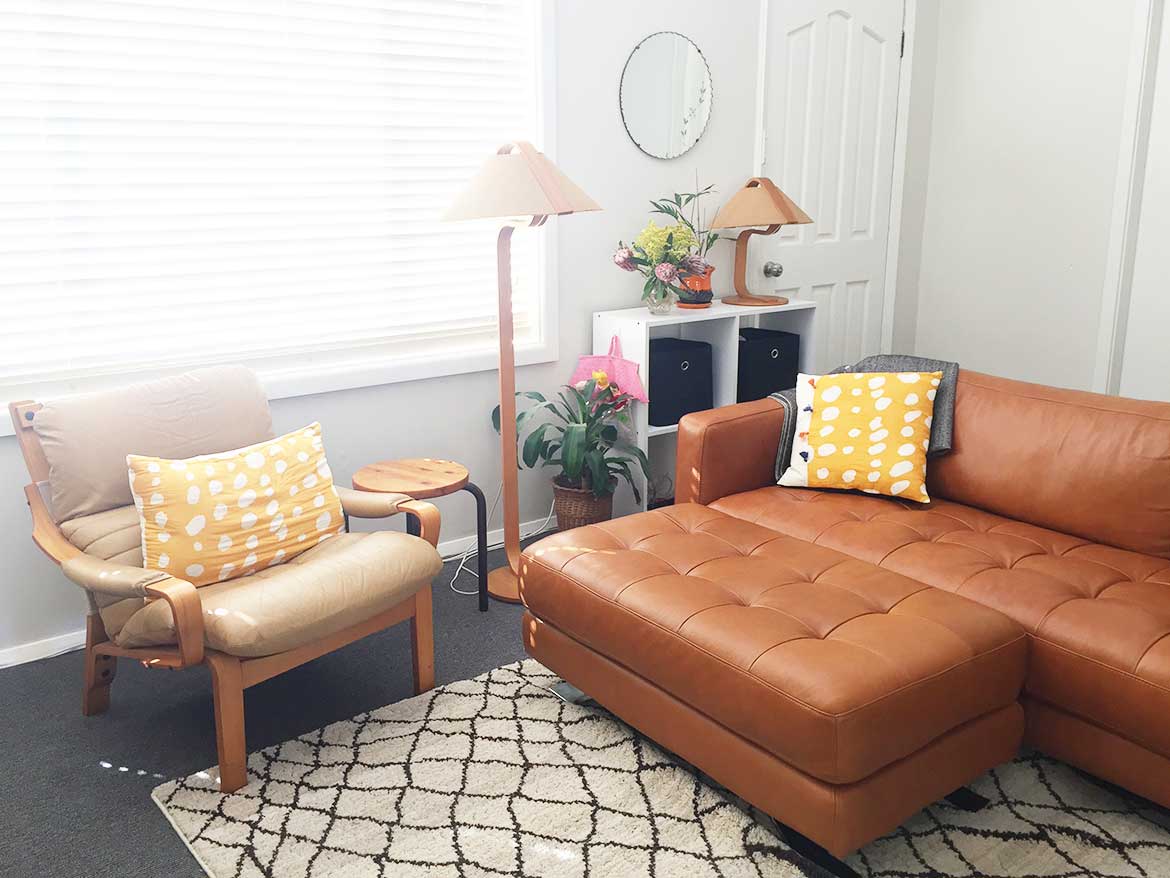 Three New Cushions on the Brand New Couch
As an environmentally conscious family, we don't like to buy new things, especially furniture. There's plenty of well-made, preloved furniture available on the likes of eBay and Gumtree (the Craigslist of Australia). There are only two new furniture items in our living room, and they are the leather couch and the floor rug. Everything else is a hand me down from Dave's mum, a Gumtree purchase or a roadside find.
Our last two couches were secondhand, and they were terrible! The first one was too big to fit through our apartment door, so we had to hire a removalist to hoist it over our balcony. It was made of itchy synthetic fabric and the cushions were just uncomfortable. The second one was a cheaply made bonded leather couch, which started to peel after 3 months. So this time, we decided to invest in a good leather couch which will hopefully see us through for a good decade and more.
After thorough online search and several in-store visits, we settled on the Latitude sofa and ottoman in Caramel leather from Bay Leather Republic. The leather is buttery soft but the cushions give you just the right amount of support. We love our new couch!
The couch didn't look at home until I scattered homemade cushions on it of course. The blue shibori cushion is made using leftover fabric from the dresses I made for me and Umi. You might recognise the Nani-Iro fabric on my yellow cushion. I'm a little obsessed with making tassels right now, so I stuck four on each of these cushions!
The black sashiko embroidery cushion is something I've wanted to make for a long time. I drew lots of different patterns before finally coming up with something that would work for all cushion sizes. I'll be sharing this pattern and a tutorial soon so stay tuned.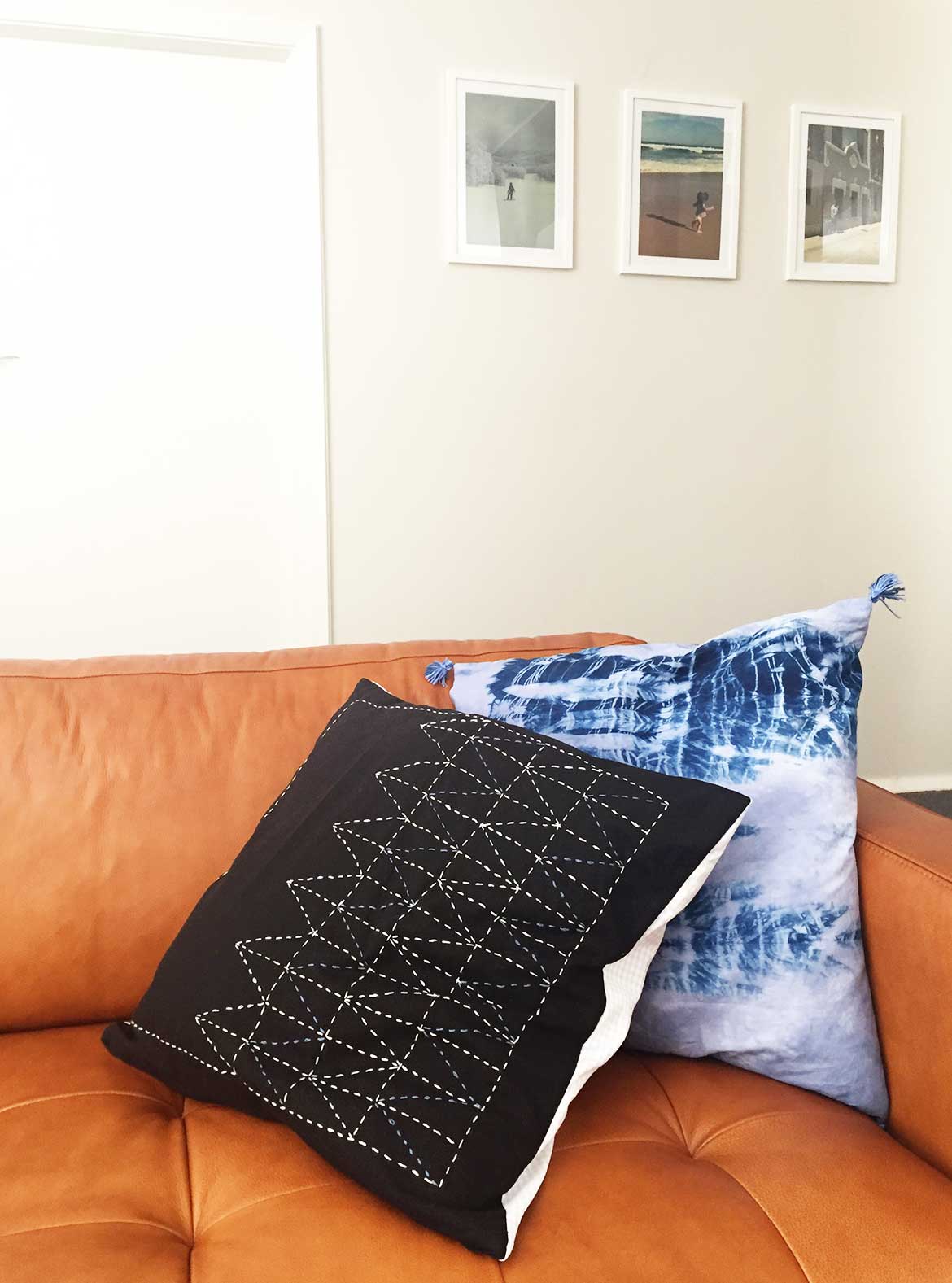 The Simple Joy of Hammering Walls
We had been renters for four years—three in San Francisco and one in Wollongong—and I'd forgotten how great it feels to put holes in walls! As the owners of our house, we can place nails to hang heavy artworks wherever we want without asking permission from a landlord, and it is such a liberating feeling.
Being a small house, we don't have much wall space for everything we'd like to hang, but so far, we've decorated the house with prints, original art, family photos, a wall shelf unit and a cuckoo clock.
We don't watch much TV, so we have a little one placed on our wall shelf. I'm trying to expose Umi to more Japanese, so she watches her favourite Japanese cartoon, Anpanman on this screen. Our walls are pretty weak, so we have our favourite books on rotation here. At the moment, I'm obsessed with interior design so Habitat by Lauren Liess is frequently referenced. Dave is our resident sourdough baker, so we can't go past our favourite bakery in San Francisco, Tartine's cookbook. Dave bought me a subscription to my favourite magazine, Lunch Lady and they are all stored here as well.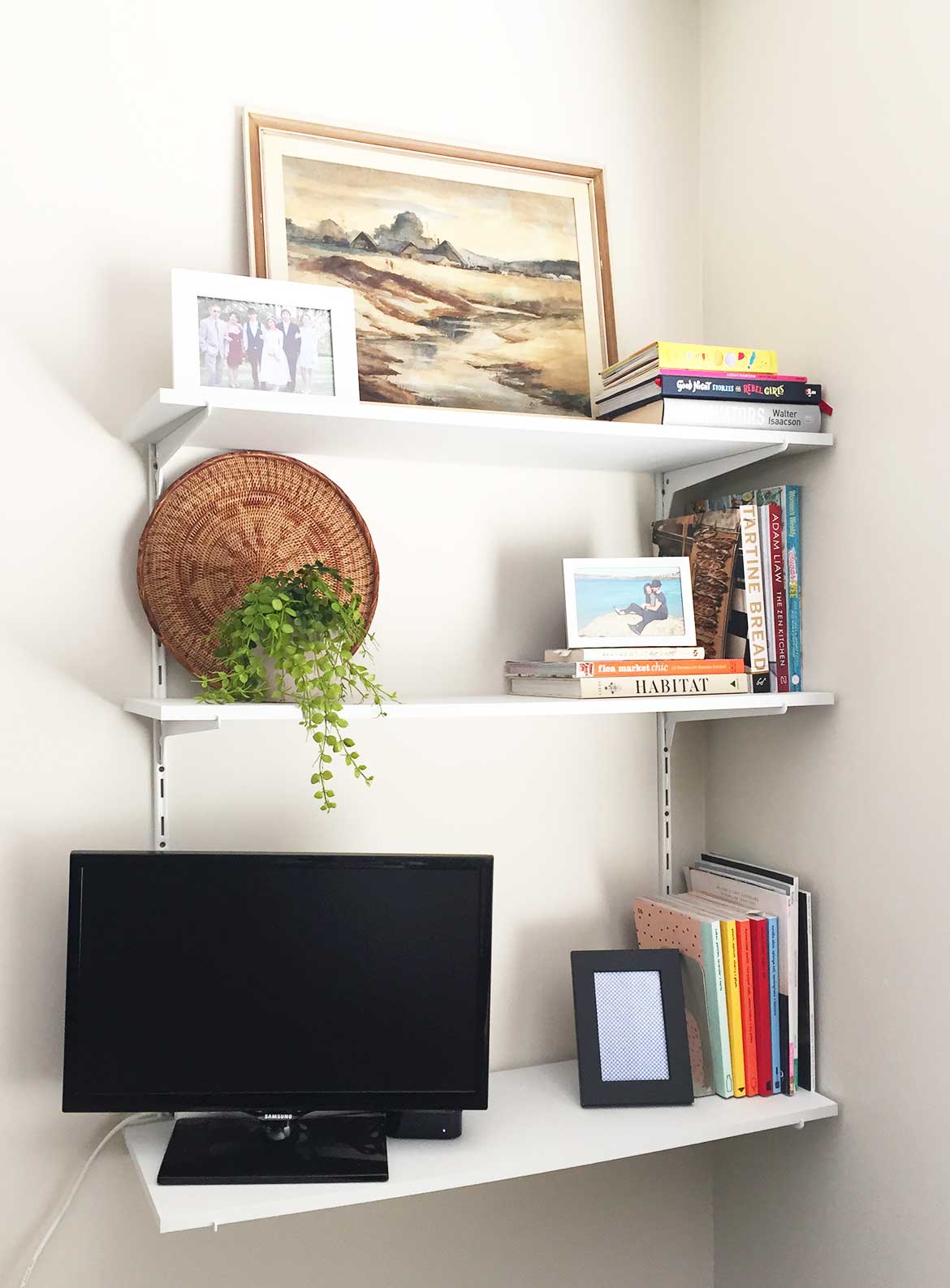 Dave has a standing desk in the space between our kitchen and living rooms. Above it hangs a retro print purchased from our old neighbourhood, Lower Haight in San Francisco, a handmade cuckoo clock from Muji and a Carl Sagan quote print from the Etsy store Printed Wolf.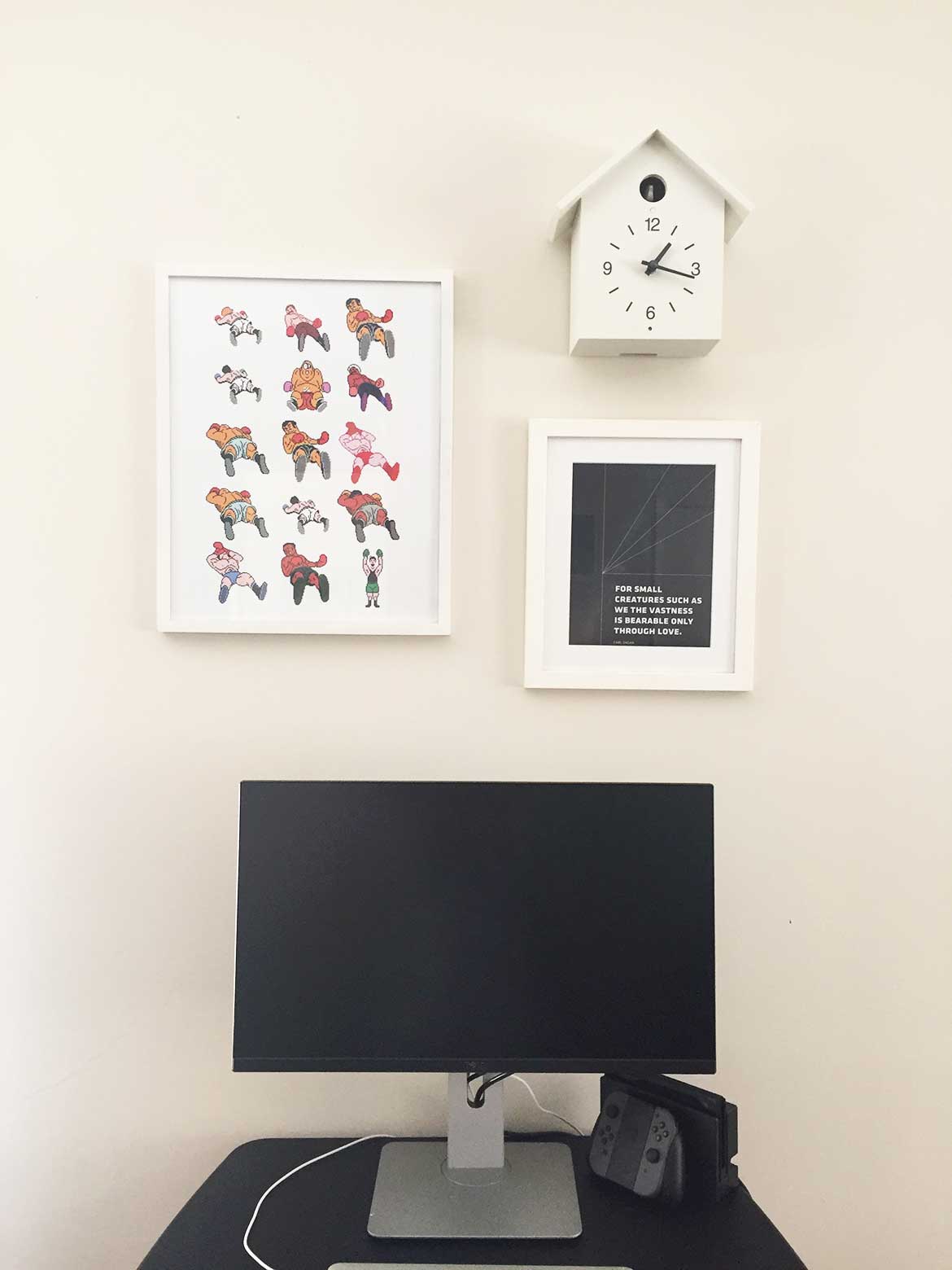 We bought an original painting from an Australian artist, Lily Nova, as a housewarming present for ourselves. This sunny, bright painting of hydrangeas is called "Happy Memories" and I just thought it was perfect for our new home. It hangs above a vintage record player / wireless which Dave found on the street. It doesn't work yet, so we have our SONOS wireless speaker placed on top. If you're looking for an easy way to listen to more music with great sound quality, I highly recommend getting a SONOS.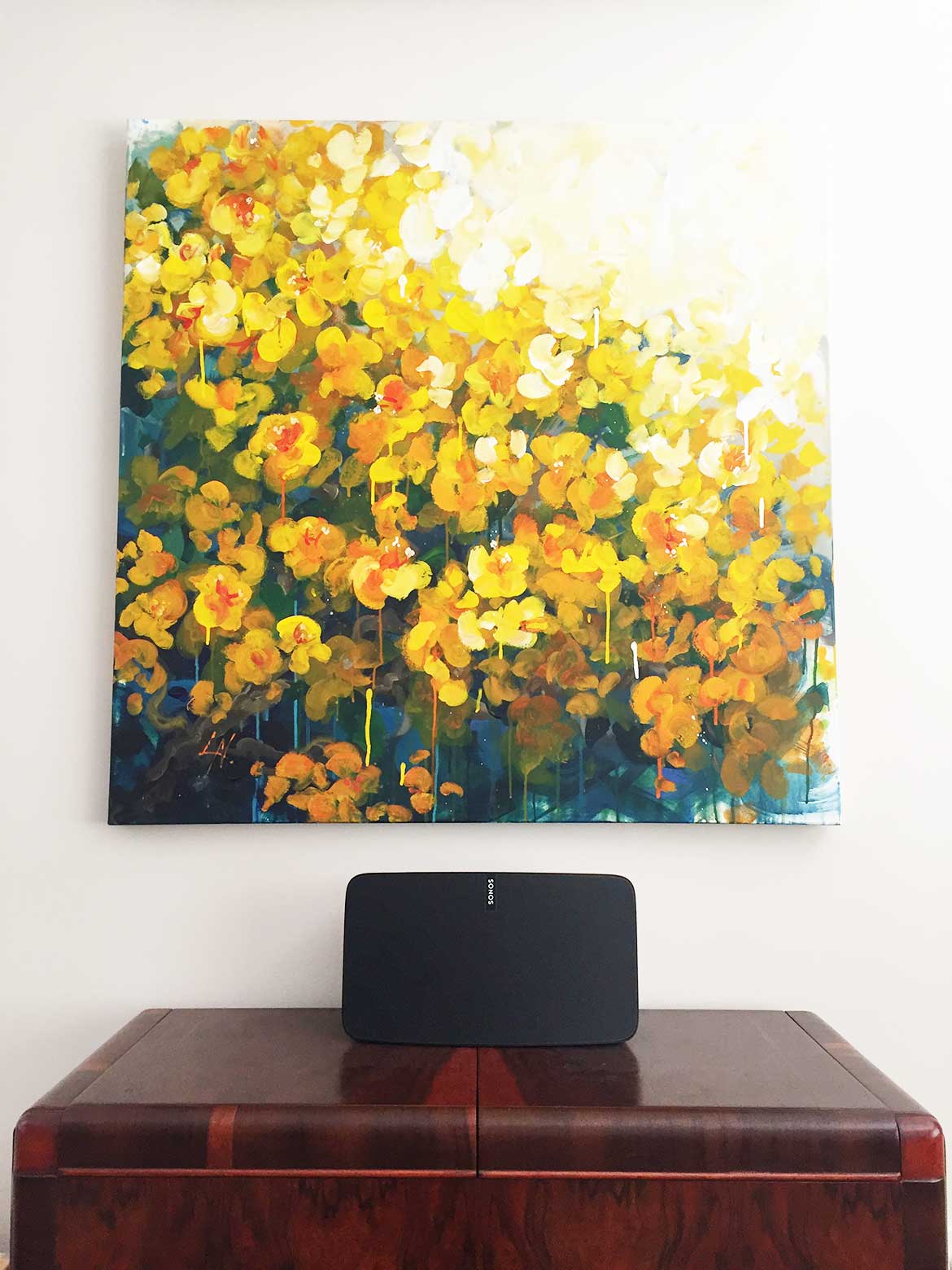 So there you have it: Our temporary living room! Although it's not forever, it certainly is starting to feel like home 🙂