It's with a big grin on my face that I click "publish" on this blog post. It took me more than three months postpartum, but I FINALLY finished! This embroidered jacket is very special to me because it represents my two little girls. I wanted a way to show off their names and just how proud I am to be their mother. A tattoo came to mind, but I am just not cool enough to pull one off, so embroidery was the answer!
Ocean and Snow
We picked Japanese words meaning ocean (umi) and snow (yuki) for our girls. I was very keen on a Japanese name which was easy for English speakers to pronounce. Dave really liked the idea of a nature inspired name because we are outdoors kind of people. Our two favourite activities are to go to the beach and skiing, so these names are just perfect.
The Japanese kanji characters for both Umi and Yuki and kind of complicated, but I persisted with my embroidery idea. We live in Australia, so I figured most people wouldn't pick up on errors? It was daunting to start with, but I'm glad I stuck with it. Embroidery makes a great nap time project—you can get a few stitches done whenever you have a moment.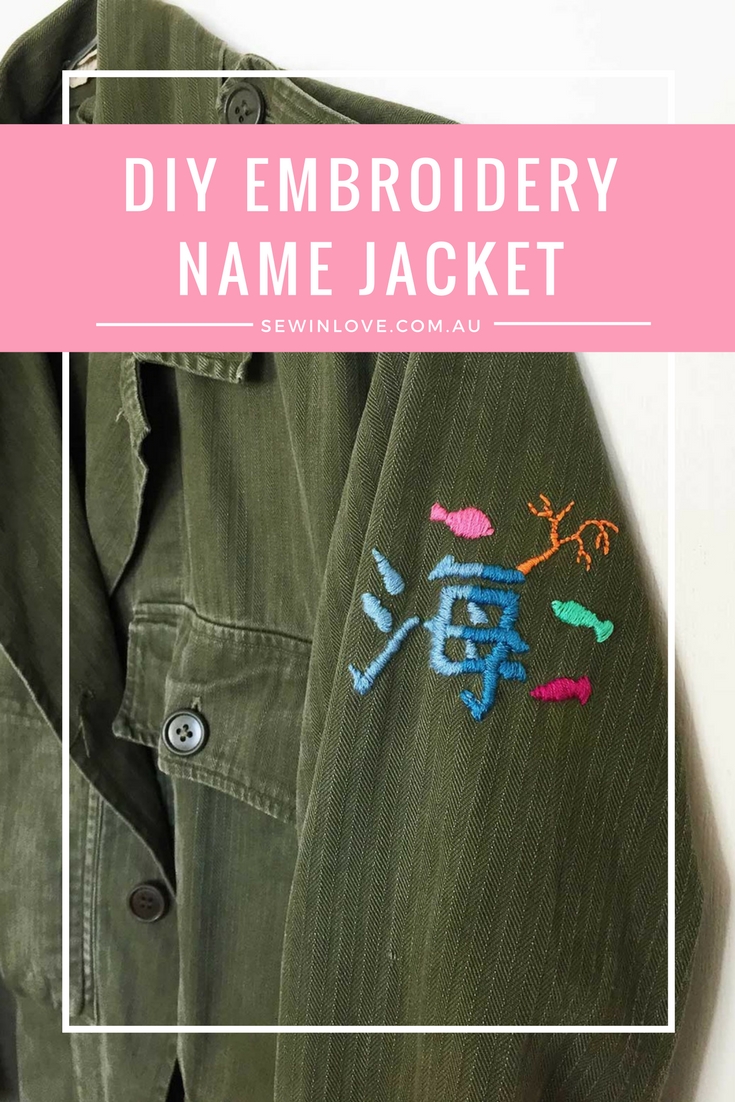 Embroidery Steps
I am no embroidery expert, so I stuck to basic stitches and added interest with colour and easy motifs. I picked up this vintage military jacket on Etsy. It's a thick cotton fabric which has a softened over time making it easy to embroider.
Step 1
Find a font you like and print out your text. Make sure it is printed in the size you need for embroidery.
Step 2
Trace or draw the text on to your garment. I chose to draw directly on to my jacket using dressmaking chalk. I was able to get a pretty accurate copy by placing the print out directly next to where I was drawing.
Step 3
Trace the outline of our text using backstitch. Ideally, you've chosen what colours you want to use for your embroidery. For this step, use the lightest shade of embroidery floss.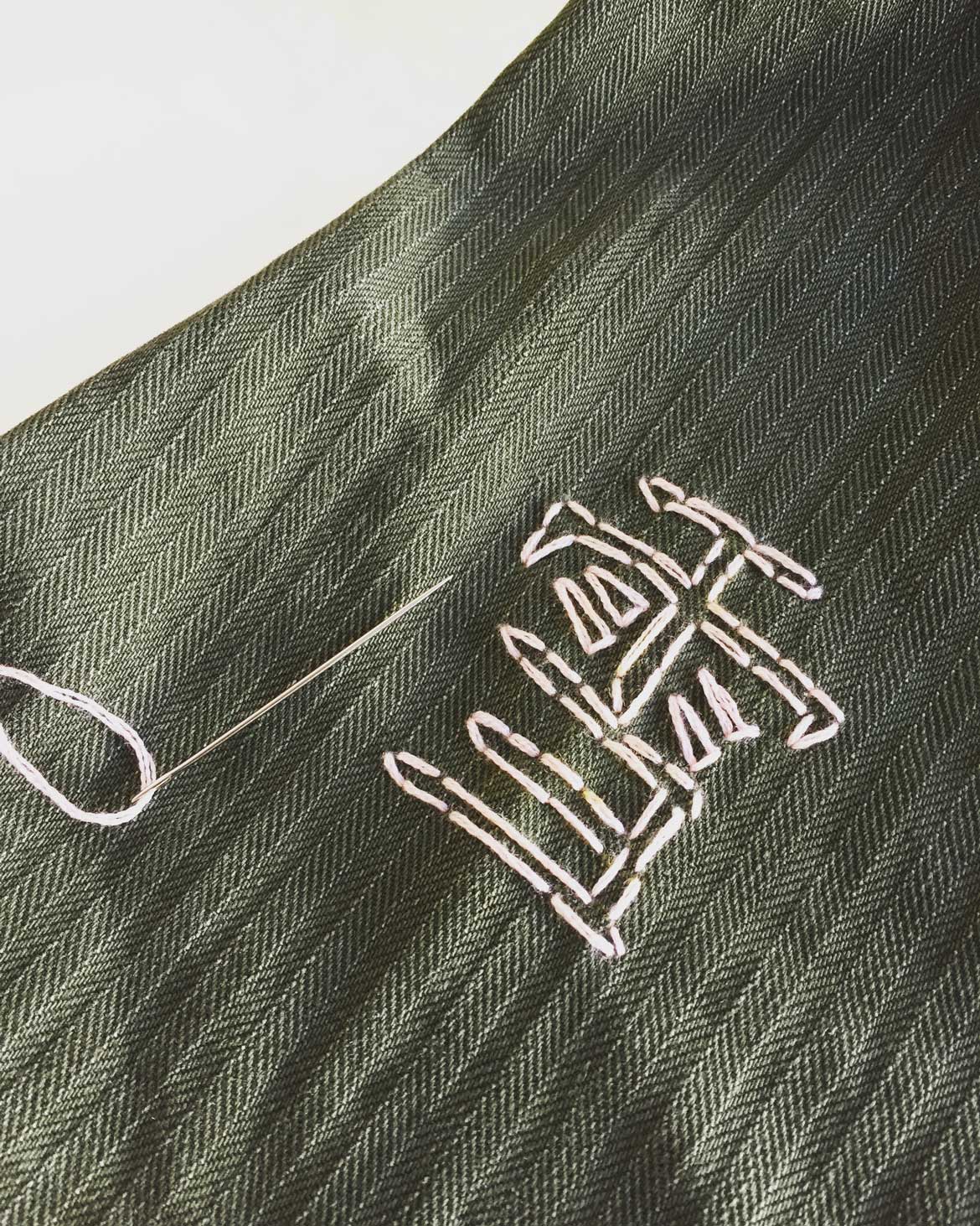 Step 4
Use satin stitch "fill in" your text. Make sure your satin stitches fall outside of the outline stitches from Step 3.
Step 5
Add embellishments! This is the fun part. Watch for balance and add in any motifs or shapes to suit your design.
A Wearable Family Album
I'm not quite finished with decorating this jacket. I plan on adding more embroidery and other embellishments. Maybe I can pick up patches and pretty trims on my travels and add them in as momentos.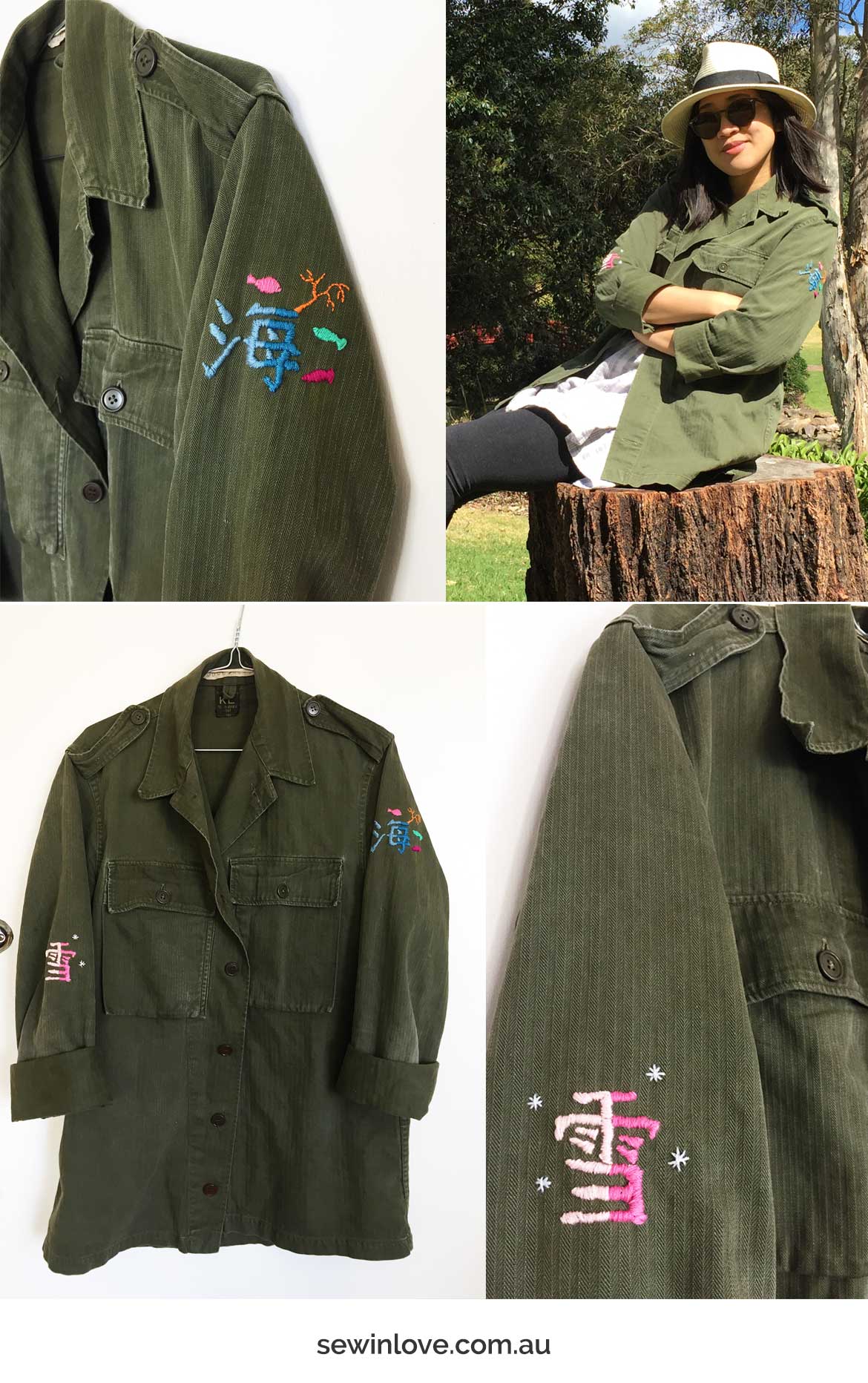 What would you add to your embroidered jacket?