Yay, I finished sewing something! This kids apron dress is the first item of clothing I've managed to sew since having my second baby. There's a mountain of things I'd love to make for my two girls, but I'm just celebrating this first make for now 🙂
The Sewing Pattern
This cute dress is shaped like an apron, but you could also call it a jumper skirt or pinafore. It's from the Japanese sewing pattern book, A Sunny Spot. It's such a gorgeous book that I bought it years before having kids! Now that Umi is big enough to (loosely) wear the smallest size in this book, I really wanted to make her second birthday party outfit.
You can take a look at other patterns in this book review for A Sunny Spot over on my other site, Japanese Sewing Patterns.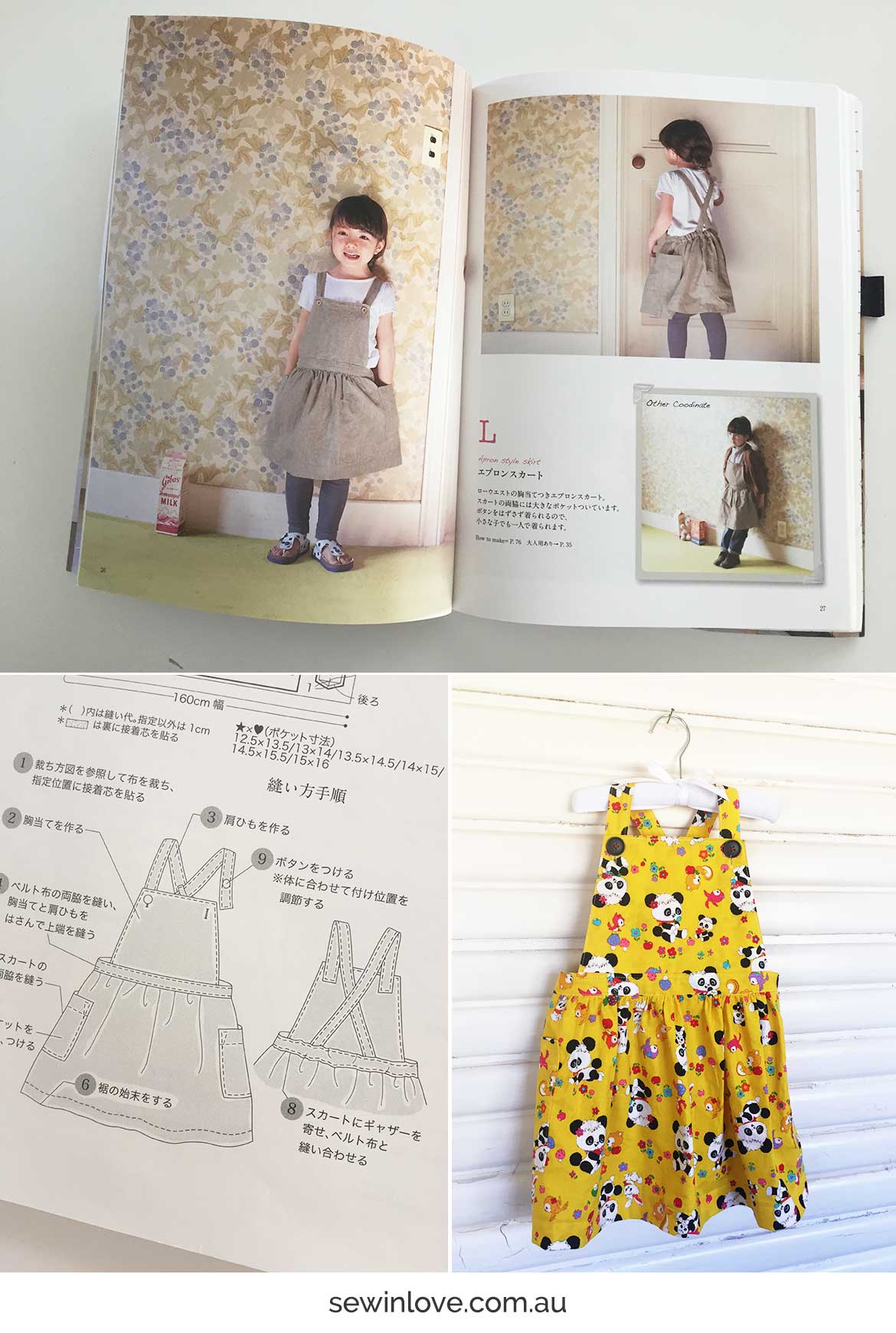 I followed the step-by-step instructions carefully and checked each diagram as I went, but I still managed to get the shoulder straps wrong. The little loop at the centre back is supposed to sit on the inside, but somehow mine ended up on the outside…hmmm. Not sure what happened there but it's no big deal!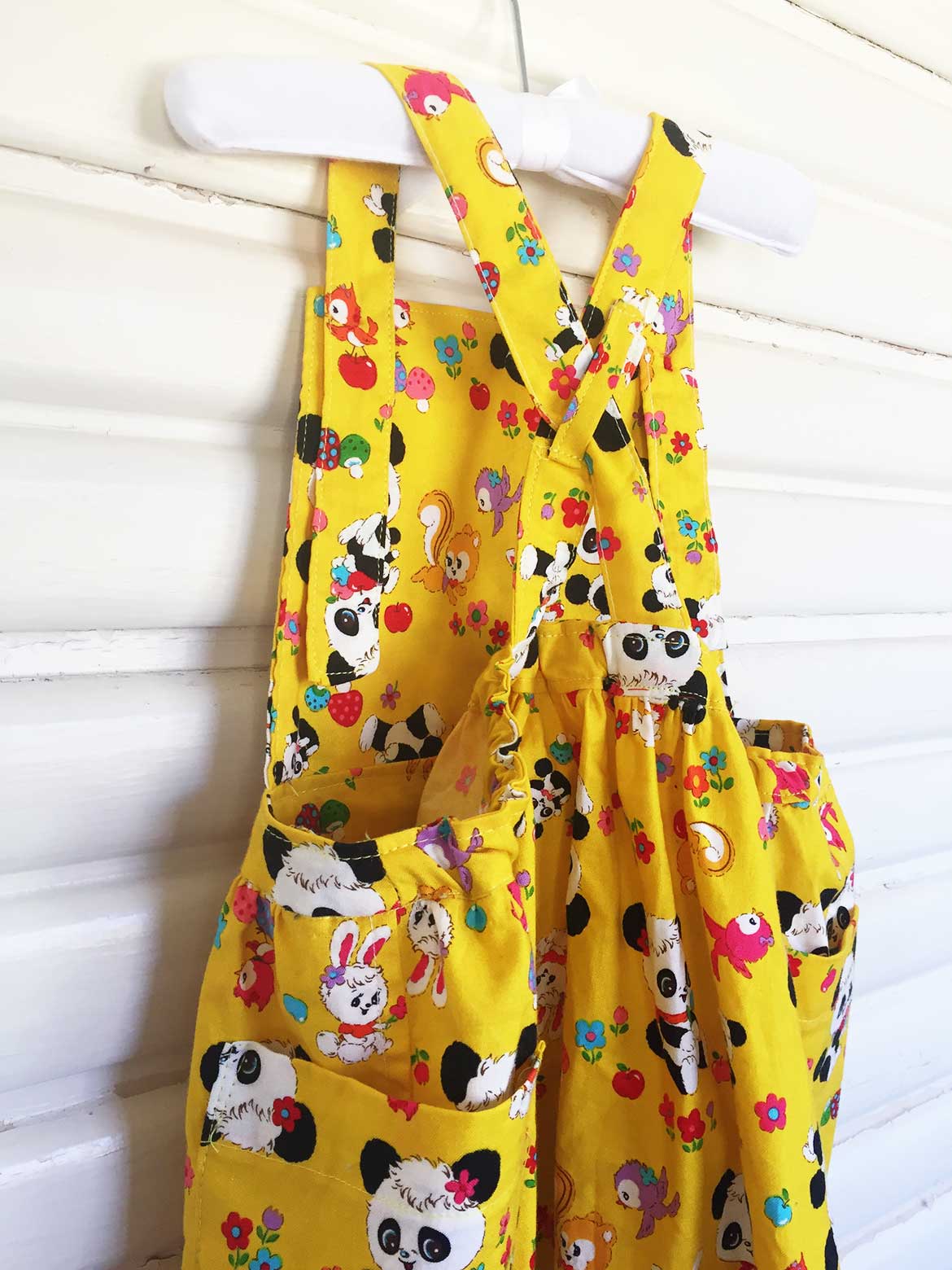 Other than the loop placement dilemma, the rest of the instructions are very straight forward and beginner friendly 🙂
Panda Fabric
I'm on a mission right now to get through some of the fabric piling up in my stash (aren't we all?). So whilst I would have loved to buy some neutral linen to make this dress, I chose to use this bright yellow panda fabric I've had in my sewing cupboard. This fabric was purchased in Japan from Nippori Fabric Town, again, many years before the kids were born. I must have somehow known that I will end up with two little girls.
I wasn't sure if the retro panda print would work on such a little dress, but the bright yellow certainly made Umi the star of her party!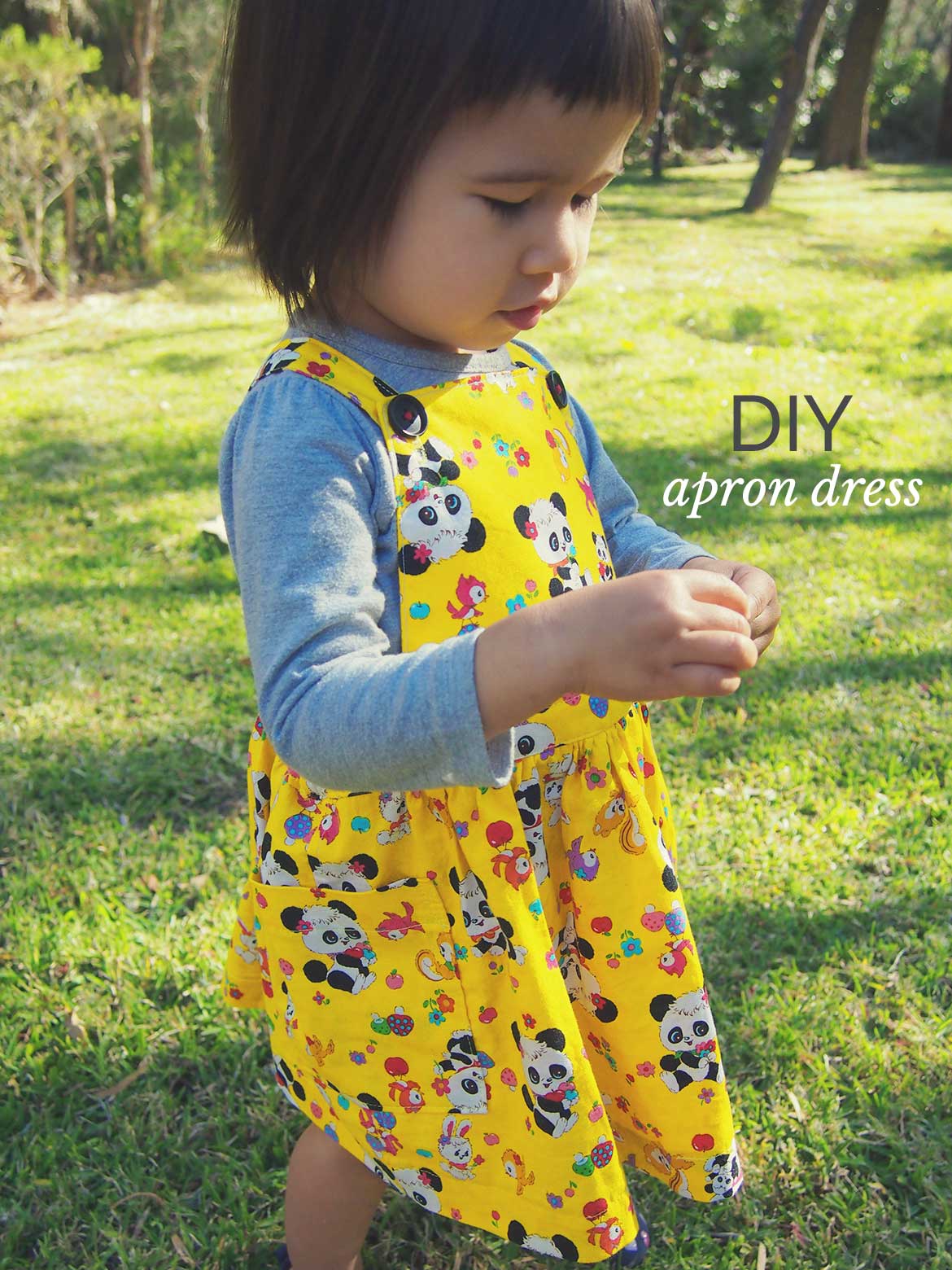 On Little Girls Clothing
Whilst it's extremely practical to dress Umi in leggings and a t-shirt with the latest Disney movie character on it, I really like little girls to dress like little girls. I love the sense of nostalgia in pinfaores, blouses and smock dresses. Oh and Peter Pan collars—aren't they the cutest?
On days Umi is at daycare she's in her "modern" clothes, but for playdates and special occasions, out come the vintage inspired pieces she can only wear whilst she is a little girl.
By the way, if you've just started this hobby of sewing, it's best to use a sewing machine made especially for beginners. If you've done this for awhile and have been sewing clothes and making clothes your business, it's time to get a heavy duty sewing machine. More details here.