Fried tofu steak? I swear, this is a game changer even for the biggest tofu critics. Once you've properly prepared the tofu and pan fried it to perfection, the crispy outer coating and soft interiors will convert you into a tofu fan.
Preparing Tofu Right: Drain it!
Tofu contains lots of water—and sold stored in water—so it's important to drain it as much as possible. In Japan, we wrap the tofu in a dishcloth and place a heavy item on top (like a ceramic plate). Just leave it like this for a few minutes and you're good to go. The biggest culprit in sloppy, unexciting tofu is missing this step!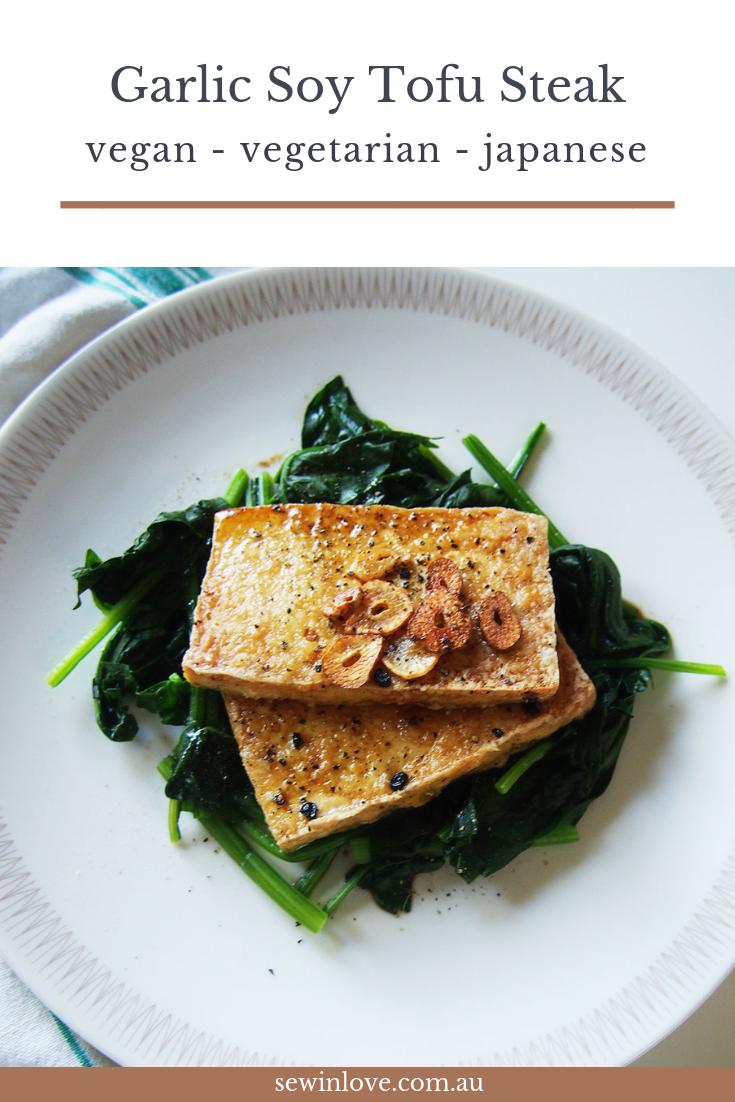 Our Reason for Eating 70% Plant Based
70% is a guesstimate, but our family of four eat a predominantly plant based diet. The reason is not based on health, religion, or even ethics for the most part; It's environmental. You might be shocked (as I was) to hear that cattle are responsible for 18% of worldwide greenhouse emissions (according to the UN).  Forests are being cleared for grazing, as well as to grow the crops required to keep the cows fed.
As someone passionate about reducing waste, renewable energy and DIY, it felt wrong—hypocritical even—to consume meat everyday. We now eat dairy / meat / fish once or twice a week. I'm still researching this topic, especially the energy efficiency of consuming plant based protein VS animal. Perhaps this needs a separate blog post! In the meantime, if you'd like to know more about this topic, here is a quick, informative video to explain this important issue:

Growing Up with Tofu
My mum is Japanese, so tofu to me is as familiar as chicken would be to someone growing up in a Western country. My Japanese grandma eats tofu at almost every meal and is 92 years old. We are a family of tofu lovers.
I do understand that if you're not used to tofu, it's a bit weird and bland. That's why I wanted to share this recipe with you. It's a modern Japanese recipe, something a family in Japan would eat for a midweek meal. I hope this fried tofu convinces you to add some vegetarian protein options into your diet too.
More Healthy Recipes for the New Year
This fried tofu recipe, to my delight, has been selected to be included in the new Healthy Meal Planning Bundle 2019. It's a collection of recipes, meal plans and shopping lists to make clean eating easy for busy women! Here's a taste of what it includes:

A carefully-curated library of simple, nutritious, whole food recipes, beautifully formatted in 12 digital cookbooks.
An easy-to-use index for every single recipe, to help you sort by food allergy, eating style, quick meals, cooking method, and more.
30+ unique made-for-you meals plans complete with grocery lists and prep reminders (4-week dinner plans, school & work lunch plans, breakfast rotations, party plans, and more!)
Meal planning printables for those who love paper and pen and creating their own custom plans.
Plus healthy eating resources on clean eating, a flavour crash course (so your food tastes ah-ma-zing!), strategies for helping kids with pickiness, allergies or oral SPD, and more!
Take a look at the Healthy Meal Planning Bundle 2019 over here.
Garlic Soy Fried Tofu "Steak" for Vegetarians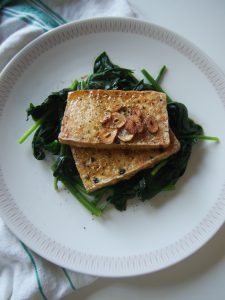 Tofu is an absolute treat if you prepare it right. This tofu steak is sure to convert the biggest carnivore into a tofu fan.
660 g hard tofu
215 g spinach ((2-3 bunches))
3 cloves garlic
3 tbsp cornflour
3 tbsp butter
3 tbsp soy sauce
canola oil for frying
Bring saucepan of water to the boil and cook spinach for 1 minute. Place 

spinach in iced water to cool.

Drain tofu by wrapping in a clean dishcloth. Place a plate on top and let it rest 

for 5 minutes.

Slice garlic thinly. Heat oil in frying pan and fry garlic until crisp. Remove from pan.
Slice tofu into 1cm (2/5") slices and coat in cornflour.
Fry tofu in two batches, until golden on both sides. About 4-5 minutes on each side.
Slice spinach into 5cm (2") segments and arrange on plates. Place fried tofu on top.
Place a knob of butter on each tofu whilst warm, so that butter melts into tofu.
Season with salt and pepper and soy sauce to taste. Sprinkle fried garlic on top.
Substitute butter for olive oil to make this recipe vegan.