This Japanese cotton dress is made from a beautiful Nani Iro fabric. Nani Iro is a Japanese designer fabric brand. My mum brought the fabric back for me from Japan. As soon as I saw it, I knew I had to wait for just the right sewing pattern to do the floral pattern justice.
The Sewing Pattern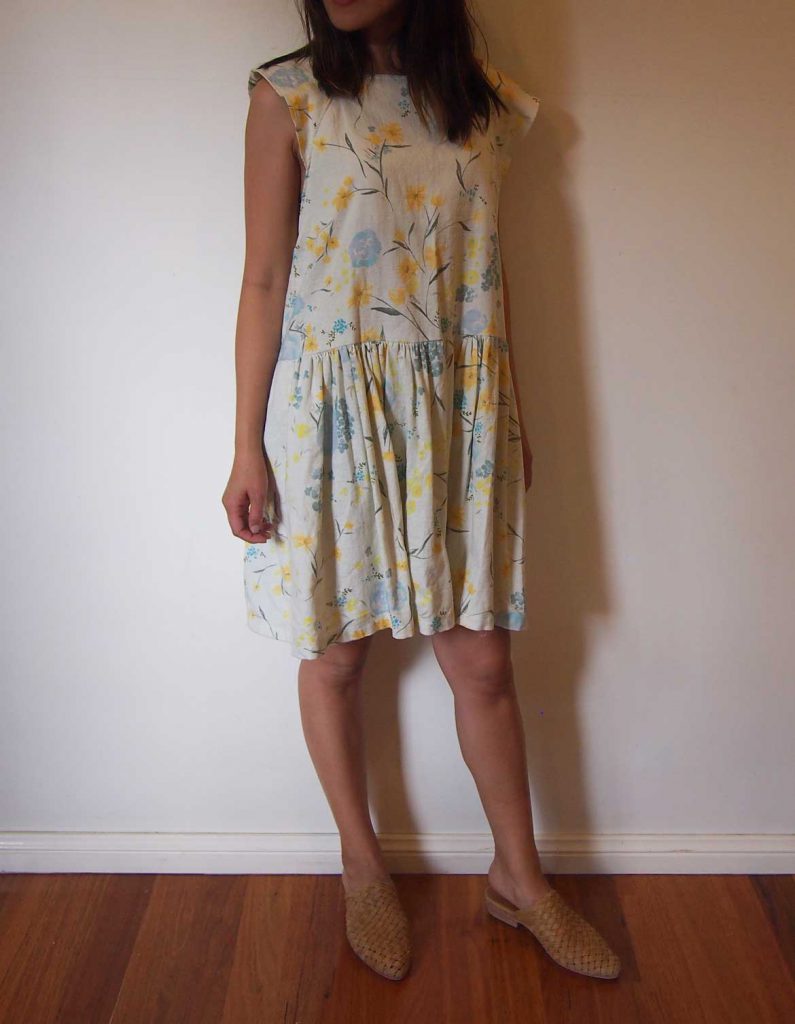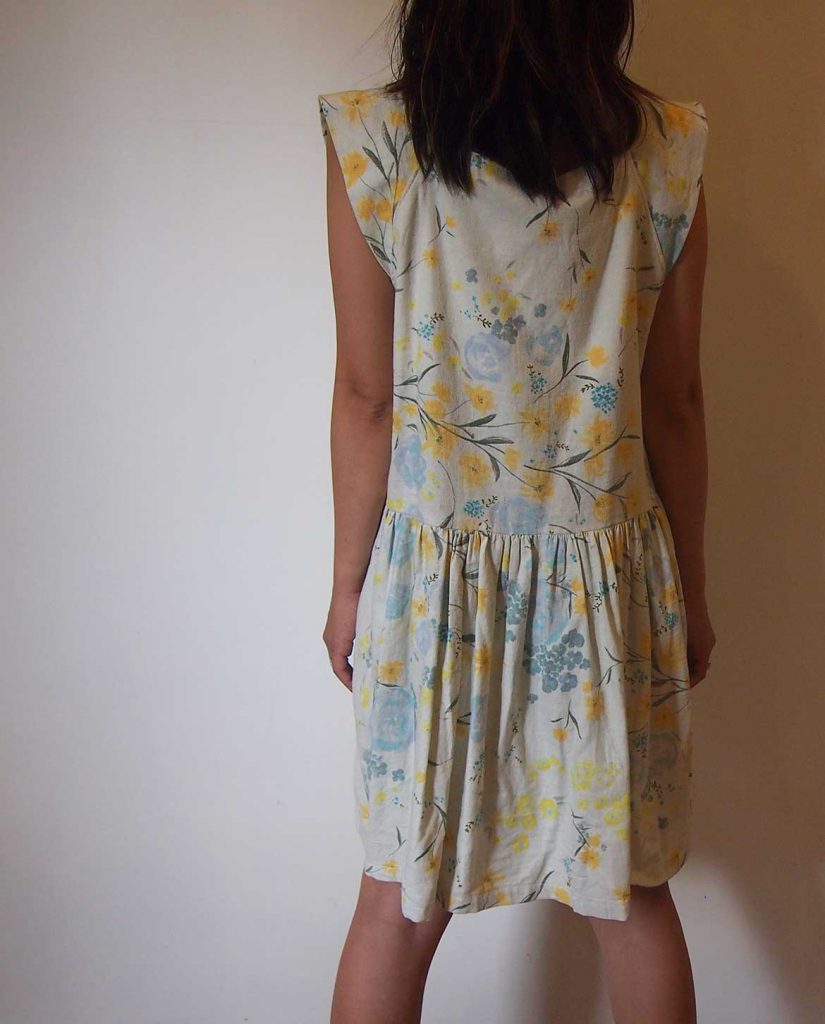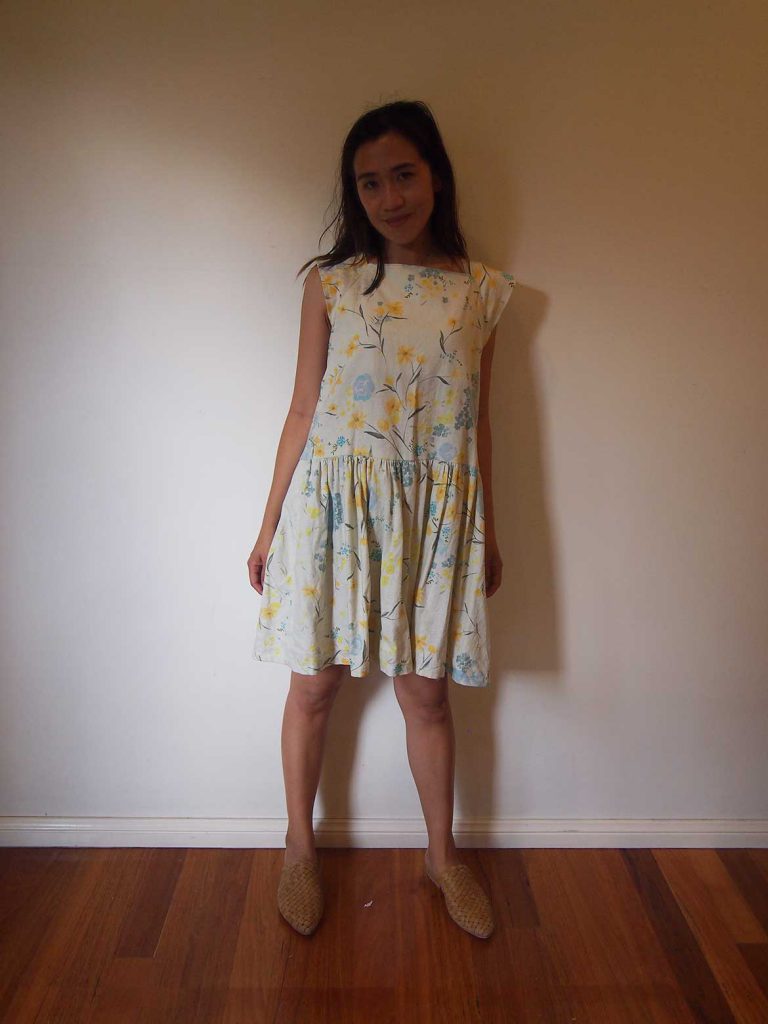 This is the first time I've used a Japanese sewing pattern book from the library. Yes, I'm just as shocked as you are right now. My local library, in Wollongong, Australia, had a Japanese sewing book in its collection!
The book is called "I Am Cute Dresses". Which is a weird title for a book, if you ask me, because the sentence doesn't make any sense. Anyway, the book works really well as a library book because it doesn't have any pull-out patterns. All the designs are drawn into the book with measurements, and you have to draft the pattern yourself. You can just imagine pull-out patterns going missing in the library!
The particular design I chose is Number 15 "I Am Dainty Drops" (left, in the picture below). It's a drop waist dress which has no front or back. The bodice and skirt are the same on both sides, so you can wear back-to-front.
Whilst I would have sworn drop waist dresses were never going to come back into fashion, I kind of think this design works really well. I shortened the skirt to make the dress look less old-fashioned. And I think it looks cute now. The longer bodice (thanks to the drop waist) shows off the lovely floral print too.
The Book: I Am Cute Dresses
If you're library doesn't have this book (most likely), you could request it. Or you can buy one over at Amazon.
Before you get too excited, however, this book only caters for one size. It's size M in Japan, which is an Extra Small to Small in Australia, US, UK and other western countries. Take a look at my Japanese to Western size chart over on my Japanese Sewing Patterns site.
Nani-Iro Cotton Fabric
After some googling, I've found out the name of this fabric. It is the Fuccra JG13610 by the Japanese fabric maker, Nani-Iro. It is a design from 2011, and is now discontinued. But, it seems you can still buy it from stockists. I found one link on Rakuten for this fabric here.
This fabric is a medium weight cotton. It's probably a little on the heavy side to what the pattern designer intended. The pattern calls for lighter fabric such as seersucker for this dress.
Despite the heavier fabric choice, I'm really happy with my Japanese cotton dress. I wear it a lot during the warmer months and like the coverage the heavy cotton provides.
If you'd like to learn to sew Japanese patterns, take a look at my e-book, How to Sew Japanese Sewing Patterns here.