Yoshiko Tsukiori Pattern H from Stylish Dress Book
Yoshiko Tsukiori is a popular Japanese sewing pattern designer. Many of her books have been translated into English, including Stylish Dress Book, which is where my most recent dress pattern hails from.
You can take a look inside Stylish Dress Book in my review post here.
One evening, after the kids were in bed, I had a sudden urge to sew something. And it had to be something for myslef #selfishsewing.
So, this garment was started at 9:40PM on a Wednesday evening…
I had my eye on this particular dress pattern—Pattern H—for several years now. I saw an all white version on Pinterest, and have wanted to make one ever since.
This dress has thick, gathered straps which attach to a bodice. The skirt is also gathered, creating a babydoll effect on the dress. There's an invisible zip on the left side of the dress.
It's a great design to play around with solid/print fabric combination. Anything goes. The (sewing) world is your oyster!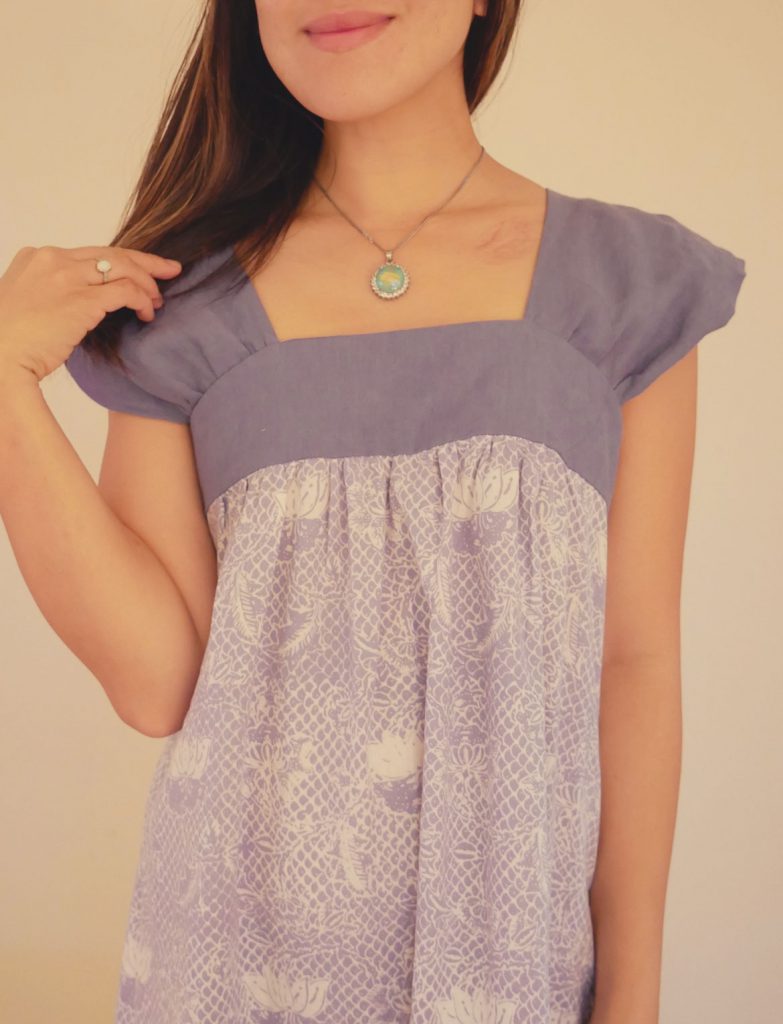 My Version – The Details
Fabric (straps and bodice) – Smokey blue linen remnant purchased on eBay
Fabric (skirt) – Lotus print batik purchased in Indonesia by my mum
Alteration – Added an in-seam pocket to left side.
As someone who notoriously sticks to neutrals in my wardrobe, I'm very proud of myself for adding some colour in my makes recently. Whilst blue is still a pretty "safe" colour, it makes me happy when I put it on!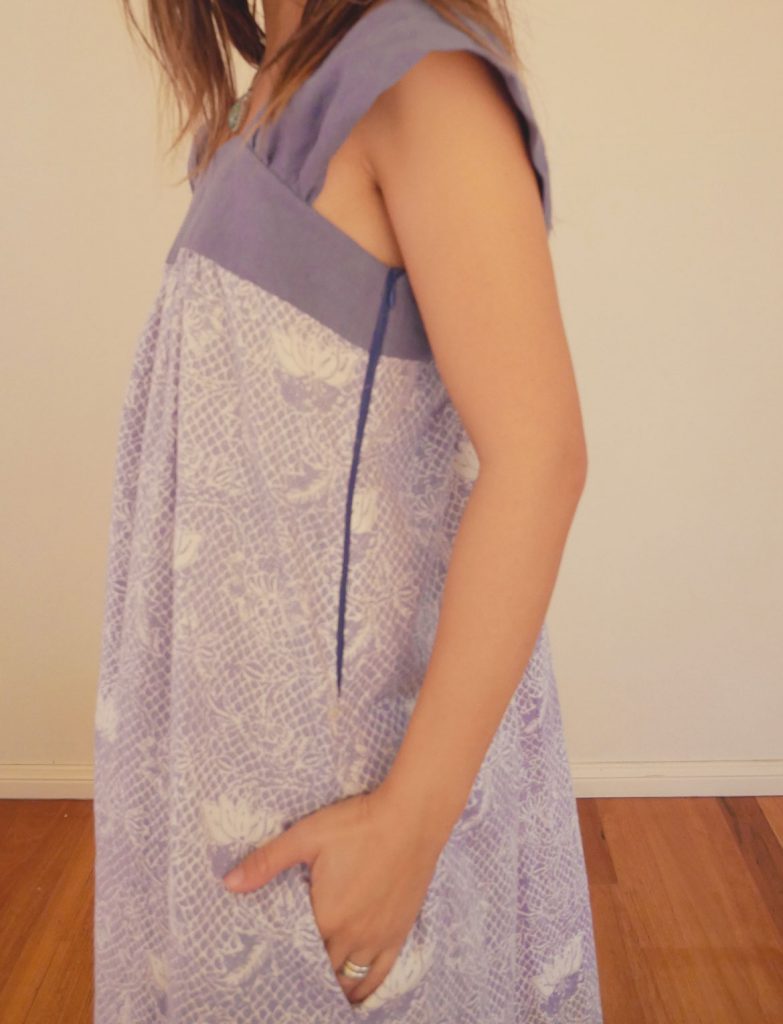 Before You Start!
When I showed my Facebook Group (come join us here) pictures of this dress, one member advised to double check the measurements before you do anything. In her experience, the straps keep falling down her shoulders. And the bust is a little on the tight side.
I usually don't have to worry too much about sizing for Japanese patterns because I have a typically Asian figure (i.e. straight up and down, no boobs). But if you are lucky enough to have curves, make sure you check this bodice works for you, as it has no give.
Notes on the Pattern
I found the bodice to be a little tricky to sew together, especially since you have to insert the straps before you stitch it all together. It results in quite a bulky bit of fabric to stitch through, so you have to go extra slow in this step. Baste. A lot.
The instructions for the bodice was a confusing too, because they kept changing the language they used to refer to the pattern pieces. Changing from outside, right side, wrong side, inner….meh. Luckily, there's diagrams to show you the way—if you know how to read them. I do find these consistencies in pattern explanations frustrating though!
If you'd like more hand-holding and guidance through sewing a Japanese pattern, take a look at my e-book, How to Sew Japanese Sewing Patterns.
Buy Stylish Dress Book
Stylish Dress Book by Yoshiko Tsukiori is a wonderful book, full of unique designs. I've made quite a few items from this book now:
To grab yourself a copy in Australia, head on over to NewSouth Books.
For everywhere else in the world, Amazon is your best bet.