Are you intimidated by PDF sewing patterns? Also known as digital sewing patterns, PDF sewing patterns are a new and exciting way to sew. Once you've tried them, you too will love the instant gratification of PDF sewing patterns. Get ready to enter a whole new world of sewing.
Let's go slowly, step-by-step, into using and enjoying PDF sewing patterns. Here are the topics we'll cover in this guide:
#1 Why PDF Sewing Patterns are the Bees Knees
#2 Where to Find PDF Sewing Patterns (including free ones!)
#3 Downloading PDF Sewing Patterns
#4 Printing Patterns at Home and Assembling
#5 Printing Patterns at a Print Shop
#1 Why PDF Sewing Patterns are the Bees Knees
What's a PDF anyway? PDF stands for Portable Document Format. It basically means you can send someone a PDF file over the internet and that person receives a file that looks the same as what you sent.
That's why the PDF file works so well for sewing patterns. When you open a PDF sewing pattern in your computer, it looks the same as the original file created by the pattern maker.
There's so many reasons to love PDF sewing patterns, but here are my top 3:
Instant Gratification

When you find the sewing pattern of your dreams, you can get hold of it instantly. No searching for it at your local craft store, no waiting for delivery. You can get started on your creative pursuit immediately with PDF sewing patterns

Unique Indie Designs from Around the World

We've all heard of Vogue, Butterick and McCalls. But did you know there's lots of independent sewing designers creating unique sewing patterns? Thanks to the internet, small and independent pattern designers are able to sell their designs. It's like having VIP access to runway shows! You're bound to find the perfect PDF sewing pattern.

You are not limited to your local store, let alone your country to shop for sewing patterns. You can now buy PDF sewing patterns from ANYWHERE in the world. Using PDF sewing patterns will literally open a whole new world of sewing.
Yours for LIFE

Oops, you've cut the wrong size out of your traditional Vogue pattern! You'll have to buy another one now. That won't be the case with PDF sewing patterns.
You can print, print and print again because you OWN the file. Need to make the same dress in another size for your niece? No problem. Just print out another pattern and you're good to go!

In the future, the pattern maker might make updates or improvements on the pattern or instructions. With a digital pattern, they can simply email you a new version. You buy once, but you get a lifetime of upgrades!
Excited about trying your first PDF sewing pattern? Read on!
#2 Where to Find PDF Sewing Patterns (including free ones!)
PDF sewing patterns are becoming more and more popular. Here are some of my favourite sources, both paid and free.
Just a note with the free patterns:
You get what you pay for. Free patterns are a great way to get started, but they often only come in one size, or they don't come with detailed instructions. Lots and lots of time goes into creating, grading and testing paid sewing patterns.
To be completely transparent, I offer both free and paid sewing patterns. I recommend you start with free options on scrap / inexpensive fabric.
Sign up below to access my Free Creative Resources Library full of free sewing patterns and craft projects. A great way to get started!
Once you are more confident, purchase a sewing pattern. You'll notice a huge difference in quality, details and accuracy. In general, a paid sewing pattern is more enjoyable to sew. If you're going to put in the time and effort into sewing a garment, you might as well enjoy the process AND the final product. You'll also be supporting independent designers.
Some Free Sewing Patterns to Try
Most of the following websites provide both free and paid sewing patterns.
Some Great Independent Pattern Designers to Purchase
Before you get overwhelmed by the choices out there, my best advice is to find pattern designers with a style that resonates with your own. It will help you narrow down your list!

#3 Downloading Your Pattern
You've chosen a pattern and made a purchase. An email will be sent to you with a link to download your sewing pattern onto your computer.
This video will show you the process of downloading a sewing pattern from Hana Patterns. You'll also learn:
How to unzip your downloaded file
What's included in a purchased pattern for Hana Patterns
#4 Printing Patterns at Home and Assembling
You can use standard size paper—what you use to print documents—to print out your digital sewing patterns.
The pattern maker should specify the paper size suitable for the file you have downloaded. Usually, it's US Letter Size (for North America) and A4 for the rest of the world.
In the table below, you can compare different paper size standards. You can print an A4 or US Letter size document in your home computer. A large size like A0 needs to be sent to a print shop.
| Paper Size | Measurements in mm | Measurements in inches | Where to print |
| --- | --- | --- | --- |
| A4 | 210 x 297 mm | 8.3 x 11.7 in | Home |
| US Letter | 216 x 279 mm | 8.5 x 11 in | Home |
| A0 | 841 x 1189 mm | 33.1 x 46.8 in | Print Shop |
IMPORTANT:
Print your sewing pattern and make sure you choose "Do Not Fit to Size" in your printing option. Check the "Test Square" to ensure pattern has printed without stretching / shrinking.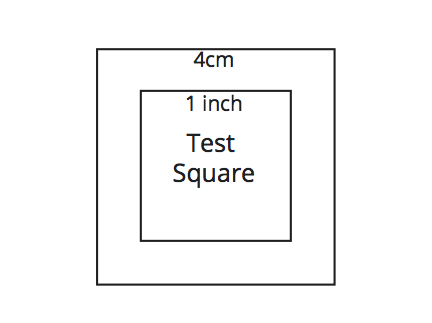 A4 and US Letter paper sizes are too small to fit the entire sewing pattern. You will need to assemble pieces together to create the pattern.
Below is an example from Hana Patterns. 28 pages are glued together to create this sewing pattern. Either glue or tape the pattern pieces, following the diagram provided by the pattern maker.
#5 Printing Patterns at a Print Shop
My preferred option is to send the pattern file to a print shop. It's quick and no assembly is required!
A0 is the most common paper size for printing sewing patterns. It's a standard size internationally, except for North America. If you're based in the US, you can choose a paper size larger than A0, or try an online company called PDF Plotting.
If you're in Australia (like me), I recommend using Officeworks. I'll show you how to order A0 prints of your sewing pattern from both websites in the video below!
Ready to try a PDF sewing pattern?
Excited about giving digital sewing patterns a go? Right now, if you sign up to the Hana Patterns newsletter, you'll receive 10% off your first order. Head over to Hana Patterns to start shopping!