When a fellow sewing blogger I admire launched a kimono jacket pattern, I was so excited for her. I just had to try Emily from Endearing Everyday's new sewing pattern: The Ana.
I'm also sharing three kimono outfit ideas, because I initially found it difficult to think of ways to wear this kimono jacket. I feel like a beach cover-up is the default option but hopefully, this blog post convinces you otherwise.

Ana Kimona by Endearing Cloth
This Japanese kimono-inspired jacket made a quick and satisfying sewing project. Emily's instructions are very clear and easy to follow. If you are an absolute beginner at sewing clothes, I highly recommend trying this sewing pattern. You only need to know how to stitch a straight line!
The pattern is a draft-it-yourself PDF format; you just follow the diagram and measurements to cut your fabric. The kimono jacket pattern is in one size only. I wear a US 4 / UK & AU 8 for reference.
Instructions are included for making the jacket into a duster (i.e. longer). I think it would be very easy to adjust the width and therefore the fit of the jacket too.
Ana is named after Emily's grandmother, which I think is a lovely gesture. You can grab yourself an Ana pattern from Emily's shop, Endearing Cloth.
An Indonesian / Japanese Fusion
Having a Japanese mother and an Indonesian father has wonderful advantages, including diverse food, languages….and fabric! Whenever my parents visit family in Indonesia, they bring me back batik fabric. Batik is a traditional Indonesian fabric (usually cotton). Wax is used to draw the intricate patterns before the fabric is dyed. It's a centuries old tradition passed on by highly skilled Javanese artists. You can watch this video to see the artists work their magic with wax.
As someone who mostly lives in neutrals, I'm pleasantly surprised at how much I've enjoyed wearing this brightly coloured batik kimono. I feel proud of the fusion of my mixed heritage in a piece I made myself. It's transitioned very easily into my mostly neutral wardrobe as you'll see in my outfit ideas.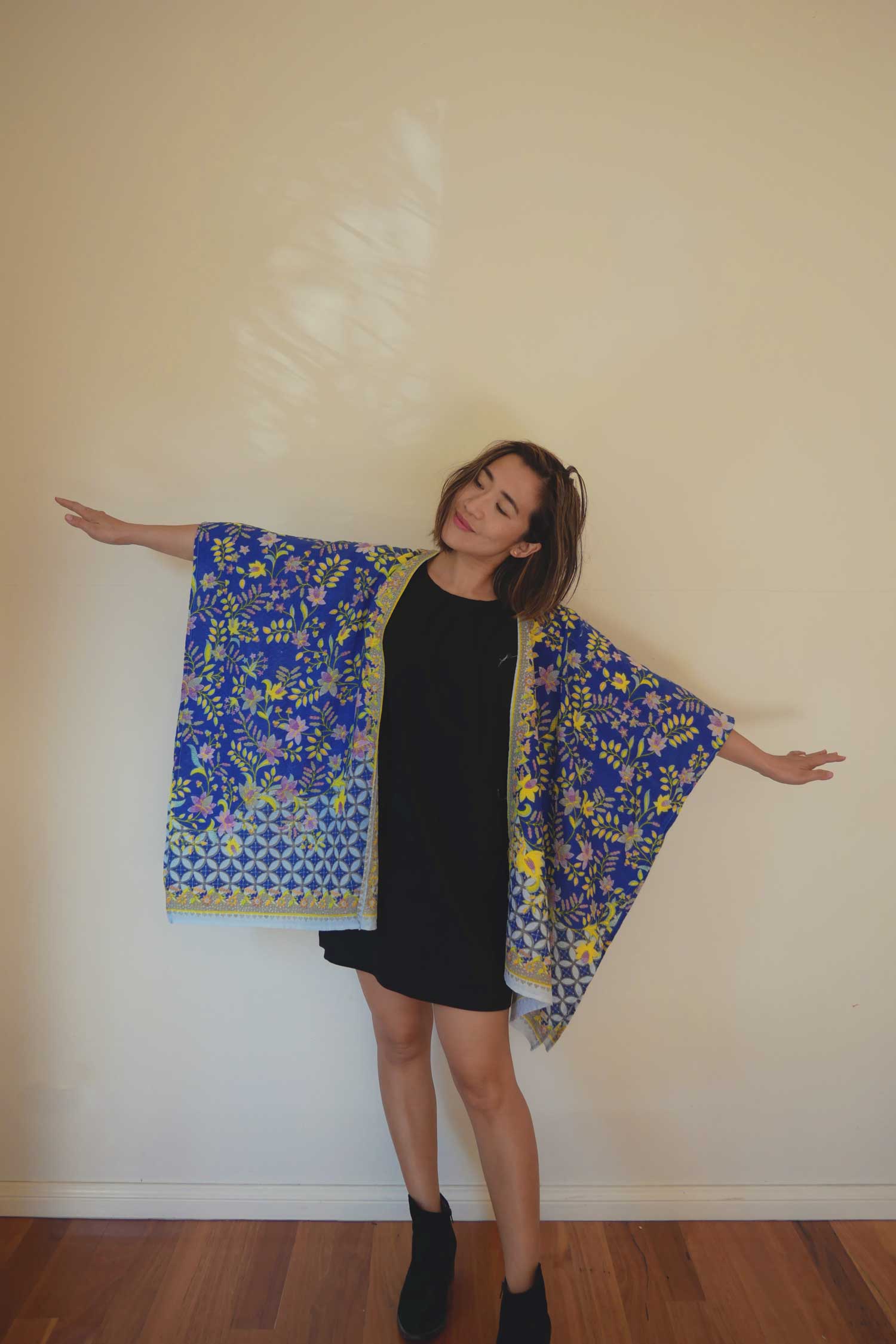 Are you loving the boho vibes of this kimono jacket? Check out my free sewing pattern for a boho dress with kimono-style sleeves. Inspired by a Free People dress.
3 Kimono Outfit Ideas
Outfit 1: The can't-go-wrong little black dress option
A little black dress truly is a staple and it's even better when you've made it yourself. Recognise this dress? It's my most popular free sewing pattern, the reversible Little Boxy Dress.
If you have a simple shift dress like this in your wardrobe, you might be surprised to see it completely transform when you throw a kimono jacket on top.
Make your own reversible Little Boxy Dress over here, it's FREE!. See lots of versions of the #sewinloveboxydress on women of all different shapes and sizes over here.
Outfit 2: I made my jeans fancy
As much as I enjoy getting dressed up, I'm a jeans and t-shirt girl at heart. This outfit is for those quiet days working from home and enjoying endless cups of tea.
If a friend pops by spontaneously, I can hide my t-shirt stains behind this fancy kimono jacket!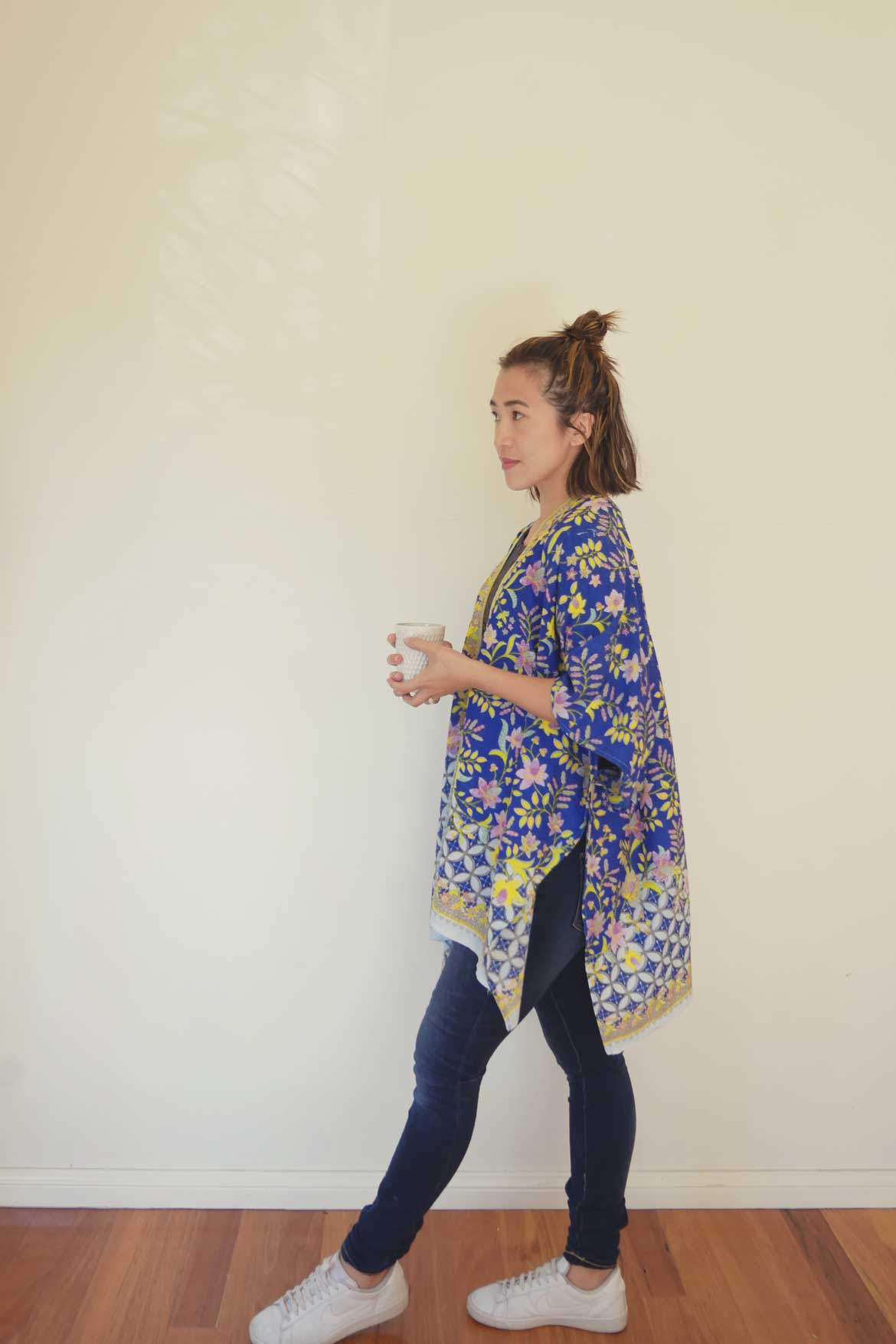 Outfit 3: Ready for cocktails with the arty crowd
I feel so arty and alluring in this outfit. It's perfect for a date night, cocktail party or perhaps an art gallery opening. You'll fit straight in with the fancy people just by adding wide leg pants, heels and a cami under the kimono jacket.
These wide leg pants are made of black linen. The pattern is from my sewing pattern shop, Hana Patterns. The Yoko overalls convert into these pants so you can double the amount of wear after all your sewing efforts!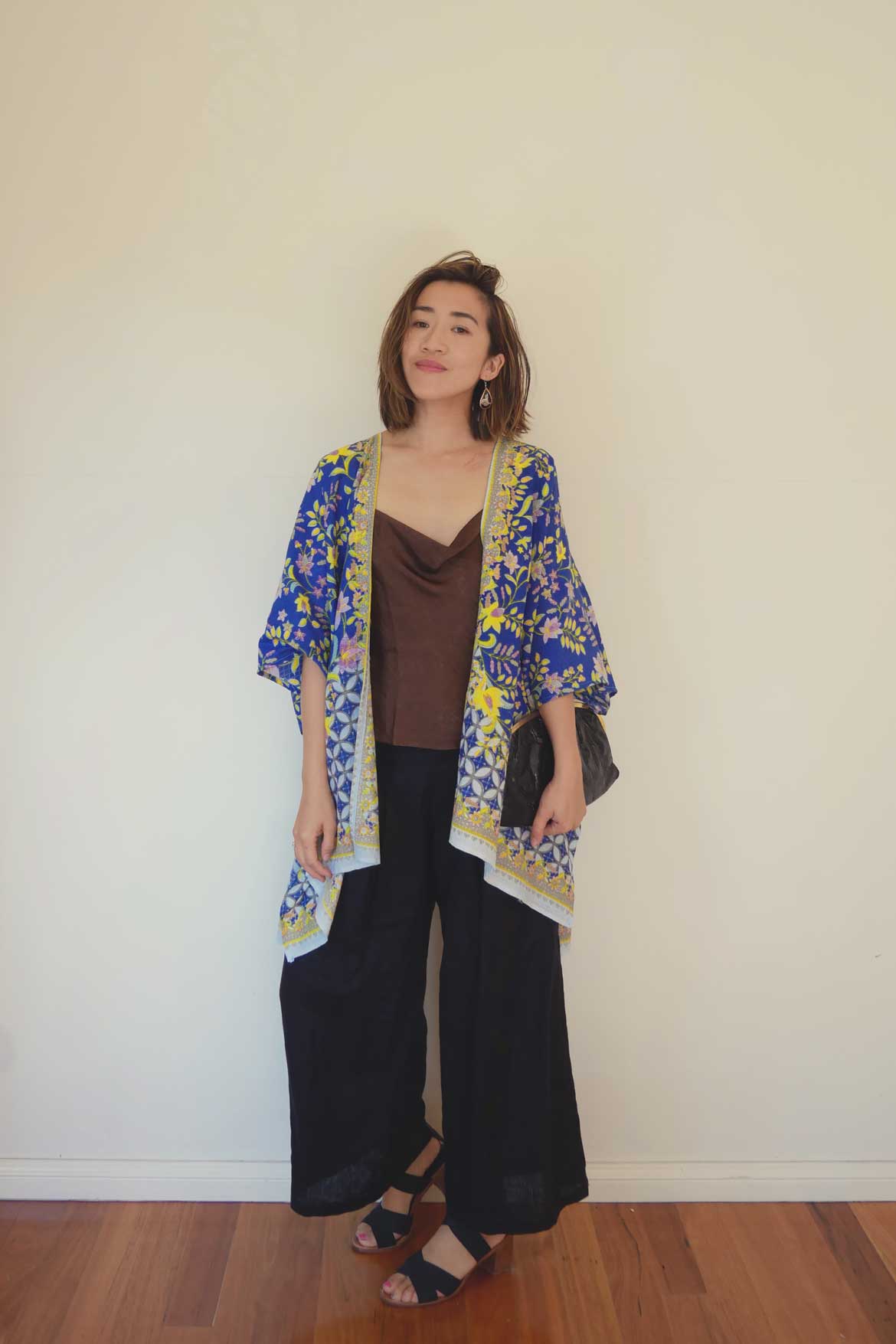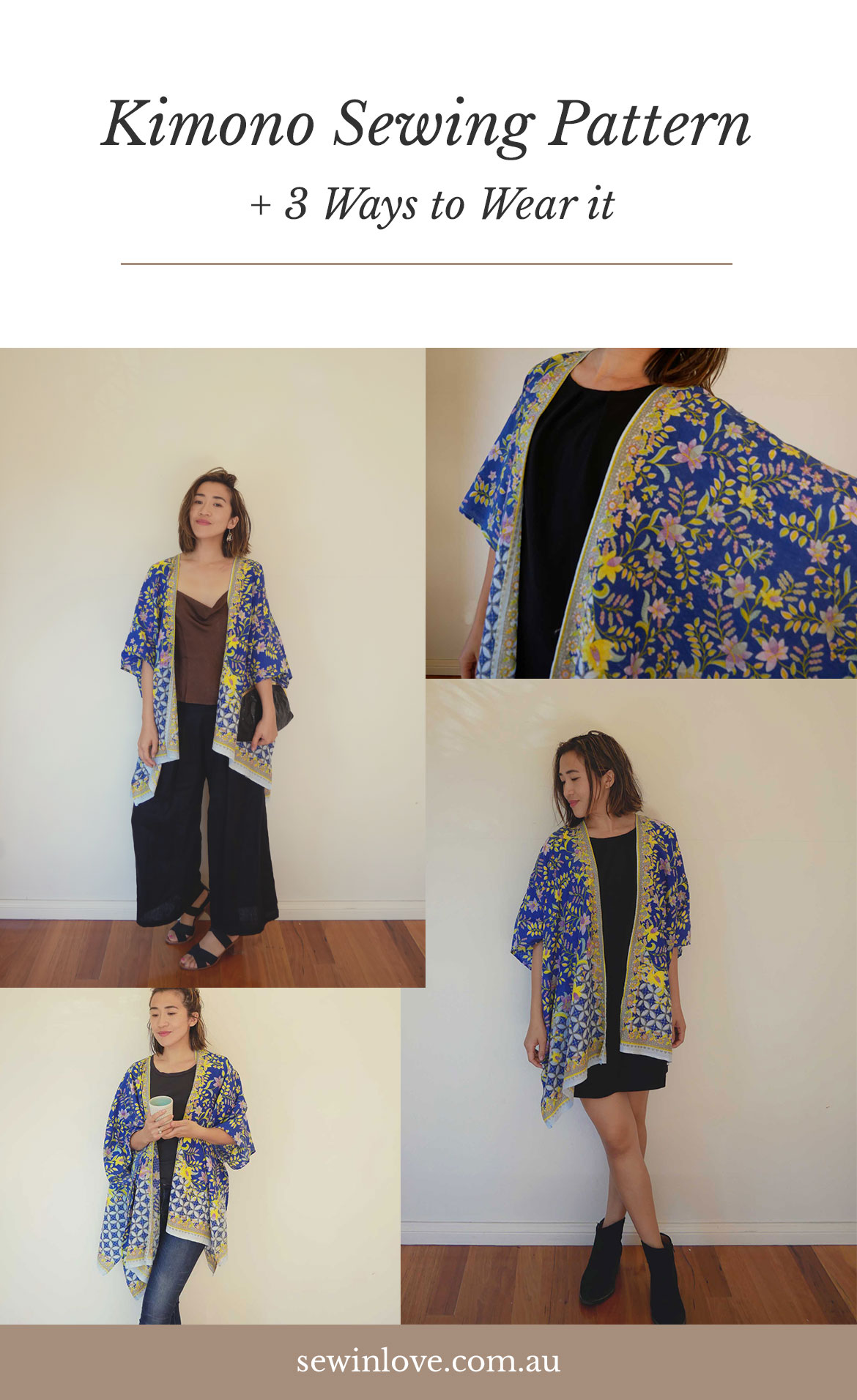 Which of the three kimono jacket outfits is your favourite?
Don't forget to grab your Ana sewing pattern over here.