New Japanese sewing books are being published all the time. It can be overwhelming to choose from the huge range available, so here are my top picks for sewing pattern books published in 2019!
My parents are visiting Japan again to see my grandmother, so I have been perusing Amazon Japan for the latest sewing books. If I ask nicely, they might bring some books back to Australia for me…
I've finally narrowed it down to this "wishlist". Let me know which one is your favourite!
And whilst you're here, don't forget to grab my FREE Beginner's Guide to Japanese Sewing Patterns:
1. Comfortable Everyday Clothes
Japanese sewing books are world renowned for the relaxed, loose and natural styles featured in this book. The unique use of gathering in the clothing designs of this book really caught my eye.
2. Accessories to Enjoy with Fabric Offcuts
Any respectable sewing fanatic has a stash of fabric offcuts we wouldn't dare throw out. Making a quilt is one idea to use up remnant fabric, but this book offers a multitude of useful accessories to finally give a new lease of life to our forgotten offcuts.
I'm really attracted to the use of sashiko stitching add character (and strength) to these easy sewing projects. If you're keen to try sashiko, the Japanese answer to slow stitching, you'll love my free sashiko pillow sewing pattern.
3. Skirts for Grown-ups
If you're a jeans girl like me, then perhaps the last time you wore a skirt was when you were in high school? I've recently rediscovered the joy of wearing skirt. It feels so feminine (and very comfortable) after years of tomboy dressing.
The key to wearing a skirt as a grown-up? Get the length right. My favourite is a loose, midi-length because you get the freedom to run around and bend down. Add side pockets and you won't miss your old jeans!
This Japanese sewing book is all about skirts for those of us past the school girl phase.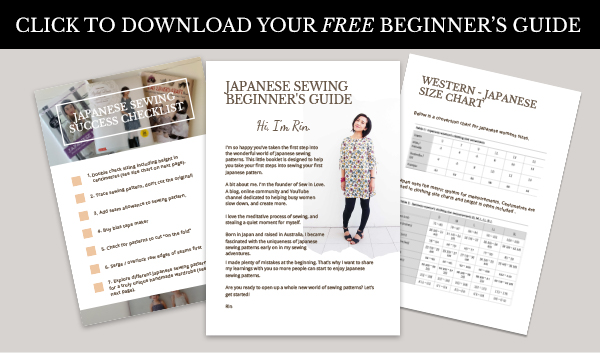 4. Clothes for Girls and Boys with a Cute Silhouette
As a mother of two girls, I have a weak spot for unique sewing patterns for little people. This book is focused on the "silhouette" of the sewing pattern i.e. the shape of the garment and how it sits on the body.
There are some adorable designs in this book, all with interesting cuts or ruffles. You certainly won't find clothes like these at your local retail store!
Are you curious about Japanese sewing patterns, but lacking the confidence to try sewing one? Download my free Japanese Sewing Beginner's Guide and you'll be on your way!
5. Sewing for the First Time: Kids and Baby Accessories
I have been lucky enough to interact with sewing lovers from all over the world. Quite often, a blog reader has become interested in sewing due to a life changing event. Becoming a mother, or a grandmother are the reasons many people start, or come back to the joy of sewing. It makes sense, doesn't it? What a wonderful reason to create something with your hands; when you have a tiny little being gracing your life.
I liked this Japanese sewing book for first timers, because if contains useful accessories for babies and kids in a format that is very beginner friendly.