Do you want to sew clothes that show off your unique style, personality and inviduality? Are your current clothes failing to reflect who you are? Your dream handmade wardrobe should consist of carefully considered pieces you love wearing. Mindfully making your own clothes is a wonderful way to relax and rediscover your creativity.
Compared to shopping at fast fashion stores, sewing your own clothes is a more sustainable, earth friendly way to dress yourself. And just think how GOOD it would feel to open your closet to find something you lovingly made with your own hands, representing who you are and your values.
But you might be suprised to hear that the BIGGEST win will be the joyful hours spent planning and mindfully making your handmade wardrobe into reality.
Whilst it's tempting to just dive in and start sewing a random pattern, let's take a step back and properly plan your handmade wardrobe. To create clothes you will actually wear (after all those hours spent sewing it), it's crucial to define your personal style first.
Don't worry, I've broken it down to five easy steps for you. This is going to be fun! You'll be starting to sew clothes in no time, especially with the help of this
FREE Dream Handmade Wardrobe Workbook
: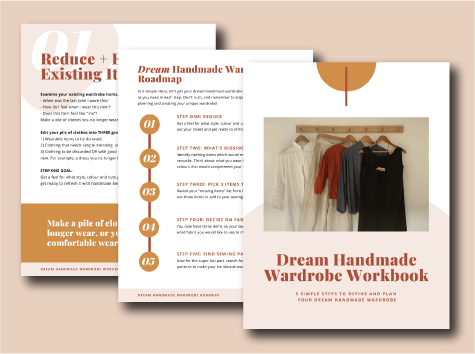 Step 1: Reduce and Edit Your Existing Clothing Items
STEP ONE GOAL: Get a feel for what style, colour and cuts you often wear. Clean out your closet and get ready to refresh it with handmade items.
Before you start, Download the FREE Dream Handmade Wardrobe Workbook to save time!
Examine your existing wardrobe items, and ask yourself these questions:
When was the last time I wore this?
How do I feel when I wear this item?
Does this item feel like "me"?
Make a pile of clothes you no longer wear, or you don't feel comfortable wearing.
Edit your pile of clothes into THREE groups:
1) Wearable items to be donated.
2) Clothing that needs simple mending (e.g. new buttons, fix hem) and you'll wear again.
3) Clothing to be discarded OR with good fabric which can be made into something new. For example, a dress you no longer like could be turned into a skirt.
Step 2: Identify What's Missing
STEP TWO GOAL: Identify clothing items which would make your wardrobe more versatile. Think about what you wear the most often, as well as colours that would complement your existing items.
You should now have a good understanding of the clothing items you already own. Now, we need to define what items would make your wardrobe more versatile and wearable. Here are some questions to help you:
Do I have enough basic items that go with lots of things? e.g. Neutral coloured items.
Do I have too many patterned or solid items?
Do I love wearing dresses, but never wear the ones I own for some reason? e.g. too dressy, too casual, not the right colour, e.t.c.
Am I a pants or skirt person? Does my wardrobe reflect this?
What colours do I like to wear, but have very little of in my closet?
Make a note of your "missing items' in a notebook, or use the FREE Dream Handmade Wardrobe Workbook
Step 3: Plan THREE Items (No More) of Clothing to Sew
Why three items? It's a good number to get you started without overwhelming yourself with a huge sewing list.
I highly recommend you pick one top, one bottom and one dress as your first three items to make.
Revisit your "missing items" list from the previous step and pick out three items to add to your sewing list. Don't worry about being too specific about the design yet. Just define what the item is and what colour / print you would like. For example:
1 x Boxy basic mustard top
1 x Tapered pants in a brown neutral tone
1 x Midi dress in a black and white print
Print out your FREE Dream Handmade Wardrobe Workbook here and start planning (or drawing) your three clothing items to sew!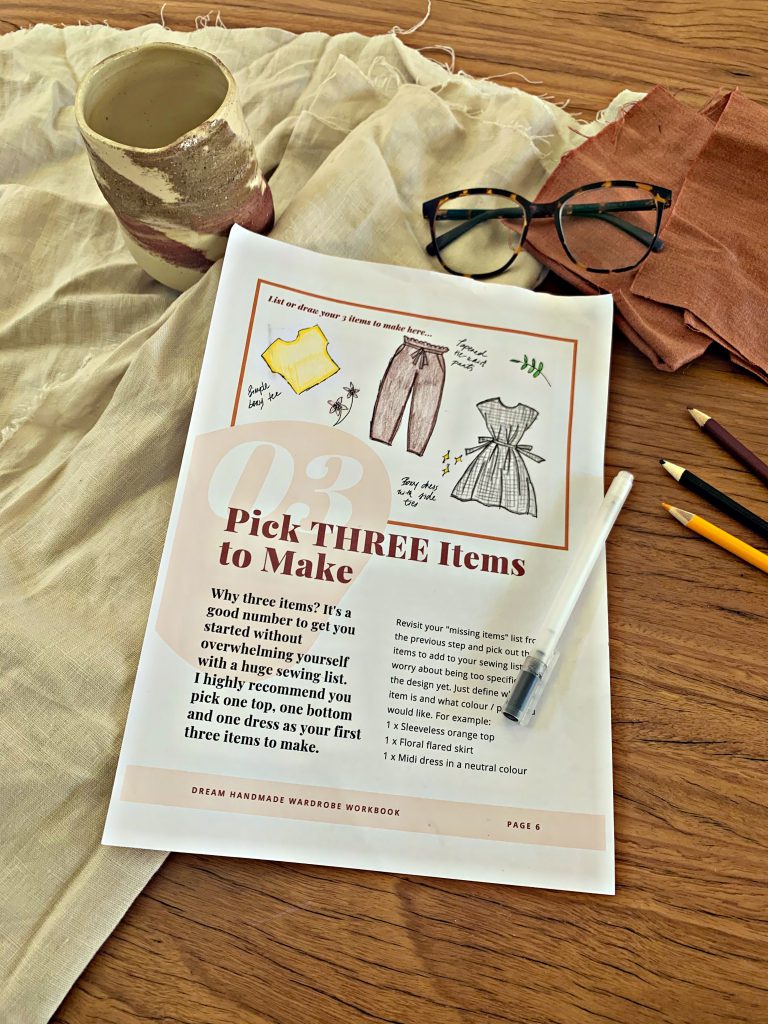 Step 4: Decide on Fabric to Sew Clothes With
You now have three items on your sewing list, so let's decide what fabric you would like to use to make them. The first question to answer is whether you want to use a woven (non-stretchy) or knit (lots of stretch). If you're new to sewing garments, I recommend you choose a woven fabric (see notes below for ideas).
For seasoned sewing lovers, take a look first at your existing fabric stash. Do you have anything you could use for your sewing project?
Keep in mind the colours and patterns you identified in previous steps to decide on the type of fabrics you would like to use.
NOTES ON FABRIC:
Woven fabrics such as cotton, linen, poly-cotton and chambray are more beginner friendly than stretchy (knit) fabrics.
Thrift stores and charity shops are a great source of fabrics—even if it's just to use for a practice run. I'm always on the lookout for cheap secondhand sheets to test out new sewing patterns.
This is an excellent resource on detailed information about different fabric types.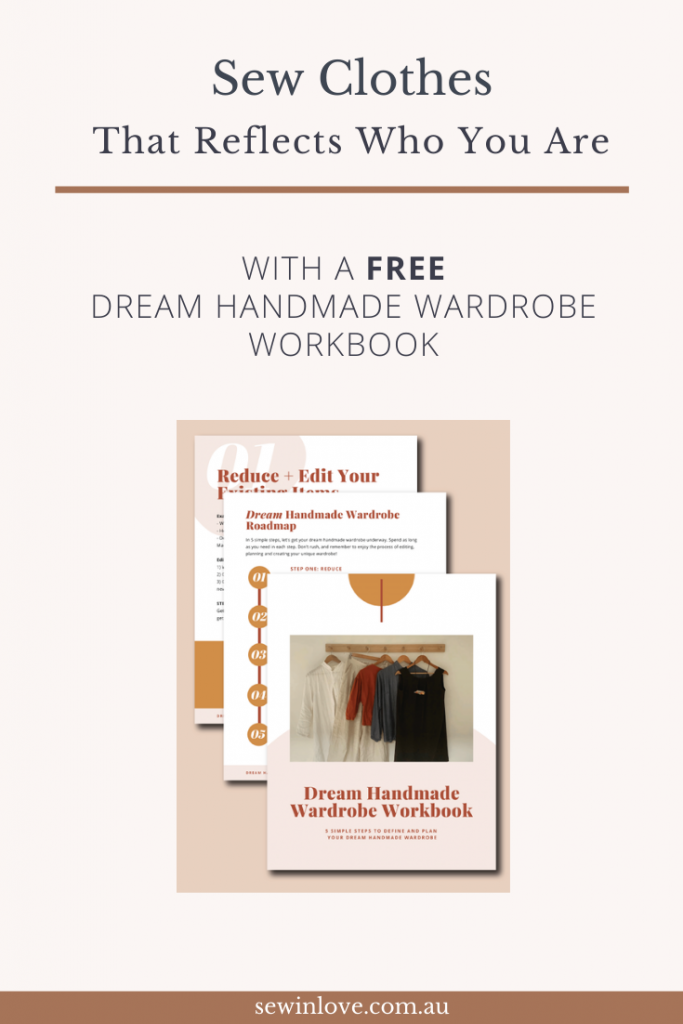 Step 5: Find the Patterns to Begin to Sew Clothes
For the last step, let's find the sewing patterns to create your handmade wardrobe pieces. There's thousands of patterns out there, so try to keep just your THREE items in mind and remember to have fun browsing!
SEWING PATTERN SOURCES:
1) Google, Etsy and Pinterest – Try searching for keywords to describe what you're looking for, such as "flared skirt pattern". My Pinterest boards have thousands of fashion sewing ideas.
2) Vogue, McCalls and other big brand patterns
3) Independent Sewing Patterns List – Support independent designers on this site.
4) Sew in Love Patterns – See my sewing pattern shop if you like minimalist style fashion.
*A note on independent patterns: Many sewing designers sell their patterns as digital PDF sewing patterns. These are files which are emailed to you, and you can print them on your home printer or at a print store. I have a detailed blog post and videos about using PDF sewing patterns over here.
5) Little Boxy Dress Free Sewing Workshop – If you're after a simple dress to add to your handmade wardrobe, you'll love the free Little Boxy Dress sewing workshop. Thousands of women have made their own unique dresses using this workshop!
Each sewing pattern should tell you what fabrics would be suitable. Don't forget to check the sizing as well. If you are a beginner, I highly recommend you try to find a sewing pattern that comes with detailed instructions and step-by-step photos (like Sew in Love Patterns).
I'm so excited to have you take the first step towards creating a handmade wardrobe. It's time to sew clothes that truly expresses who you are!