We all know meditation and mindfulness are beneficial to our wellbeing, but incorporating them into our busy lives can be a challenge. As someone who needs to add "meditate for 10 minutes" to my To-Do list to get it done, it can start to seem like a chore—quite the opposite of what meditation is supposed to achieve!
For all us crafters who like to keep our hands busy, we can find ourselves practicing meditation and mindfulness when we immerse ourselves in making. That's why I wanted to chat to yoga teacher and craft lover, Emma from Beach Gypsy Yoga & Crafts, to explain her understanding of the connection between crafts, meditation and mindfulness.
Emma completed her training in India, and now teaches yoga and meditation in Wollongong, Australia. She has a strong passion for sustainable living and eco-conscious crafts.
---
Where do you see a connection in crafting, meditation and mindfulness?
In yoga, we seek to embrace the union of mind and body. Yoga is made up of eight limbs or branches, and the physical asana we do in a yoga class is only one limb. It is combined with a number of others such as meditation and concentration, to help us embrace the union of mind and body.
It's beautiful how the act of crafting can also help us embrace this union of mind and body.
When we're bringing mindfulness to our crafting, we're able to still the mind, so it's not caught up in thoughts, but is fully focused on every sensation in the present moment.
The mind can often become so occupied with thoughts, jumping between past and future, and it often overlooks a lot of things in the present moment. But through focusing on the physical actions we're performing while crafting, we can begin to still the mind, return back to the present, and find a sense of peace through the union of mind and body.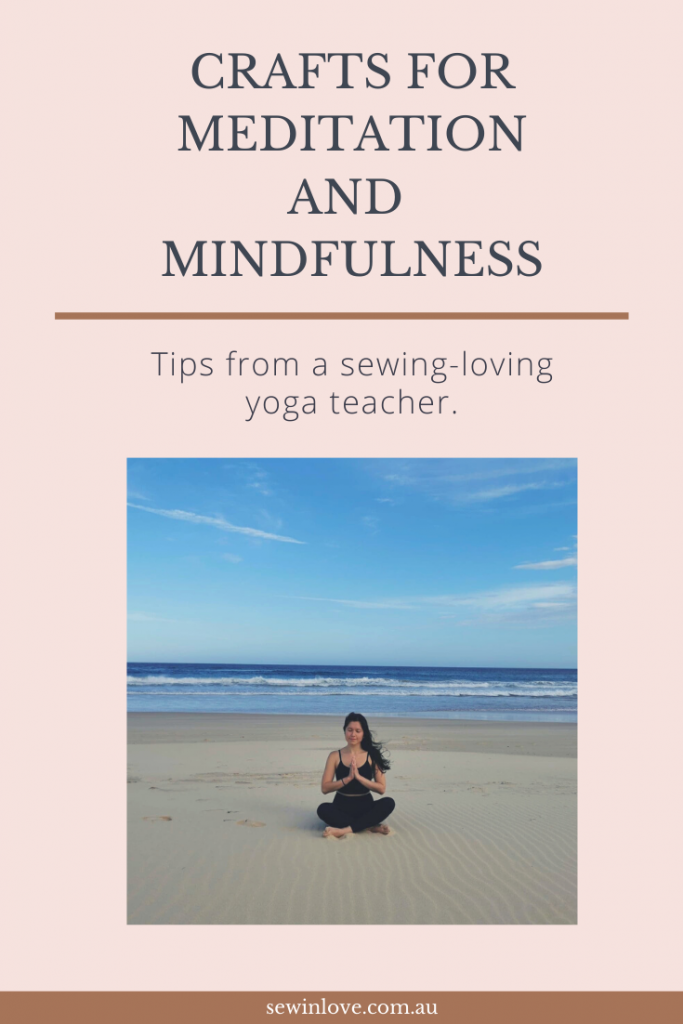 What advice do you have to craft lovers who find it difficult to calm their mind, even during a crafting session?
It's completely normal for the mind to get caught up in thoughts. Often the more we try and resist the thoughts coming into our mind, the harder they are to release, and we end up trying to tell ourselves to stop thinking.
Instead of resisting thoughts, I would recommend observing everything that is there in that present moment, and accepting that the mind is thinking. From this acceptance, you can then bring mindfulness to every sensation while crafting, to help you gently release the thoughts and return back to the present moment.
Noticing the feel of the fabric, thread or beads, the sound of the sewing machine whirring, watching the fabric gliding underneath the sewing needle.
By observing all of these sensations, you can return back to the present moment, become more grounded, more centred, and reach a state of inner peace.
Itching to get back to sewing? Download the FREE Dream Handmade Wardrobe Workbook to save time!
What are your favourite types of crafts?
I love to upcycle things I find at op-shops (thrift stores). Making jewellery from found objects—mix and matching different materials is lots of fun.

I also like to make planter pots out of broken or unused household objects to minimise waste. You can drill holes in the bottom of cans and give a plant a new home. Mugs also work really well and make cute planters.
Sewing clothes is also another favourite creative outlet for me. I love the empowerment that comes from sewing my own, sustainable clothes.
What handmade item are you most proud of?
A green skirt I sewed for myself. It was the first piece of clothing that I had ever made. I just felt so proud and felt a sense of achievement whenever I wore it. I'd look at the stitches, the folds and the zipper I inserted and it would help me acknowledge and appreciate the hours of work that goes into producing one garment.
Start sewing your own clothes too with the FREE Dream Handmade Wardrobe Workbook PDF Download!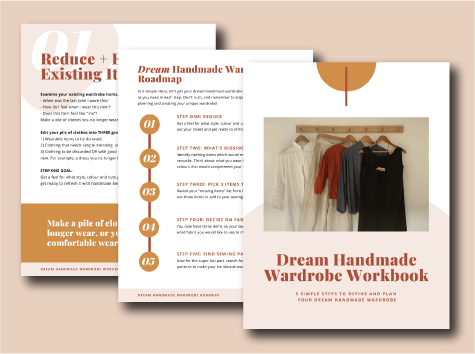 How do crafts help us be more eco-conscious?
Handcrafts can help us be more mindful of the impact we're making on the planet, and help us reduce our environmental footprint.
By creating things ourselves (especially if we're upcycling our crafting materials) we're avoiding some of the environmental or human rights impacts that might be involved with mass-produced products from a factory line.
When I learned that the fast fashion industry is the second largest polluter on the planet (after the oil industry), I was shocked. Fast fashion's high levels of carbon emissions, water consumption, chemical pollution from dyes, and mountains of textile waste from discarded clothing, are all taking their toll on the environment.
The fast fashion industry also takes a toll on human rights, with many garment workers facing unsafe working conditions in sweatshops, and unfair wages as compensation for their labour. Let's not forget the impact of the Rana Plaza garment factory collapse in 2013, that killed over 1,000 people, and injured many more.
Thankfully we're able to help avoid these environmental and human rights impacts by crafting and creating things ourselves. Even better if we're able to upcycle our crafting materials, to reduce our impact further. Embracing slow fashion, and creating our own sustainable, handmade clothes is one example of how crafts can help us be more eco-conscious.
How can we get started with incorporating "handmade" into our busy lives?
Start with a small, achievable project. Set aside a few minutes today…and maybe a bit more the next day. Take small steps and don't overwhelm yourself. Find an easy project to help you to quieten the mind—even for a few minutes in your day.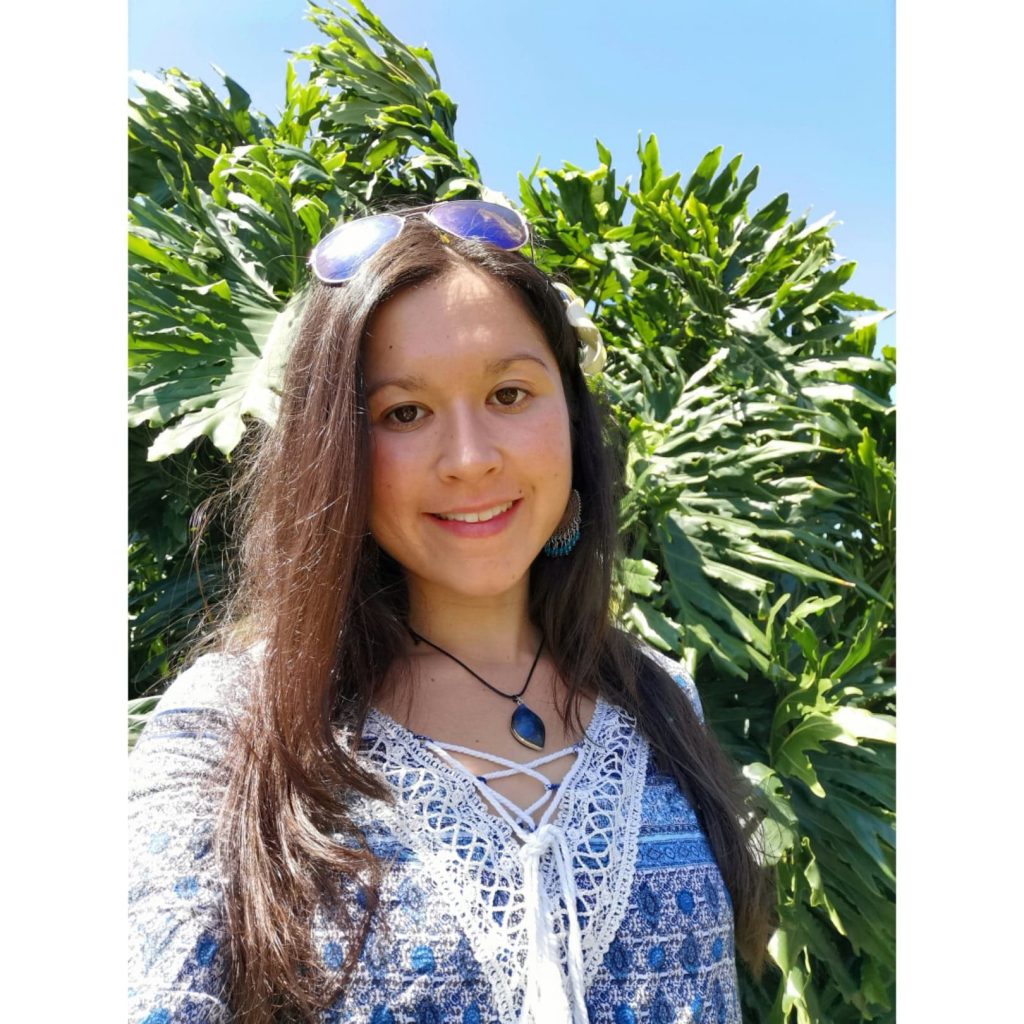 ---
You can learn more about Emma's classes and philosophy, at Beach Gypsy Yoga & Crafts (https://www.beachgypsyyoga.com/) and follow her on Instagram @beach.gypsy.yoga and Facebook.