I had wanted to sew something from a Japanese sewing book for a while, and finally had some time to do it during my study break. I chose a loose, boxy dress with frill detail in a rust coloured cotton linen fabric.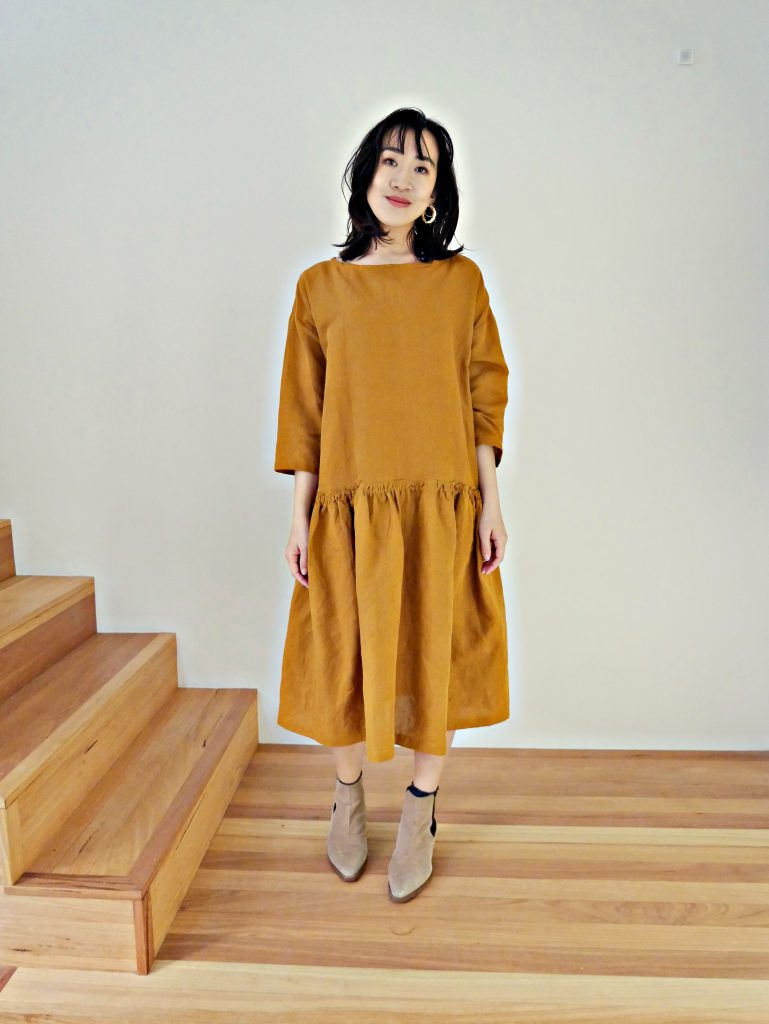 The Japanese Sewing Book
The Japanese sewing pattern book I used translates to "Handmade Clothes with Precision". To me, the title translates more colloquially to something like, "Handmade Clothes with Interesting Details". Direct translation between two very different languages is always difficult!
You can purchase the book from Amazon Japan (they ship internationally) here.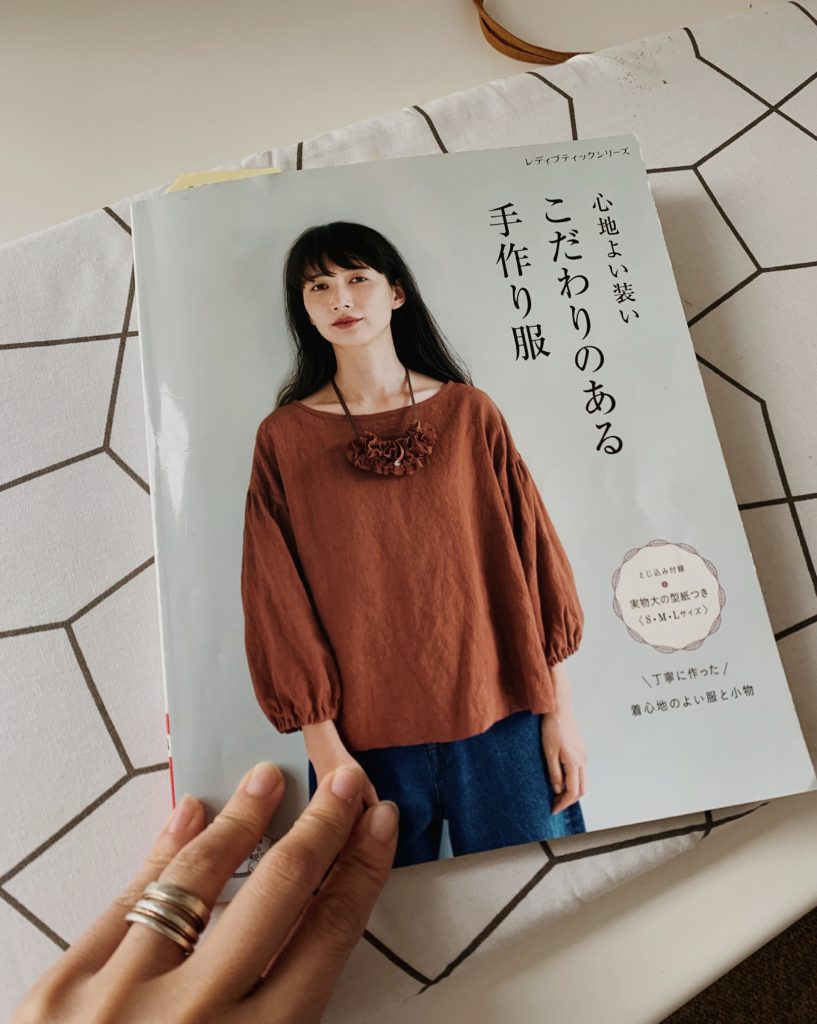 I really like all the designs in this book. They are very relaxed, minimal but interesting. There's small details like ruffles, big sleeves, or necklaces you can add which makes your garment truly unique.
You can look at more patterns from the book in the Amazon Japan page for this book. If you're curious about Japanese sewing patterns, or just starting out, make sure you download my free beginner's guide below:
.
.
The Fabric
I used a cotton and linen blend from Spotlight for this project. As much as I would have liked to purchase some organic linen, shipping is very slow at the moment due to the pandemic. I was also on a limited timeframe because I needed to sew during my study break. So my only option was to head to the local store and grab what I could.
Overall, I'm really happy with the fabric. I made sure to soak it in water for at least an hour, and hung it out to dry before sewing. This minimises shrinkage.
The colour is not something I choose often, but I'm trying to wear colours that suit my complexion. After some online research, I found out that I have an Autumn colouring, so yellow based colours like rust, mustard and beige make me look healthier. So you might see me make more clothes in the future in this colour group!
The Pattern
I chose to make a dress with a ruffle detail where the skirt joins the bodice. The original pattern is in a babydoll shape, but I look terrible in these styles, so I altered the lengthened the bodice to make it a drop waist shape. This style suits my body shape a lot better, and I've made another one previously over here.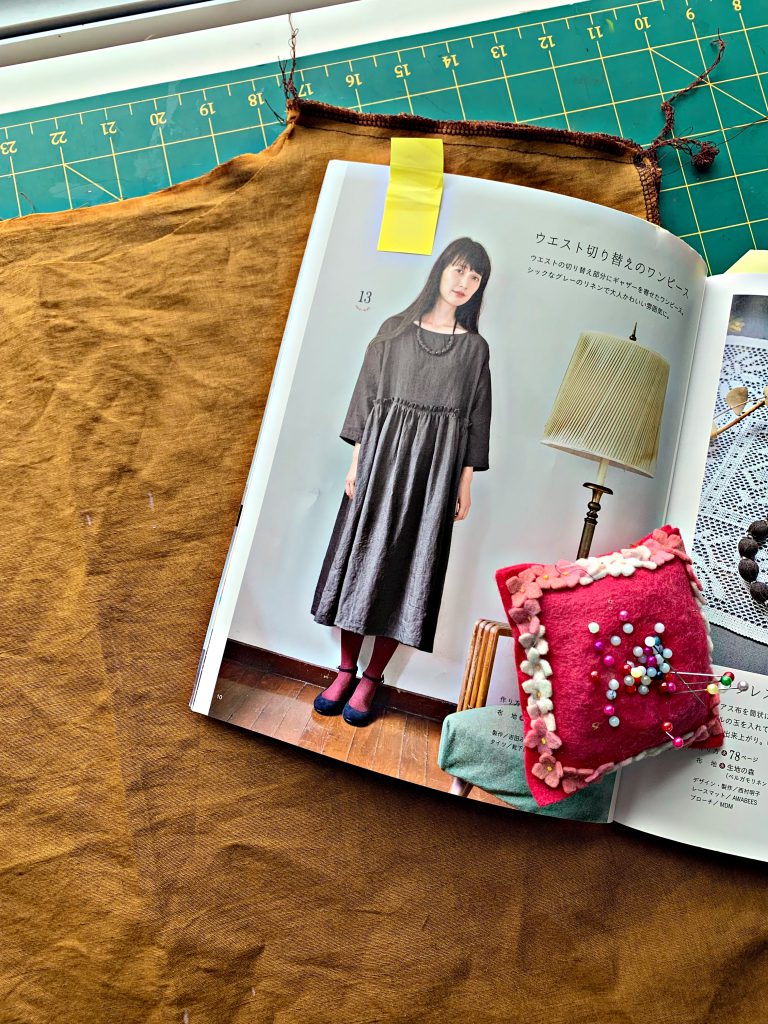 It's so easy to make alterations to suit your style and body type. Isn't sewing your own clothes just the best?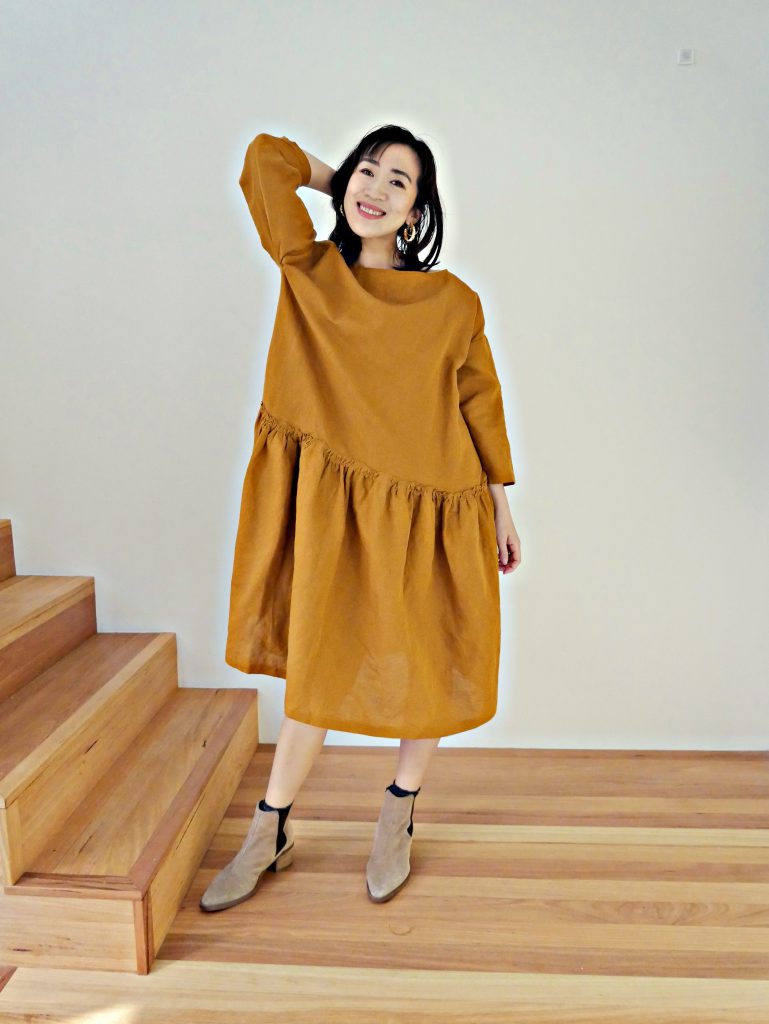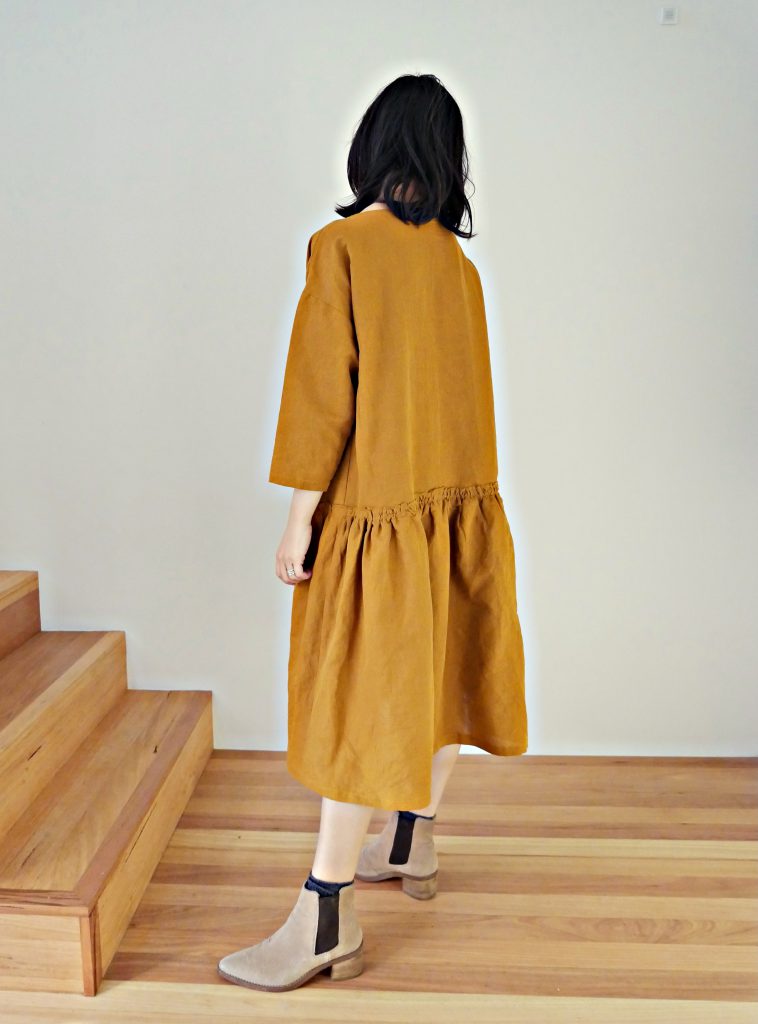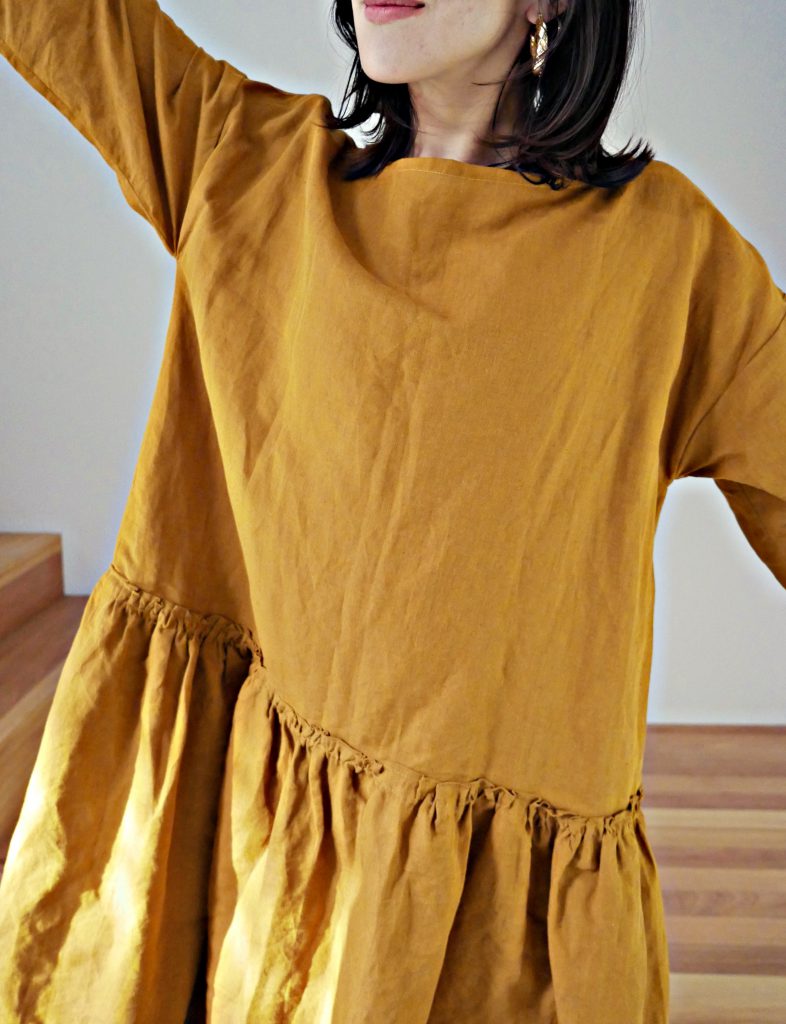 The sewing pattern is very simple and easy to sew. The only tricky part was the ruffles, but I find these always tedious. I considered adding pockets, but I didn't have enough fabric…next time!
.
.
Ways to Wear it
The wonderful thing about loose, boxy styles of dresses, is that you can layer them over different tops and bottoms. You might think cotton / linen fabric can only be worn in warmer months, but I wear them all year round. I think the weight of cotton and linen is just right for layering.
With a turtleneck sweater…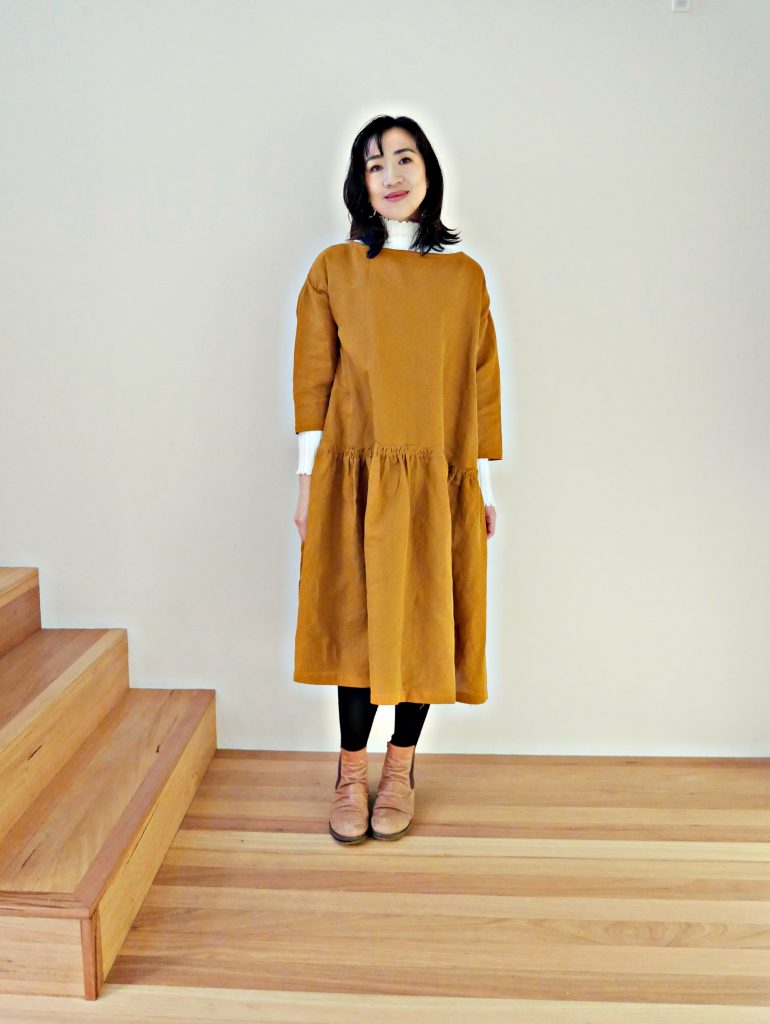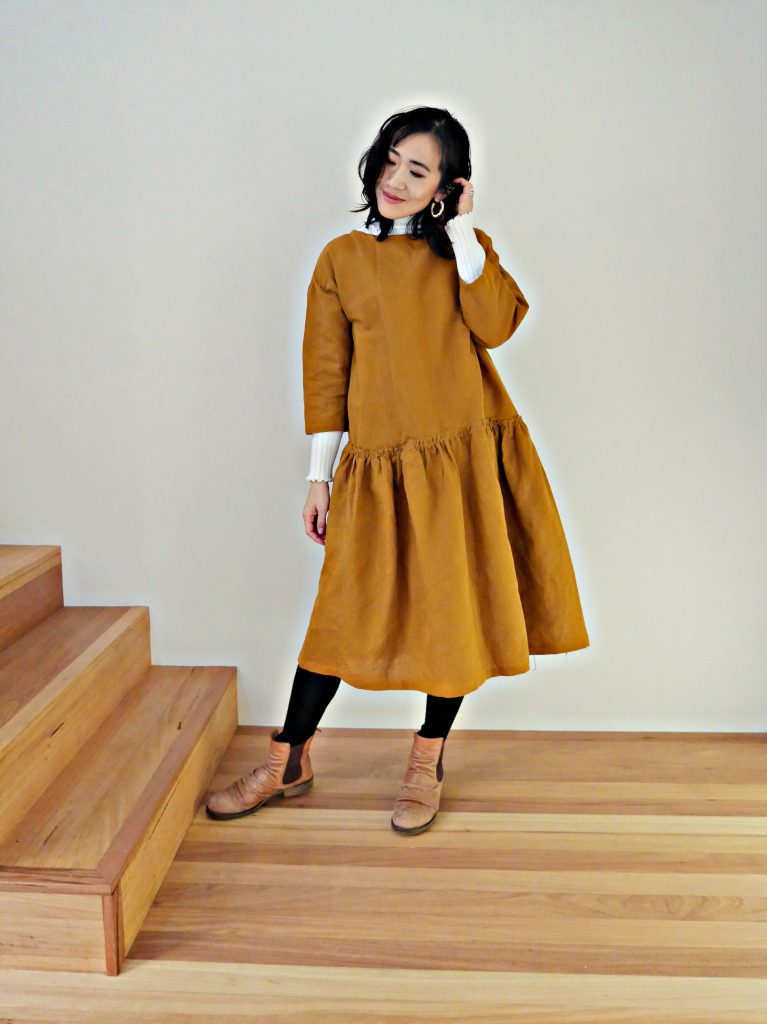 With wide leg pants…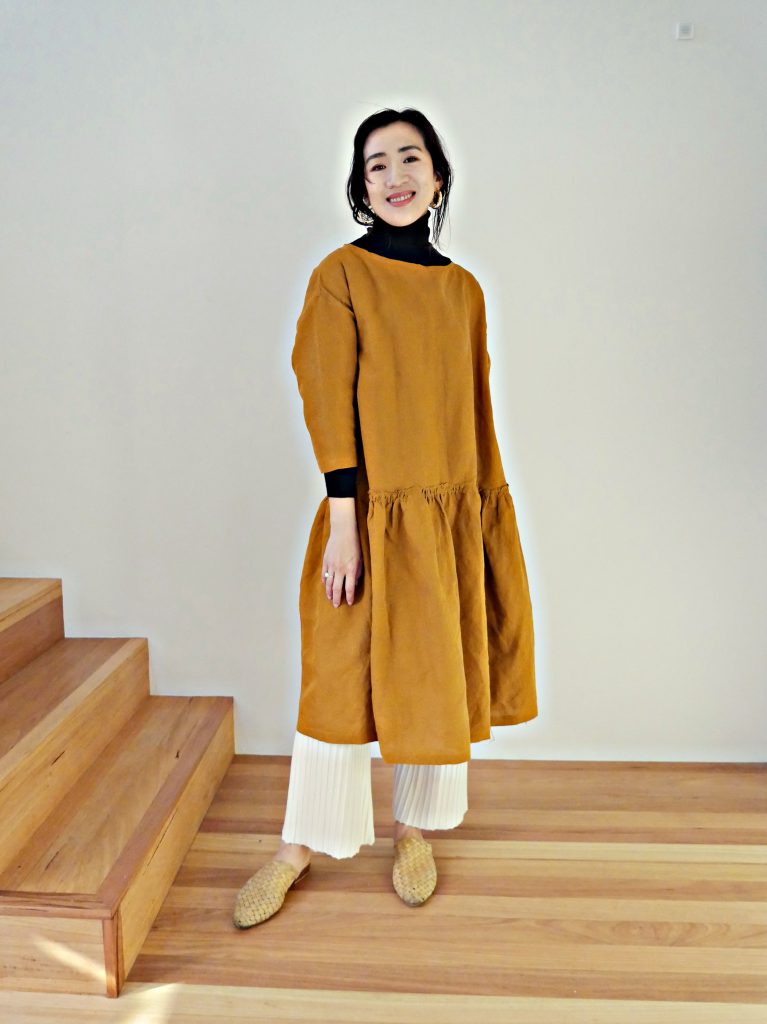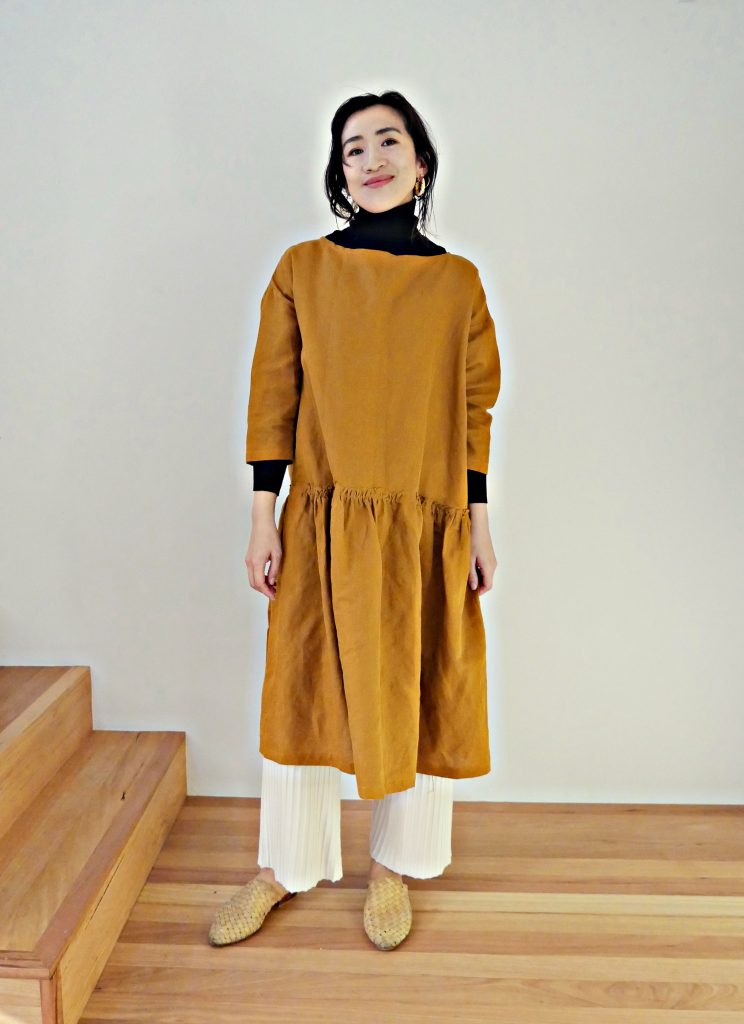 With a collared white shirt…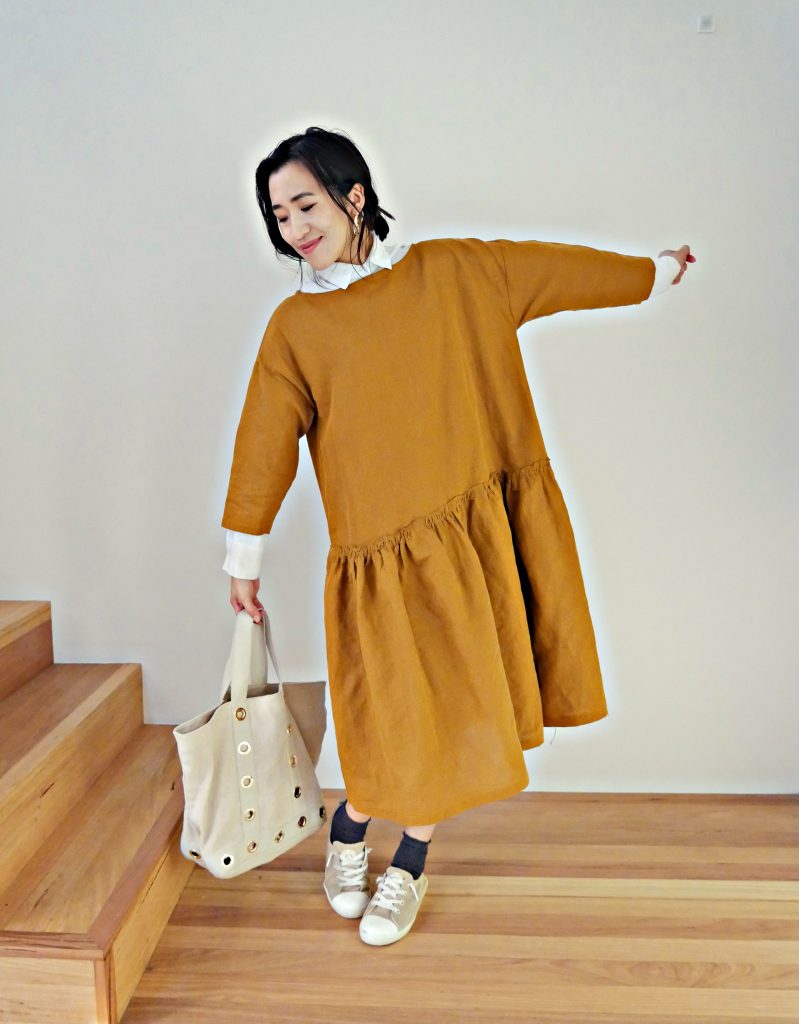 Well, I can say my urge to sew something during my uni holidays is well and truly satisfied with this drop waist linen dress.
Relaxing Sewing Day Vlog
I decided to film myself on one of my solo sewing days. I'm so happy I did, because it was shortly before our city was locked down. We are now all stuck in the house, home schooling and working from home. That relaxing day of sewing alone feels like a lifetime ago!