I think decorative cushions brings out the interior designer in everyone!  They instantly add a homely, lived-in feel and it's such an easy way to accentuate the colour scheme of the room.  I've scattered heaps around our apartment, so Dave has now banned me from making anymore cushions…
On the couch (above) – L to R: Grey wool cushion from Country Road, Custom made cream cushion (free with cane lounge set bought on eBay), Yellow cushion made from a vintage knit top bought on eBay,  Handmade black and white floral cushion made from fabric used to upholster our dining chairs, Yellow and white cushion made from IKEA fabric, Black cushion from Kmart.
On our bed (below) – Grey vintage inspired fabric from Kelani Fabrics (www.kelanifabric.com.au).  My Mum helped me stencil and applique the sheep cushion…1 sheep….2 sheep…  The beige fabric is leftover IKEA fabric from my living room curtains.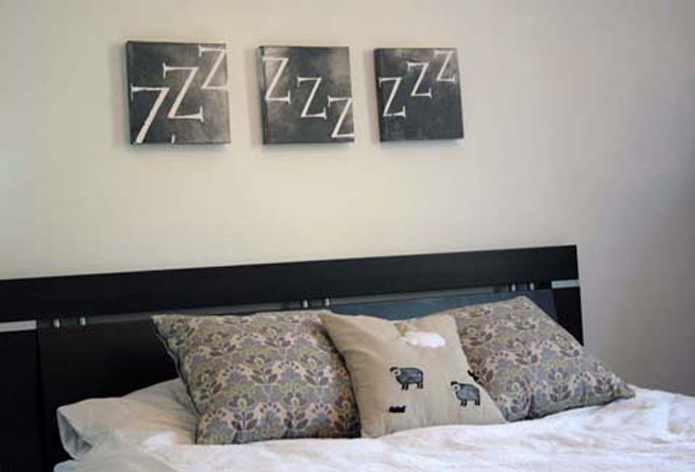 On the guest futon (below) – Green and red cushions made from IKEA fabrics.  The birdy cushion is made from leftover gingham check fabric I found at Mum's house, with red felt applique for the birdy.
I totally get how annoying it is to have to throw off all the cushions to get yourself into bed…but it looks cute, right?