There's a "tree" in our living room, made of twigs poked into a pot supported by river stones.  Using felt squares, I have made gum leaves to hang and a little possum friend.  He can even swing upside down from his tail!
There is a beautiful gum tree that just reaches past our balcony.  I would love to replicate the round little gumnuts on this tree one day for my mini indoor version I have here.  Australian native flora and fauna are so unique and precious.  This project has definitely fueled my Australiana passion, so I'm predicting many more Aussie icons in my craft projects.
It was all a bit of fun and quick to make, here is a free Gum Leaf and Felt Possum Pattern.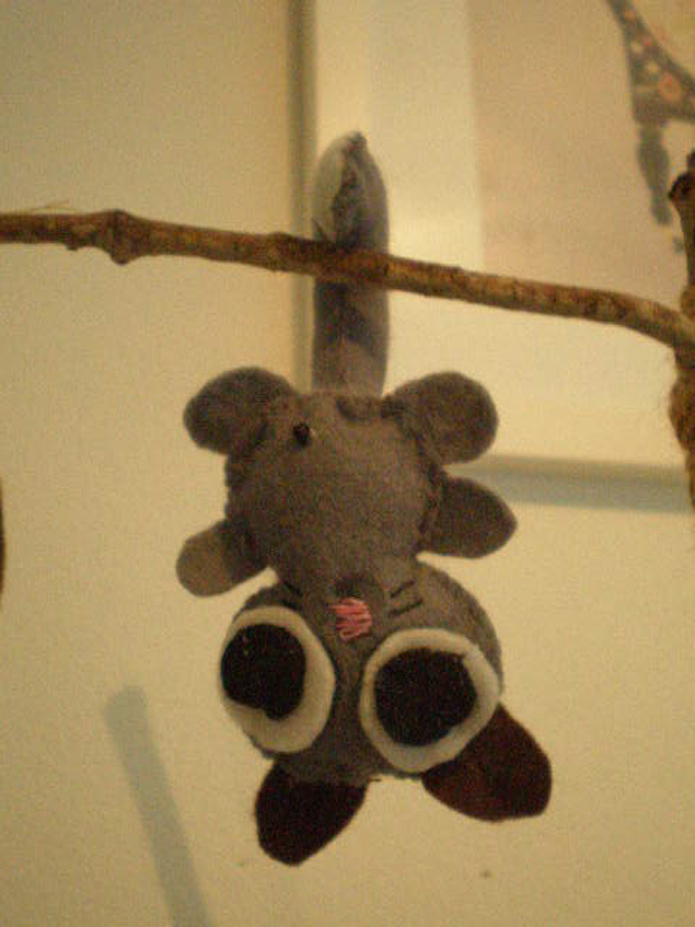 How to make Felt Possum
You will need grey, black, brown and white felt.  Also craft glue and stuffing.
Cut out following pieces: 2 body, 2 tails and 4 ear/arm/leg patterns out of grey felt.  2 ears out of brown felt.  2 eyes(1), and 1 tail tip from white felt.  2 eyes(2) from black felt.
Glue black eye in center of white eye and glue onto the possum head of the front body piece.  Fold the brown ear in the center and stitch onto possum head.  Repeat with other ear.
Stitch a nose with pink thread and some whiskers and a belly button with black thread also on the front body piece.
Glue the white tail tip to one grey tail piece, stitch and insert stuffing.
Glue arms and legs onto inside back piece of possum body.  Stitch tail onto back piece.
Stitch the front and back possum body together and insert stuffing.