I made this top from the very popular Japanese sewing pattern book, Stylish Dress Book.  It is the very first pattern in the book, and is true to the flowy, relaxed styles found throughout.  I used a pink semi-transparent rayon type fabric.  The only difficult part were the pleats at the front, as I didn't want to melt the fabric by using a very hot iron.  Lots and lots of basting stitches were used to keep the pleats in place before and stitched them.  I think that the ruffles on the sleeves are awesome, and now that I have mastered the art of creating ruffles with the sewing machine, they were easy to achieve.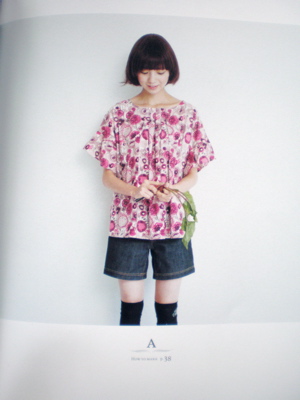 I"ll be wearing this top with shorts (like seen here), denim cut offs, skinny leg jeans, and I might also try to see what it looks like tucked into skirts.  Might look nice with the white Burdastyle pleated skirt I made recently, worn with a waist belt.  Hmmm any suggestions?
There really are very nice patterns in this book.  You can read a bit more about this book and other Japanese sewing pattern books in this post, Top 10 Japanese Sewing Pattern Books.  Next one on my ever expanding to do list is the dress on the front cover (as below), which Novita from Very Purple Person has made into a cute top.
And yes, as the title for this post suggests, I have a brand new copy of Stylish Dress Book to giveaway. Entry is open worldwide.
TO ENTER:
1) Simply leave a comment on any of my blog posts.
2) For an additional chance to win, follow Sew in Love on Twitter or subscribe to my Sew in Love RSS feed.
Entries close on SUNDAY 7 November.  Good luck!