I'm so sorry I have in MIA (missing in action) lately.  My weekends have been consumed by Christmas present making, I haven't had a chance to update my blog!  The good news is, I have heaps to write about.
First up are these skirts and baby pants for my nieces.  I used a free online pattern from two Japanese sewing websites.  This is actually the first time I have made clothes for kids.  I can see it becoming a regular occurrence, because it is so quick and easy and you only need a tiny bit of fabric.  It's a good way to use up fabric remnants too.
Have I mentioned how much I love my overlocker?  It truly is life changing; I am so much more efficient and my sewing looks very professional!  I'm so glad I did the 4 week overlocker course.  I used four threads to overlock all edges of the following three garments.  This makes the clothes strong enough even for cheeky kiddies.
Gathered skirt for 4 year old and Baby pants
This set is for two sisters, I thought it would be cute for them to be wearing matching bottoms.  The fabric is a candy striped flat sheet I bought from a charity store.  More and more, I have been trying to exercise upcycling with my sewing.  You can make so many things from one single size flat sheet!
The skirt and baby pants patterns were free Japanese patterns from the NaniIro textiles website.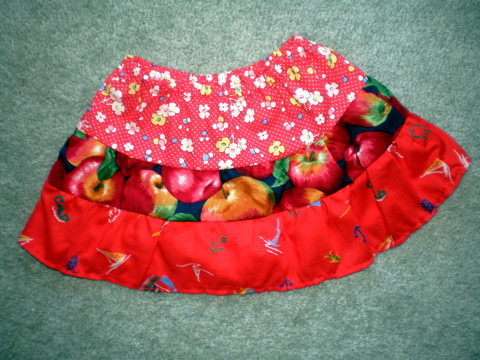 Red tiered skirt for 2 year old
I made this red skirt out of three different fabrics, one of which is quilting fabric.  I have discovered how to do gathering on the overlocker, so making this skirt was such a breeze.  I can't wait to see the girls in their new clothes.
Have you been sewing anything to give as Christmas presents?