Happy New Year!  I hope everyone had a wonderful holiday with family  and friends.  This year is going to be a year of frugality, Dave and I  have decided.  Hence most of my clothing purchases will be vintage!
My  wardrobe is a mishmash of new purchases, things I have stolen from my  Mum, and vintage finds from various sources.  Walking into a vintage  store, op shop, vintage markets or a church fete, I am like a child in a  candy store.  I get really excited about the potential treasures I will  find, and will and have spent hours trawling through other people's  "trash".  For many years now, I have collected pre-loved clothing, and  when someone asks me where I got something, I often have to stop and  think about whether something was a new store purchase or a vintage  find.  I love that vintage finds are truly unique, and I play games  sometimes, thinking about what kind of person the previous owner may  have been.
These are my my favourite finds in 2010:
Red dress $20
Red was never a colour I chose to wear.  That is, until I found this  dress at a market in Brisbane.  With polka dots and a bow collar, it's a  vintage classic and I am so glad I bought it.  I now have an exception  to the no red rule;  dresses and accessories excepted.
Blue dress $20
I haggled for this dress and the red dress above together.  Four words  came to my head the second I saw this dress, "500 Days of Summer".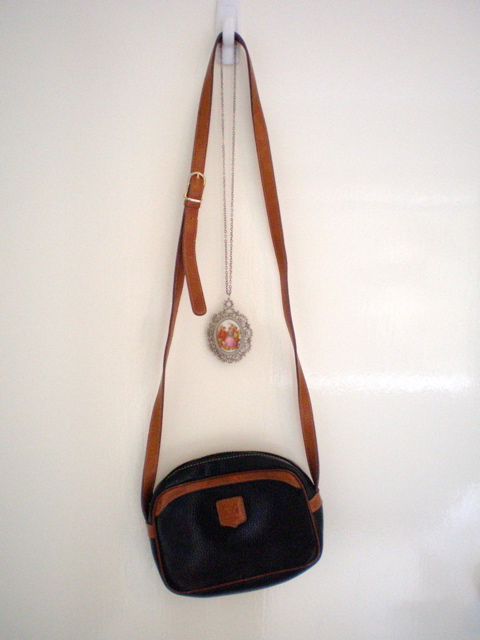 Celine Bag $3
I have heaps of bags, but this bag has been on high rotation.  It is  just perfect for shopping trips, and looks good enough to wear out at  night for some dancing action.  I could not believe my eyes when I saw  that this bag was Celine.  I grabbed it because I loved the size and  shape.  It had a bit of mould on it, but nothing that a bit of warm  water and sunlight couldn't fix.  This purchase definitely made my day.
Pendant necklace 50c
Jewellery is a great introduction to vintage shopping, because you don't  have to worry about the fit.  This pendant is a great statement piece, I  wore it a lot over winter over a turtleneck sweater.
Leopard pants $4
I took a giant leap of faith when I bought these loud pants without  trying them on.  Turned out pretty good in the end.  I cuffed them and  made belt loops for a tailored fit.
Black blazer $3
Buying a blazer and having it fit you like a glove  is unheard of, even if you are shopping for new stuff.  That's why I am  so amazed by my luck in finding this tuxedo style jacket.  It was a  market find, and I tried it on without being able to see myself in a  mirror.  Dave took a photo for me on his mobile phone so that I could  check myself out!  I wear this blazer with everything, but my favourite  looks is to wear it with a girly, floral dress to mix it up.