Dress – handmade
Necklace – Just Jeans
Bag – Vintage Celine
Shoes – Libby Edelman
This dress is made from pattern F2 of Feminine Wardrobe, a Japanese sewing pattern book I recently reviewed.  Big news – I'll be giving away a copy of this book on this blog so keep an eye out for that!
There's so many patterns I wanted to make from Feminine Wardrobe, but I chose to do this dress first, because I had just bought an overlocker (serger) and I was keen to try it out on the four layers of ruffles that go across the front of this dress.  I used the rolling hem to finish off the edges of the ruffles – it saves time and looks really professional.
I used a very simple printed cotton fabric I bought on eBay.  It has little nautical prints on it, like an anchor, fish and sailing boats.  I'm sure it was meant for use on kid's clothes, but that's never stopped me before!
The body of the dress is basically made of two rectangles.  You insert elastic across the back of the dress, so you can pull the dress on over your head.  Hence no zipper insertion required – I love that.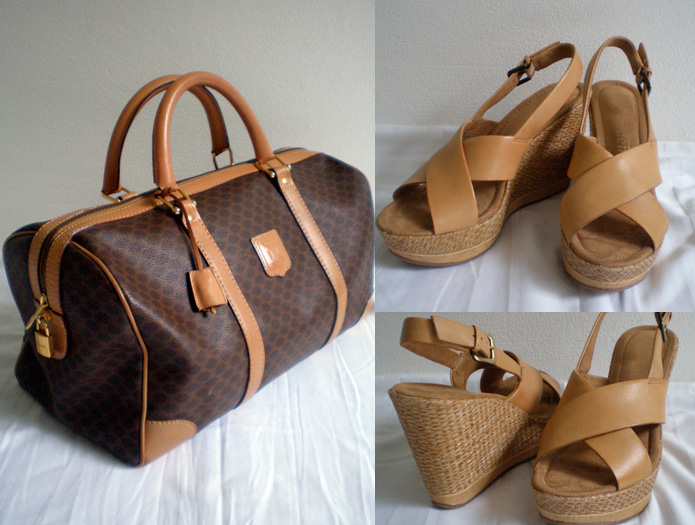 This is such a comfortable and roomy design, I think it will be a great little summer dress for holidays and travelling.  I bought a pair of Libby Edelman "Rose" wedges online, from Endless, which is my new favourite online shoe store.  It's arrived just in time for my upcoming summer holiday to Japan.  The bag is a vintage Celine number, which originally belonged to my Obaachan (grandma on my Japanese side) – she is a very stylish lady.  This outfit will definitely be one of the ones I'll be wearing as I trawl through the fabric stores of Tokyo buying up a storm!
Buy Feminine Wardrobe at YesAsia.com
Buy at Amazon.co.jp