With the Australian dollar on a high, I have been doing a lot of shopping online, especially from stores in the US.  One of my absolute favourites is of course, Etsy. I love how it is a treasure trove of unique items you know that no one else is going to have. My only gripe with Etsy is the search function. It is so bad. I wish they had better categorising, so that you didn't have to guess whether a seller describes a mini dress as "short dress", "cocktail dress" or "above knee dress" etc.  These descriptions are so subjective..
Anyway, the point of this post is less about whinging and more about showing off some lovely items I have purchased from Etsy for my wedding. First up is this ribbon headband with beautiful gems and ivory silk by TheRedMagnolia. It originally came as a metal headband, but TheRedMagnolia kindly custom made one for me using ribbon instead. Metal headbands give me massive headaches after a while.  The ivory ribbon matches the colour of my wedding dress perfectly.  So excited.
We are going to have a candy buffet bar at our wedding, so I was on the lookout for cute paper bags for the guests to fill up with lollies. Did I mention that the wedding theme colours are yellow and blue? Well I found these adorable candy stripe yellow paper bags at DimeStoreBuddy. They also happened to stock paper straws, in both of my theme colours, so I snapped them up as well. The lovely at Kathy from DimeStoreBuddy also sent me a PDF of flags I can customise and print out to stick on the straws.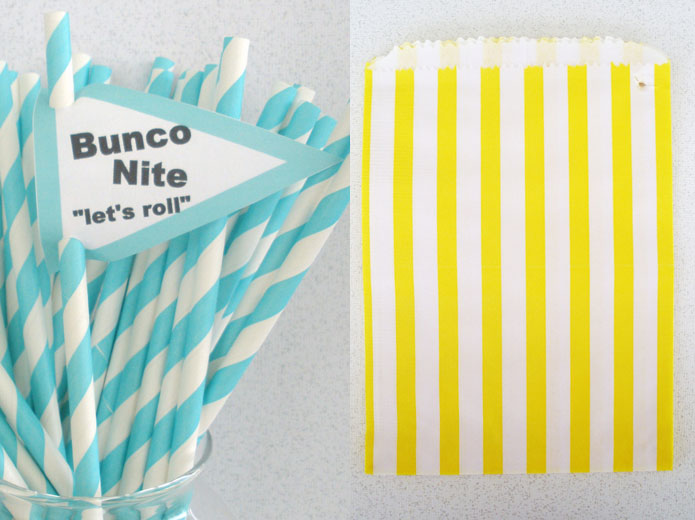 I have ordered these round product label stickers from Vistaprint, which match my invitations and I will be sticking them on to 125 paper bags with my ever so loyal girlfriends. I love you guys.
My latest purchase are not exactly wedding items, but they are equally exciting. I found a lovely velvet vintage dress go wear for my hens night out from prelovedapparel. Couldn't help myself upon looking at all the other items in the store, I also bought a vintage black mini skirt. I wear my vintage brown leather mini skirt a lot, so I figured a black one will be equally handy.
There's a few more items sitting in my favourites list, so I'm sure I'll have another splurge on Etsy very soon.