I will be hosting the daytime section of my hens (bachelorette) party at my apartment. This has given me the perfect excuse to make the most girliest decorations ever, one that I would never get away with unless it was a girls only party. This bunting is made from various paper doilies and some garden twine from the supermarket. I think it will be perfect for my 1940s housewife themed party.
What you need
Paper doilies (I purchased mine from various discount stores, for around $2 per packet.)
Food colouring
Garden twine
Sticky tape (aka cello tape)
Double sided tape
Instructions
Dye your paper doilies to match your colour scheme. I just dyed the largest doilies pink. Simply fill a frying pan with water, then add a generous amount of food colouring. Dip the doilies carefully into the dye for a 3 seconds, then hang them up with clothes pegs to dry. Dip two doilies at once, this prevents the doilies from ripping apart.
Decide on your order of doilies to go on the bunting. You need to leave 30cm of twine at both ends to allow for easy hanging later.
Fold the round doilies in half, then attach the twine to the fold with sticky tape. Use double sided tape to hold the fold together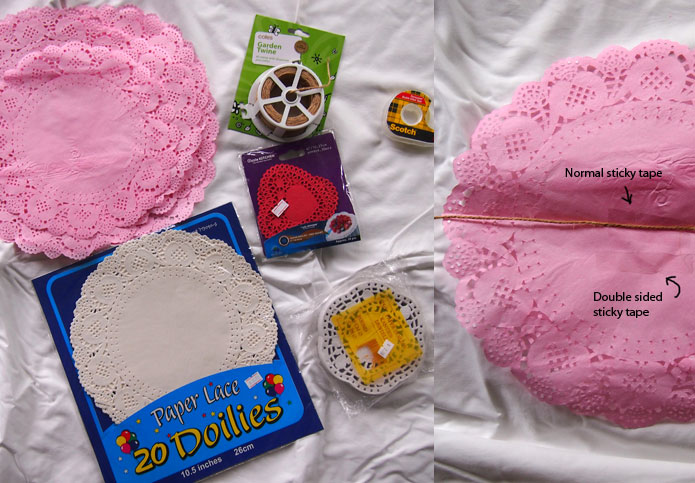 Now I just have to look up some pink fruit punch recipes, and I'm all set for the party. Can't wait!