I'm married! But whilst I wait for the official wedding photos to come back from our photographer, this is a post on my hens party (aka bachelorette party). Hosting parties are always so much fun, especially when it's an all girls event and you can pink it up as much as you want. I hope these pictures bring out your inner pink polka dot princess too.
I split the party into a daytime and nighttime event, so that we could all dress up during the day as "1950s housewives" at my house. I wore a vintage pink polka dot dress I bought in Kobe, Japan last year, and attempted victory rolls in my hair for the first time. I decorated our living room with paper doily bunting and had my lovely girlfriends Yas and Tiffy come over early to help me prepare the party food. There was also party punch and a Pim's cocktail to keep us going while we played bridal bingo and had our tarot cards read. So much girly fun!
On the menu was easy to eat finger food that was filling but still elegant (with vegetarian friendly options):
Cream cheese, ham and salad wraps
Roasted vegetables, salad and hummus wraps
Salami and ham cheese pastry scrolls
Roasted tomato, goats cheese and pesto tarts
Fruit kebobs
Pear and raspberry cake
The girls organised a goodie bag for me as well, and as much as I had protested previously against any tacky bride-to-be accessories, I have to admit it was a lot of fun to put on my crown and sash and parade around the house.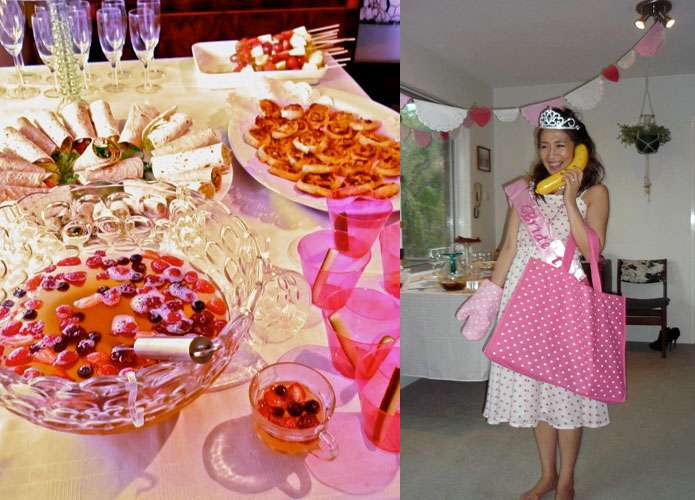 At night we changed into more modern attire, with the only rule being that you had to carry at least one vintage item (eg scarf, bag, jewellery, etc). I changed into a vintage velvet floral dress purchased from etsy, before we hopped into a cab and made our way to a bar in Darlinghurst. Can't post the nighttime photos, otherwise my friends will never speak to me again, haha. We had an absolute blast though, the fifteen of us just drinking cocktails and dancing the night away…