Growing up in Japan, Studio Ghibli's movie, Kiki's Delivery Service was my absolute favourite. I even had a haircut just like Kiki, and of course, I wished that I had a talking cat like Jiji! As part of Sew Geeky's Ghibli Episode, I've decided to make a cute little cat purse inspired by Jiji. I managed to put this project together using only the fabric in my stash – don't you love it when that happens? The beauty of small projects like purses is that you really don't need much fabric at all. The best part of this project though, was the trip down memory lane to when I ran around the house with a broom, pretending to fly like Kiki!
You will need
Black fleece
White or cream fleece (for eyes)
Pale purple cotton fabric (for ears)
Other cotton fabric (for lining)
Dark fusible interfacing – medium weight
Iron-on applique contact sheet
Black zipper (15cm or 6″)
Instructions
Step 1
Download the sewing pattern from my Free Creative Resources Library. Sign up below to get access:

Print it on US Letter or A4 paper, ensuring you don't choose "Fit to Size" on your printer. Check that the test square is the correct size.
Step 2
Trace the ear and eye with tracing paper to make paper patterns. Cut two eyes and two ears, which are mirror images of each other. These do not need a seam allowance.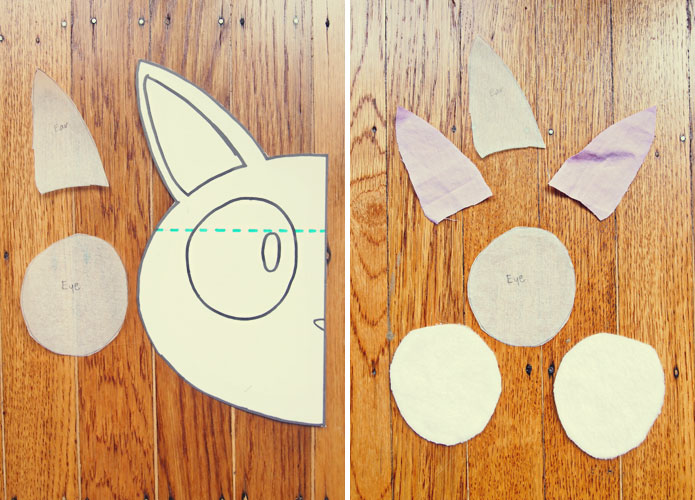 Step 3
Cut the fabric to make Jiji's head. You need to add seam allowance (see diagram below) to the following pieces:
Front Head (cut 1 each from black fleece and interfacing)
Front Head without ears (cut 1 from lining fabric)
Upper Back Head (cut 1 each from black fleece and interfacing)
Upper Back Head without ears (cut 1 from lining fabric)
Lower Back Head (cut 1 each from black fleece, lining fabric and interfacing)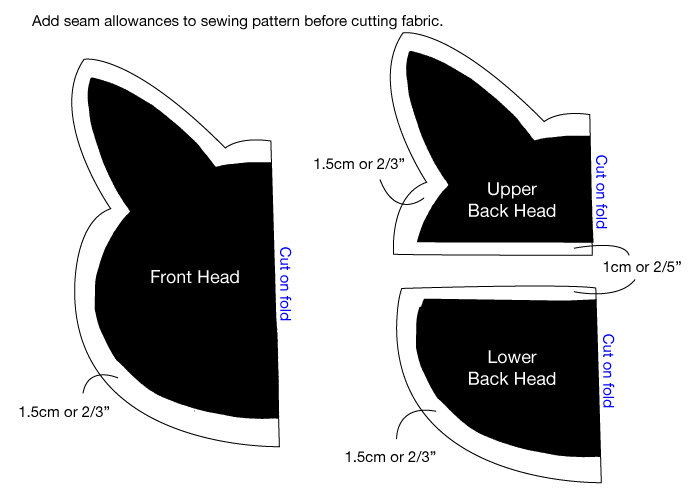 You can use the same black fleece as Jiji's head to cut the little irises of his eyes.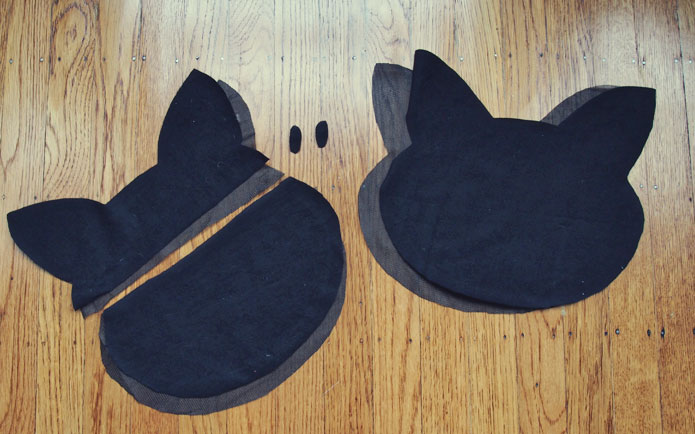 Remember, you can omit the ears for the lining.
Step 4
Attach the eyes and ears to the head with an iron-on applique contact sheet. Using the zig-zag stitch on your sewing machine, go over the outline of each piece.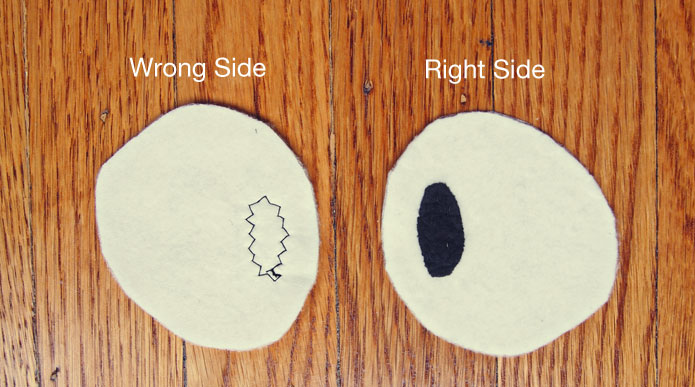 Hand stitch the nose with pink embroidery thread.
Step 5
Attach the zipper to the back of Jiji's head.
Step 6
Ensuring you keep the zipper OPEN, stitch the front and back pieces of the head together, right sides facing. Snip around the edges of the ears.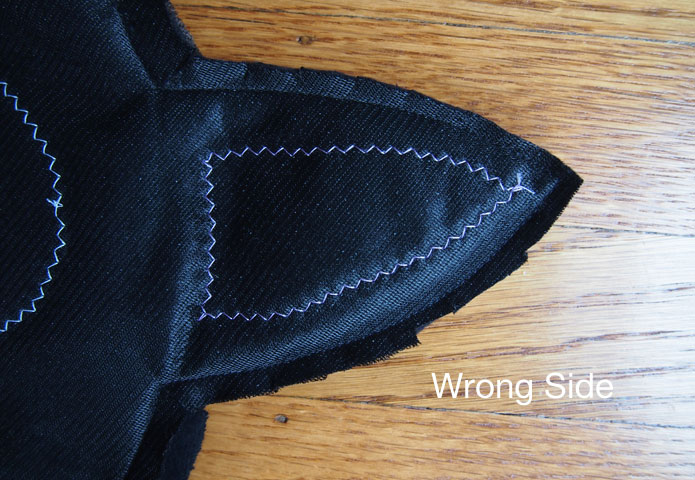 Step 7
Make the purse lining. Press the seam allowance for the zipper opening, and stitch each end to meet either side of the zipper.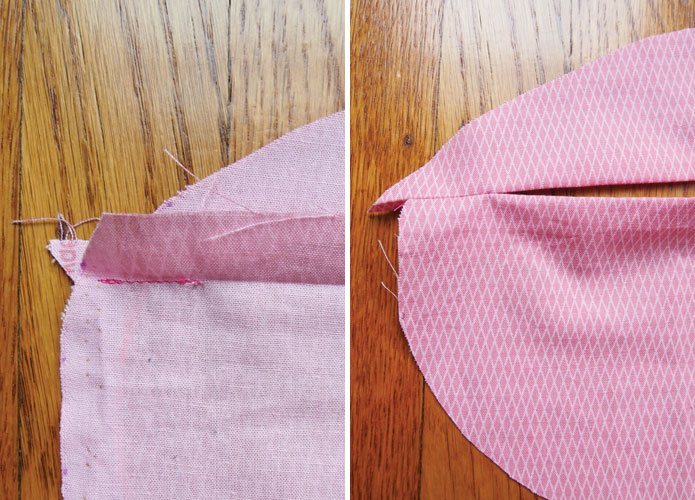 Right sides facing, stitch the front and back pieces of the lining together.
Step 8
Attach the lining to the outer fabric by sewing within the seam allowances of the two pieces.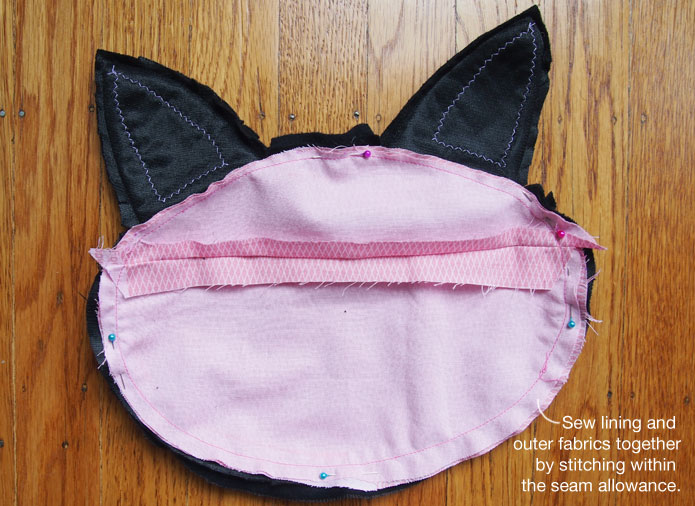 Step 9
Turn bag over to right side. Hand stitch the lining on to the zipper opening.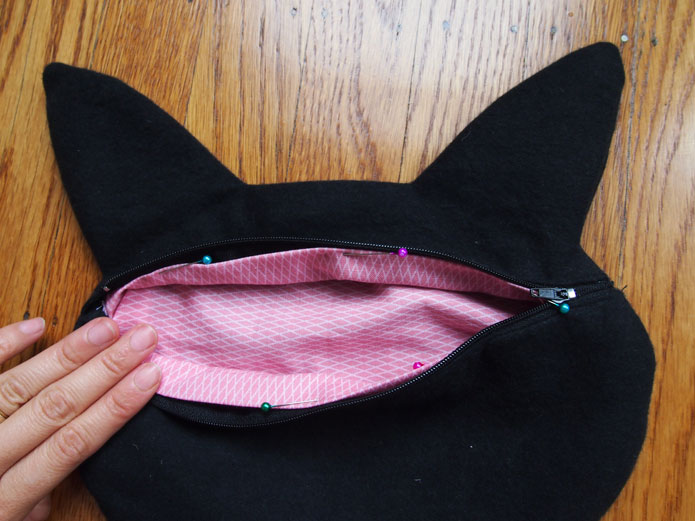 Finished!
You could add a little handle, or shoulder straps to make this purse into a handbag for a little girl. I'm using my Jiji purse for travel, as a nice soft bag to store my jewellery.
I hope this project brings out your inner Kiki too! xx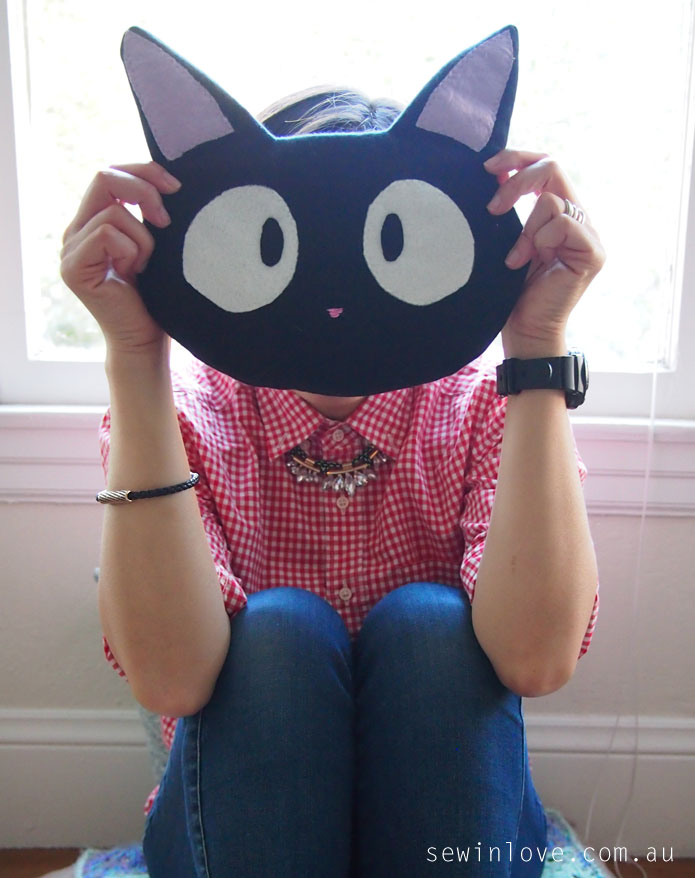 Click each picture below to check out the stars of this episode of Sew Geeky!