I was sadly away from my sewing machine for the past 3 months because I had to move away from San Francisco for work. In that time, I crocheted my heart away and tried out lots of free baby crochet patterns. Here's what worked for me despite me being a complete beginner at crochet (and I'm not exactly an expert knitter either)!
Baby hat you can crochet while you drink a cup of tea
This baby hat is so easy, you can finish it along with your daily cup of tea! It really doesn't require much yarn, so if you have random bits of wool left over from other projects, I highly recommend you check out this YouTube tutorial by HappyBerry Crochet. I made a matching hat and cardigan set (below) using multi-coloured blue/mint/yellow yarn:

Easiest baby cardigan knitting pattern ever – no seams required!
I was so happy to find this v-neck baby cardigan knitting pattern by Free Knitting Patterns. I think we all agree that sewing seams together is a real pain point when it comes to knitting. This very simple pattern is worked in one piece and the only sewing you need to do is for the arms. I added floral ceramic buttons by Fulton & Co to finish it off.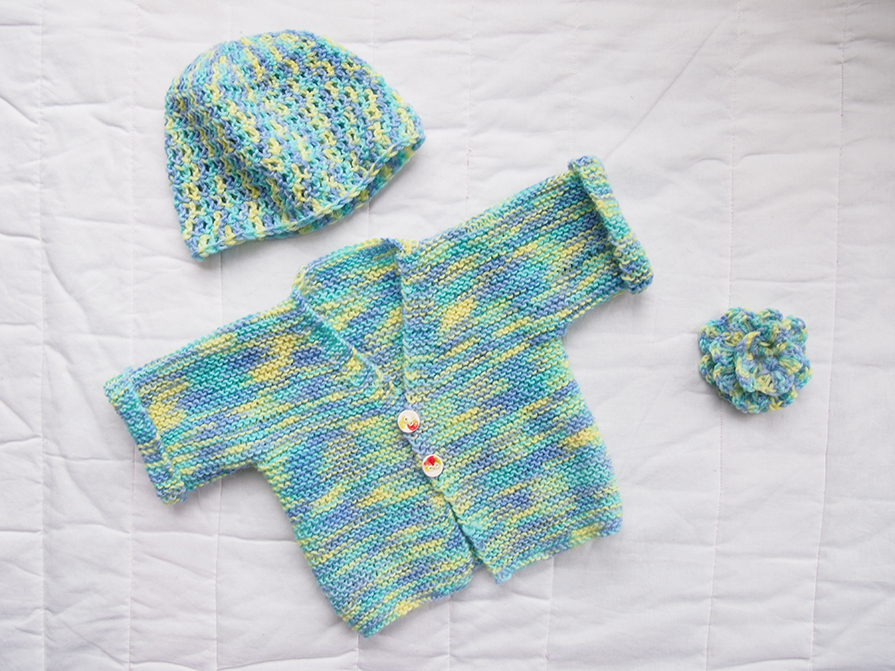 The crochet baby blanket for absolute beginners
I showed you this baby blanket last month, made watching a YouTube video. This video basically taught me how to crochet. It makes a great first project if you're new to crochet, because it makes you practice all those single and double crochet stitches! My version uses three colours in a colour block pattern.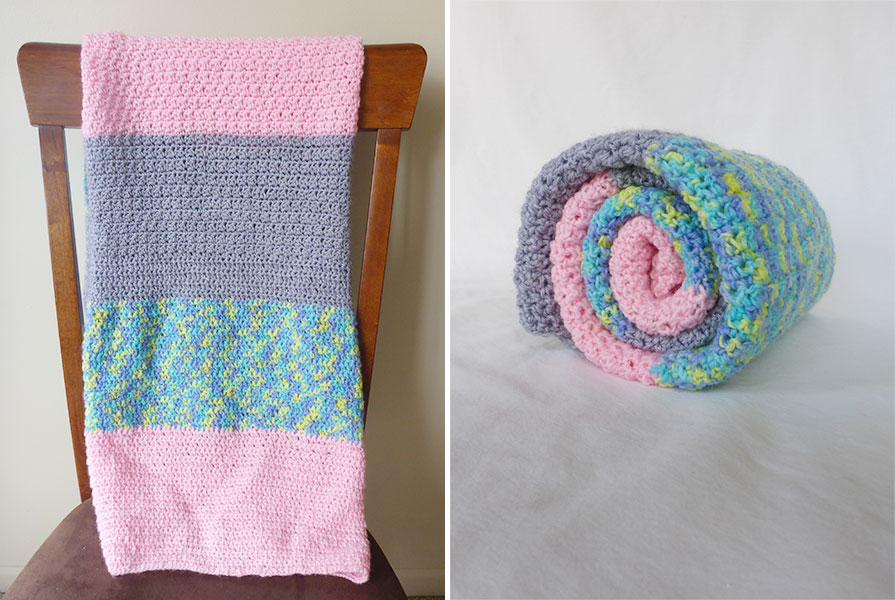 The "I still can't believe I made this" baby hooded cardigan
Definitely the most advanced of the projects listed here, but still completely achievable by beginners. I'm very pleased with how this baby hooded cardigan turned out. I omitted the contrasting outline and the tie around the neck. Instead, I just added a cute yellow button, making a button loop with a series of chains. There was one tricky part which was the bit where you start the arms, but other than that, I think this pattern looks pretty impressive for how easy it is!