We all wish we had more time to do the things we love, like sewing, right?  Since becoming a mother, I seem to have less and less time for myself. But a sewing blog can't go on if I don't get any sewing done, so lately, I've been trying different ways to fit sewing into my busy day.
To put things into context, my "job" currently consists of being a marketing consultant, a blogger, as well as mama to a 7 months old baby. I have a nanny one day per week to look after Umi, so I can focus on my consulting work for clients. The following little tricks are things I do to make time for sewing on weekdays when I don't have a nanny.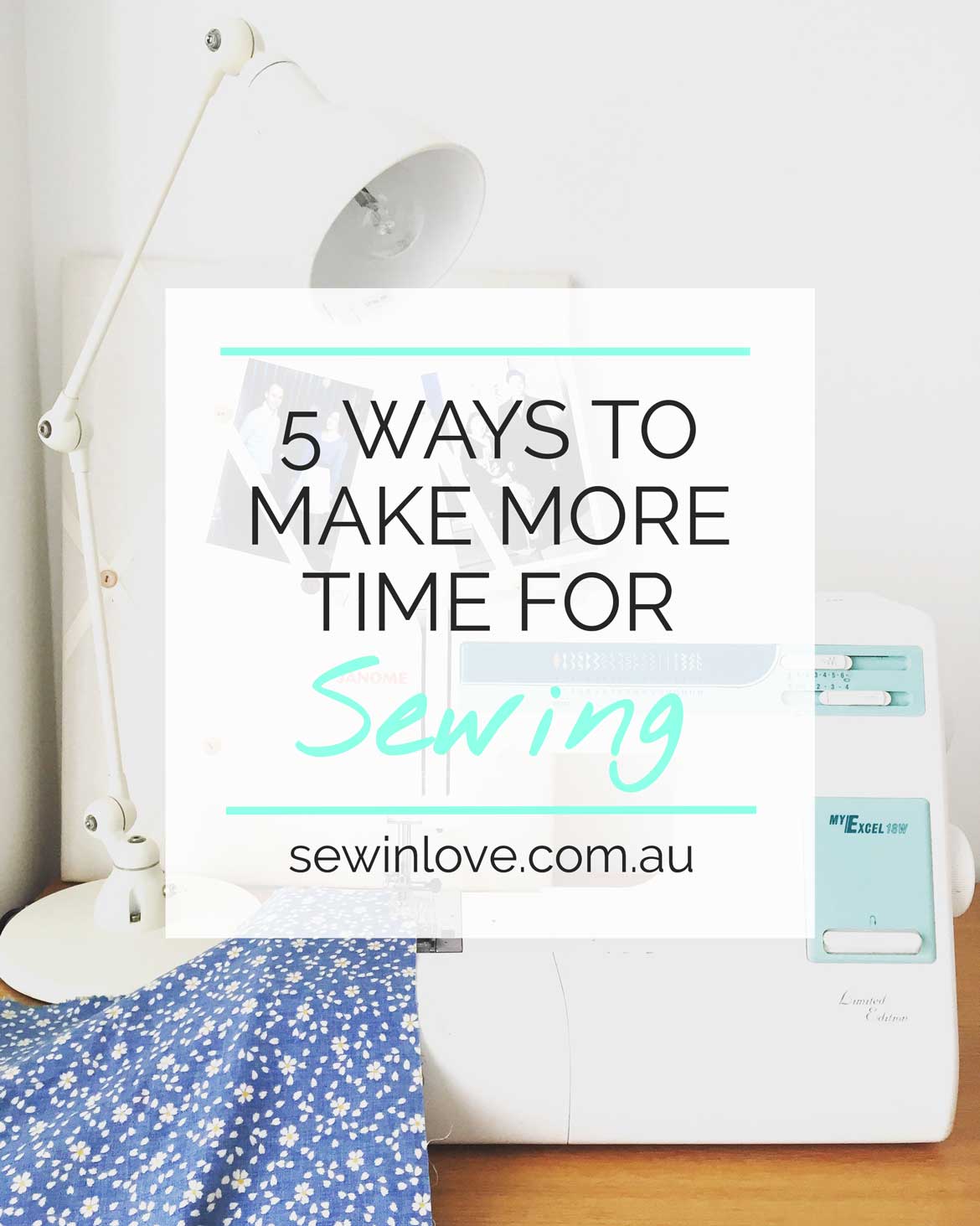 Make a Mini Sewing Toolbox

I like to keep all my sewing essentials inside the desk I use to do my sewing. My little toolbox includes a thread clipper, pins & pin cushion, a ruler, the sewing machine manual and a small plastic bag. When I sew, I place the bag next to the sewing machine and throw in all the loose thread so it doesn't end up on the carpet.  Having these key items on hand lets me start sewing quickly. All my other sewing gadgets are stored in a box next to my desk. I can get to them if I need, but I find that I can often do a session of sewing using just the items in my desk.


Oh, I decided to include my drawings in the blog post today – they are just quick scribbles but I hope you like them!

Do chores when baby is awake

This tip is for the mamas out there. I try to do all my housework when Umi is awake. This means I can use her naptime to sew. For example, I fold the laundry on the floor with Umi. I talk to her about an item I'm folding (e.g. "here's papa's blue socks"); she loves looking at all the clothes and feeling the different textures. Just place your folded laundry out of baby's reach, otherwise you'll be constantly re-folding them! When I do the dishes, Umi plays on her playmat where I can keep an eye on her.

I think involving your baby is key to successfully combining chores and playtime.

I saw in a Japanese parenting magazine once,  how a mother gave a scrubbing brush to her toddler so that they can have fun scrubbing the bathroom tiles together. Sure, it takes a lot longer to complete each chore, but you can make it really fun for your baby.

Set up now, sew later

Sometimes, you have just 5-10 minutes of free time. Maybe you got the baby ready to go out extra early, or you're waiting for something to finish cooking in the oven. I use these "micro" bits of spare time to set up my sewing space. You can accomplish small tasks, like setting up your ironing board, or winding a bobbin. Using time wisely to set up means that when you do get a longer chunk of time, you can sit down and get straight into sewing.

Order fabric in bulk

Online fabric shops are my best friend. I find shopping in physical stores stressful, especially when I have Umi with me.

Carrying multiple bolts of fabric whilst pushing a pram is pretty much impossible.

That's why I've turned to online shopping to stock up on fabric. The trick is to plan ahead and order fabric in bulk, that way you can save on shipping. It also means you don't waste time having to shop again few weeks later.
Sewing project planning is lots of fun, and it can just be as simple as jotting down the sewing pattern and what fabric you plan to use. I like to draw little pictures of the items I plan to make in my planner.


Sew by thread colour

Do you have multiple sewing projects going on at the same time? I certainly do! You can save yourself the hassle of re-threading your sewing machine by sewing similar coloured items in the same session. If I'm using blue thread for example, I try to think of all my other projects which also require blue thread. It could be as simple as hemming Dave's jeans while I make a blue burp cloth.
I'd love to know what you do, to make sewing a priority. Please share your time saving tricks with other readers, I'm sure they'd love to know too!
How do you make time for sewing? Let me know in the comments below!