A baby kimono is an essential item in Umi's wardrobe. We've used one as her pyjamas ever since she was born. I love fact that you can just wrap it around her, without the need to pull it over her head. This is a big plus especially when you are dealing with a newborn, because they can't support their heads yet.
Before I had Umi, I picked up some newborn kimonos in Japan. They are called "hadagi", which means "skin-wear".  Hadagi is always made of soft fabric because it's worn directly on the baby's skin.  Umi is far too big for the Japanese hadagi now, so I decided to make my own version in bigger sizes.

The Sewing Pattern
Download the baby kimono sewing pattern from my Free Creative Resources Library by signing up below:

This sewing pattern comes in two sizes, 3-6 and 6-9 months. Umi is 7 months old and she is wearing the 6-9 months size.  Make sure you print the sewing pattern WITHOUT adjusting the size. You can check if you have printed correctly by measuring the test square with a ruler.
Glue the 4 pages of the sewing pattern together so it looks like this: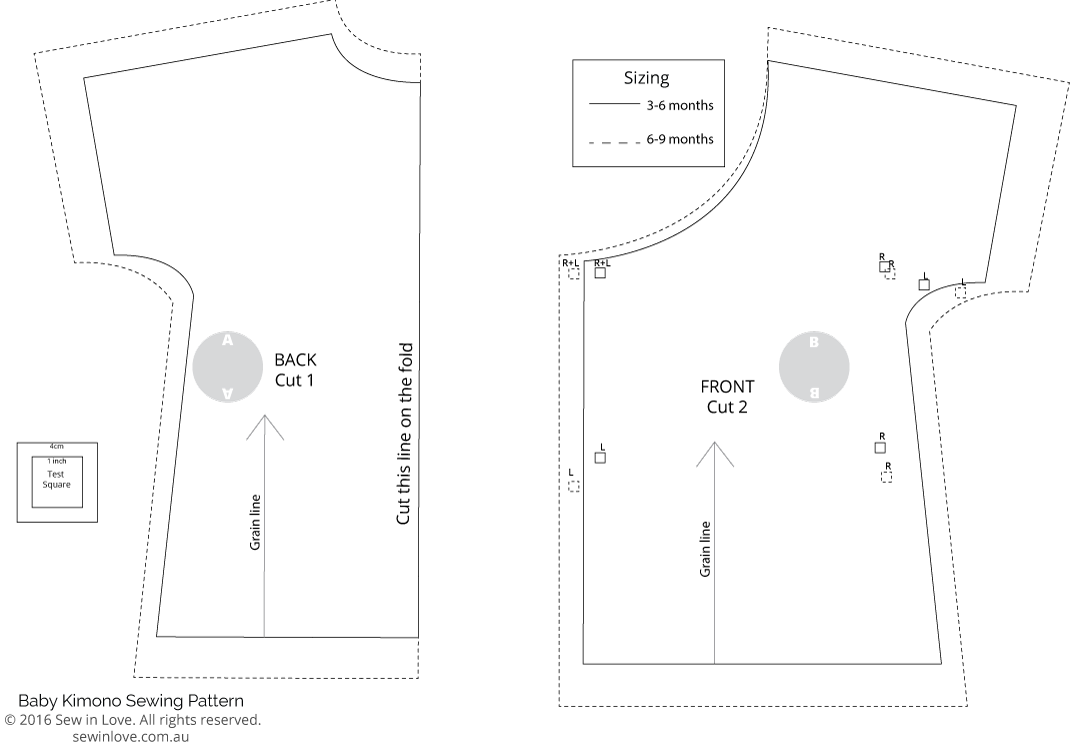 You Will Need
0.5m (0.55 yds) knit fabric
1.1m (43″) of 10mm (0.4″) wide cotton tape (optional)
Instructions
Add the seam allowances as shown below before cutting the fabric. Also cut approx. 85cm (25″) of 2cm (4/5″) wide bias tape from the same fabric. 

Cut 6 pieces of cotton tape, 18cm (7″) long each. Optional Step: You could make your own ties from your fabric, instead of using purchased cotton tape.

With the wrong sides facing, stitch the shoulder seams together. Trim half the seam.

Zigzag stitch the shoulder seam down towards the back.

Fold sleeves twice and stitch.

Fold bias tape in half and attach around neckline, making a mitred corner along the front edges. There's something hugely satisfying about achieving a beautiful mitred corner!

Fold the hem twice and stitch.
Baste cotton tape to left side seam where marked (1).With the right sides facing, stitch side seams 0.6mm (1/4″) from edge (2). Trim close to edge (3). Carefully snip seam along curve. Turn garment so that the wrong sides are facing each other. Stitch 0.6mm (1/4″) from edge, encasing the raw seams. 
Attach cotton tape to front of kimono, where marked.
I've made this sewing pattern exactly how a real kimono is worn. In Japan, when you put on a kimono, you always wrap the right side around yourself first.
I think this baby kimono would make a wonderful gift, because it's not something you can easily find in stores. It really is the most easiest thing to wrap around a baby when it's sleepy time. AND oh so cozy if you choose a soft knit fabric.
What fabric will you choose to make your baby kimono? Let me know in the comments below!