Does it bother you when you see someone throw a cigarette butt out of their car window? Or a beautiful park tarnished by cans and bottles on the ground; all of which could be recycled? If this kind of stuff makes you mad, but paralysed about what you can do to make a difference, then read on!
How I think we can DO something
I believe that each coffee cup we reuse and each canvas bag we shop with makes a difference to our environment. Not only because we are reducing landfill, but because someone is always watching. That man lining up in the cafe behind you to buy a coffee. The couple parked next to you at the shopping centre carpark. Someone will notice you've refused disposables, that you care enough to forgo convenience for the greater good. And that someone might just be inspired enough to bring their own cup or bag next time.
This power of subtle influence is the reason why for a long time, I've wanted to host an Instagram challenge for reducing waste.
The #icareaboutwaste Photo-a-Day Instagram Challenge
For two weeks, this Instagram challenge invites you to post a daily photo related to one of fourteen zero waste lifestyle prompts. I'm co-hosting this challenge with Petal from Sustainable Wraps because we are both super passionate about reducing landfill. And she makes beeswax wraps from the prettiest fabrics. A perfect solution for fabric lovers wanting to use less plastic wraps.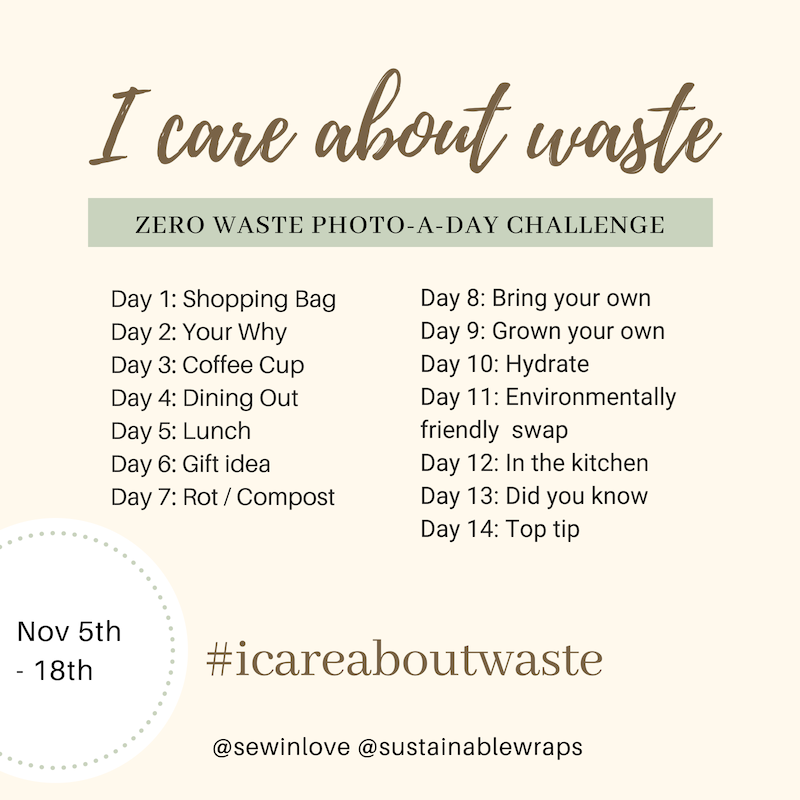 Dates:
Monday 5 November – Sunday 18 November 2018
You can join in for the entire duration, hop in and out whenever you like, do the challenge a bit later, or just join in the conversation. Up to you 🙂
The Challenge:
Everyday for 14 days, post a photo on Instagram inspired by the daily prompts (below). Tag your photo #icareaboutwaste.  Mention @sewinlove and @sustainablewraps in your post so we can see!
Need some inspiration? Take a look at my zero waste kitchen ideas and my vintage pillowslip shopping bag.
Daily Prompts:
Week 1 (5 to 11 November 2018)
Day 1
Shopping Bag
Day 2
Your Why
Day 3
Coffee Cup
Day 4
Dining Out
Day 5
Lunch
Day 6
Gift Idea
Day 7
Rot / Compost
Week 2 (12 to 18 November 2018)
Day 8
Bring Your Own
Day 9
Grow Your Own
Day 10
Hydrate
Day 11
My environmentally friendly swap
Day 12
In the kitchen
Day 13
Did you know
Day 14
Top tip
I am so excited to learn what you all do to make our planet a little greener. And I'm looking forward to being inspired to do more.
Let's make a difference together! Do you care enough to join the #icareaboutwaste Instagram challenge?