My parcel has finally arrived from Japan! I went pretty crazy at 100 yen stores in Japan, and had to send a box back via seafreight to Australia. In the box, I also stuffed in the fabric I had bought when I went fabric shopping in Tokyo.
The patchwork squares on on the upper left are from 100 yen stores.  The liberty prints on the top right are from Nippori, Tokyo.  They were all less than 500 yen ($6.50 AUD) per meter.  On the bottom row, the gingham check fabric was from a clearance basket in another store in Nippori. Yes, there is a yellow and blue thing happening here; I plan to make bunting out of these for my wedding in my theme colours.
The very cute lamb and baby panda print fabrics, I found at Tomato in Nippori.  I have no idea what I will do with them, but they were too sweet not to purchase.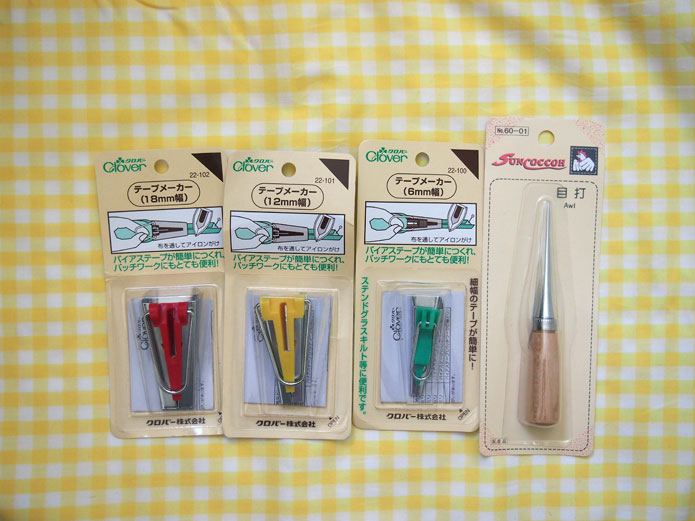 In the mega craft mecca, Yuzawaya, I bought three Clover bias tape makers.  I've always wanted these, after I read reviews by other crafters online.  I also picked up a stitching awl, as I can't seem to find them in Lincraft or Spotlight in Australia.
So soon, there will be posts on my bunting making adventure and my first attempt at using my new little Clover toys.  Ciao for now!