A slouchy, stretchy cocoon cardigan is just the thing to throw on when it's a little bit chilly. Now that I'm becoming more comfortable with knit fabrics, I decided to make a sewing pattern for this simple, shawl style cardigan.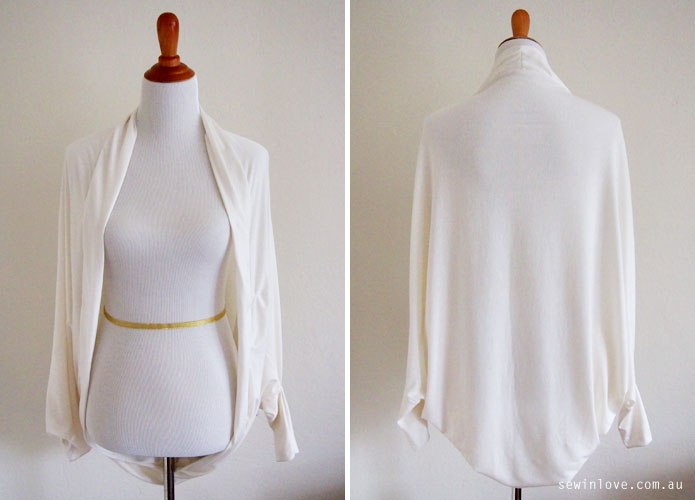 The tutorial is on my new Sew in Love YouTube channel. I'd love to know what you think of video tutorials vs traditional blog post tutorials.
Fabric
After searching online for organic cotton jersey, I settled on a bamboo knit jersey from Wazoodle. It has the right weight (light to medium) and drape for my project, and the brand also recommends the fabric for baby slings.
Video Tutorial
The tutorial is on YouTube, separated into 2 parts. Please TURN ON annotations, as there's a correction in the sewing pattern measurements.
The collar should measure 5.5″ x 45″ (14cm x 114cm).
How to wear cocoon cardigans
I'm very much a jeans person, so I just throw my cardigan on my usual ensembles. I like how it's long enough to cover my bum.
It also works as a great cover-up over sleeveless tops and dresses; so handy for a day out in the sun. The grey lace overlay skirt on the right (below) will be my next sewing tutorial, so stay tuned!