Hi everyone! I made this skirt in one Sunday afternoon using a lovely knit fabric I purchased at a clearance sale at Spotlight. There's no elastic in the waistline – it uses the stretchiness of the knit fabric for the waistband. I think these skirts are also known as yoga skirts. It's certainly very stretchy and comfy, you probably could do a few yoga poses in this skirt!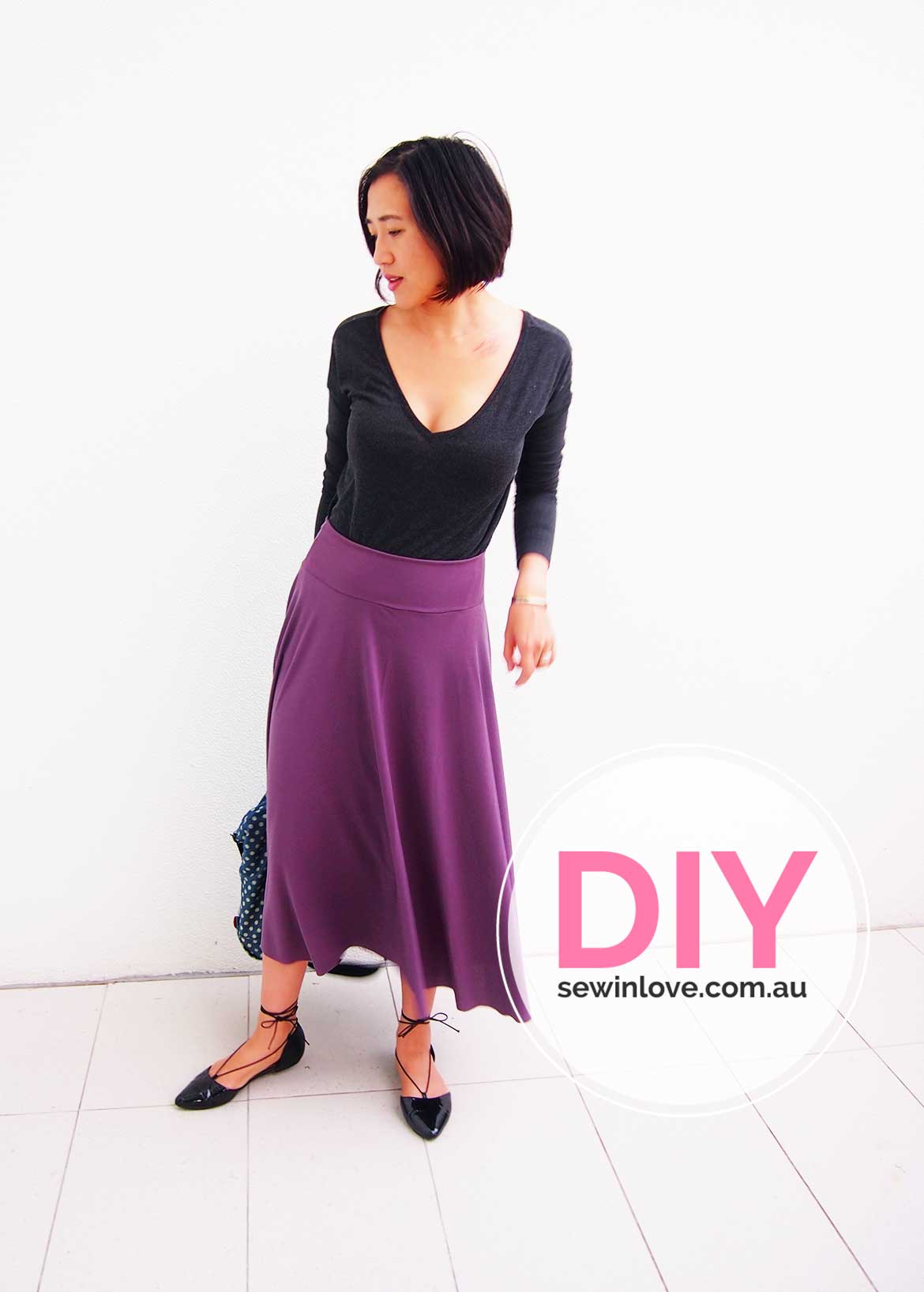 Skirt – DIY / Top – Aerie (similar) / Nappy Bag – Handmade by my Mum / Shoes – DIY Lace-up Flats
The Sewing Pattern
I was inspired to make this skirt when I saw this Super Quick Knit Skirt Tutorial on Polka Dot Overload. I followed her instructions and had a cute skirt in no time!
I made a sewing pattern for a half circle skirt based on the Circle Skirt Calculator by By Hand London. This calculator calculates the radius and fabric length for you, based on your waist measurement. You'll notice below that the calculator uses just one pattern piece for the entire skirt. I wanted to have two pieces; a front piece and back piece. Because I wanted a midi length, I needed to have the two pieces, otherwise, it would not fit on a standard width fabric.
To create a sewing pattern for a skirt with a front and back piece, I used only the radius from the calculator and ignored the fabric length number. I drew the length of the radius on paper and drew another line at 45º (instead of the 90º on the diagram above). I joined the two lines with an arc to complete my sewing pattern.
To make the skirt, simply extend the radius to your desired skirt length.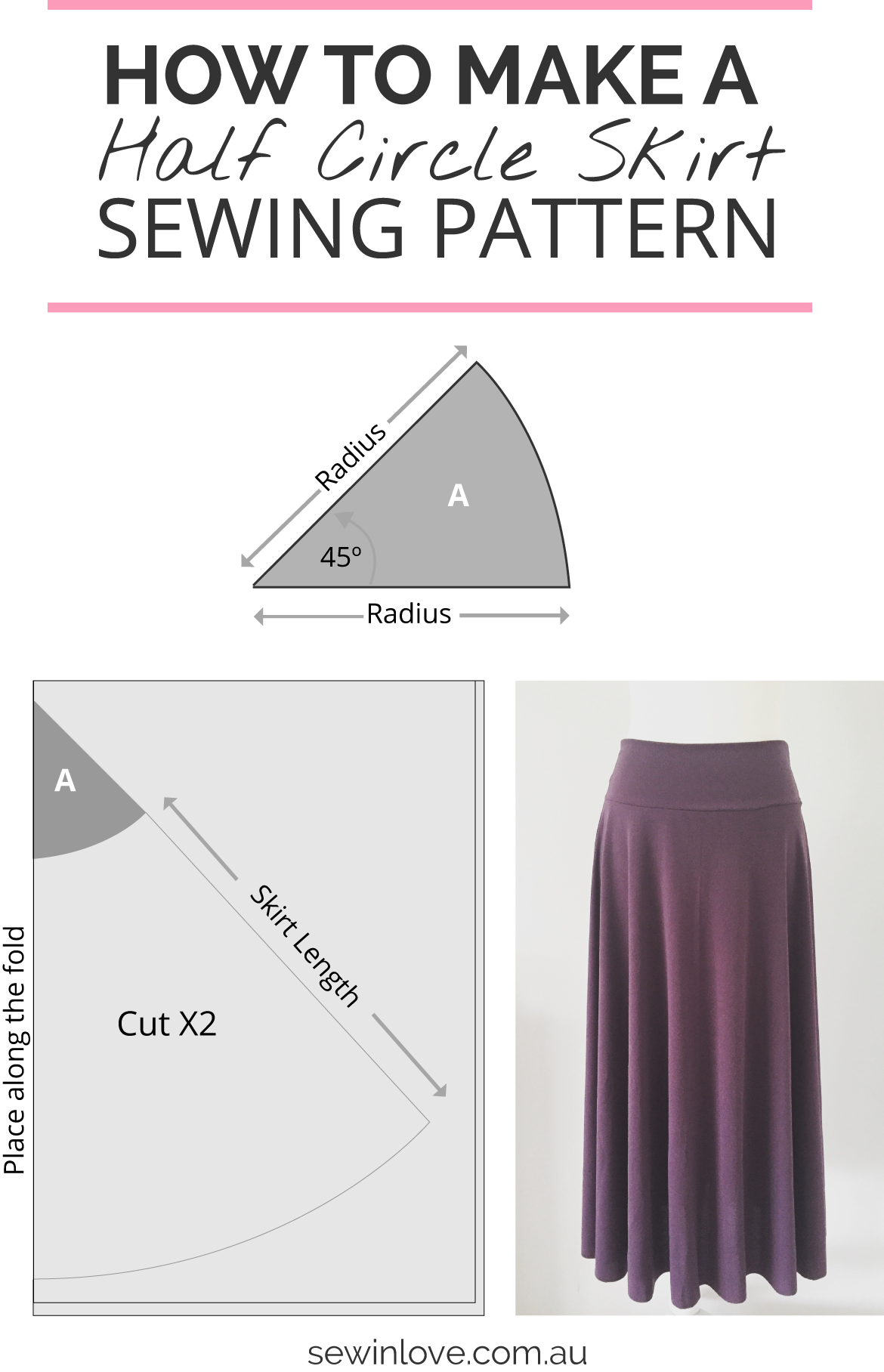 I used my serger to do all the sewing on this skirt, which probably helps a lot in terms of finishing it really quickly. Just remember to use woolly nylon thread on your machine to cater for the stretch in the fabric.
The Fabric
I'm not 100% sure what this fabric is, but I am guessing it is a polyester knit. It's medium weight so it works well as a skirt, without the need for lining (you don't want a see through skirt!). I picked up my purple knit fabric on sale at Spotlight.
If you'd like to make this skirt, I recommend finding fabric with good stretch and recovery. Pull it wide and check that it "bounces" back to its original form.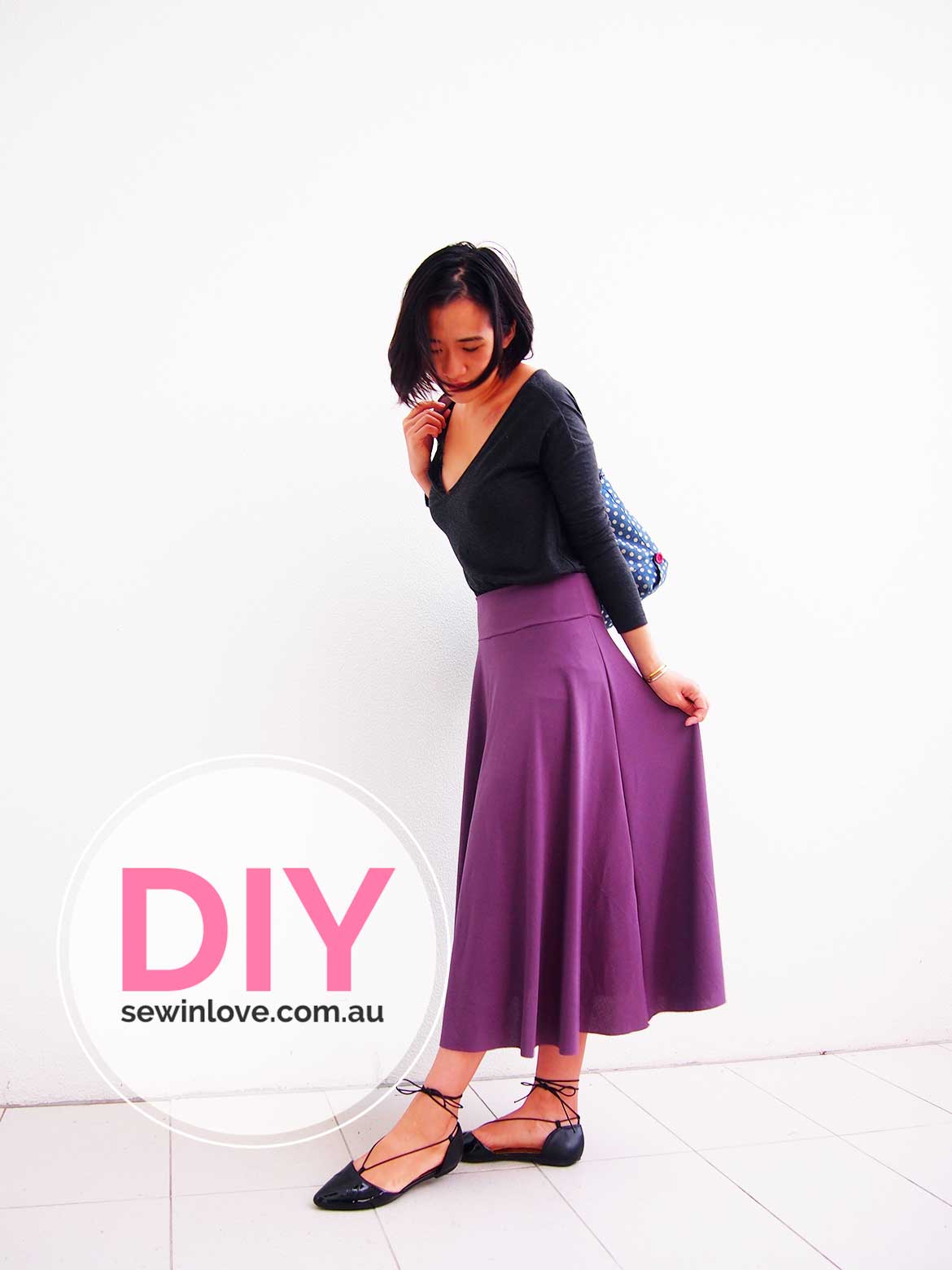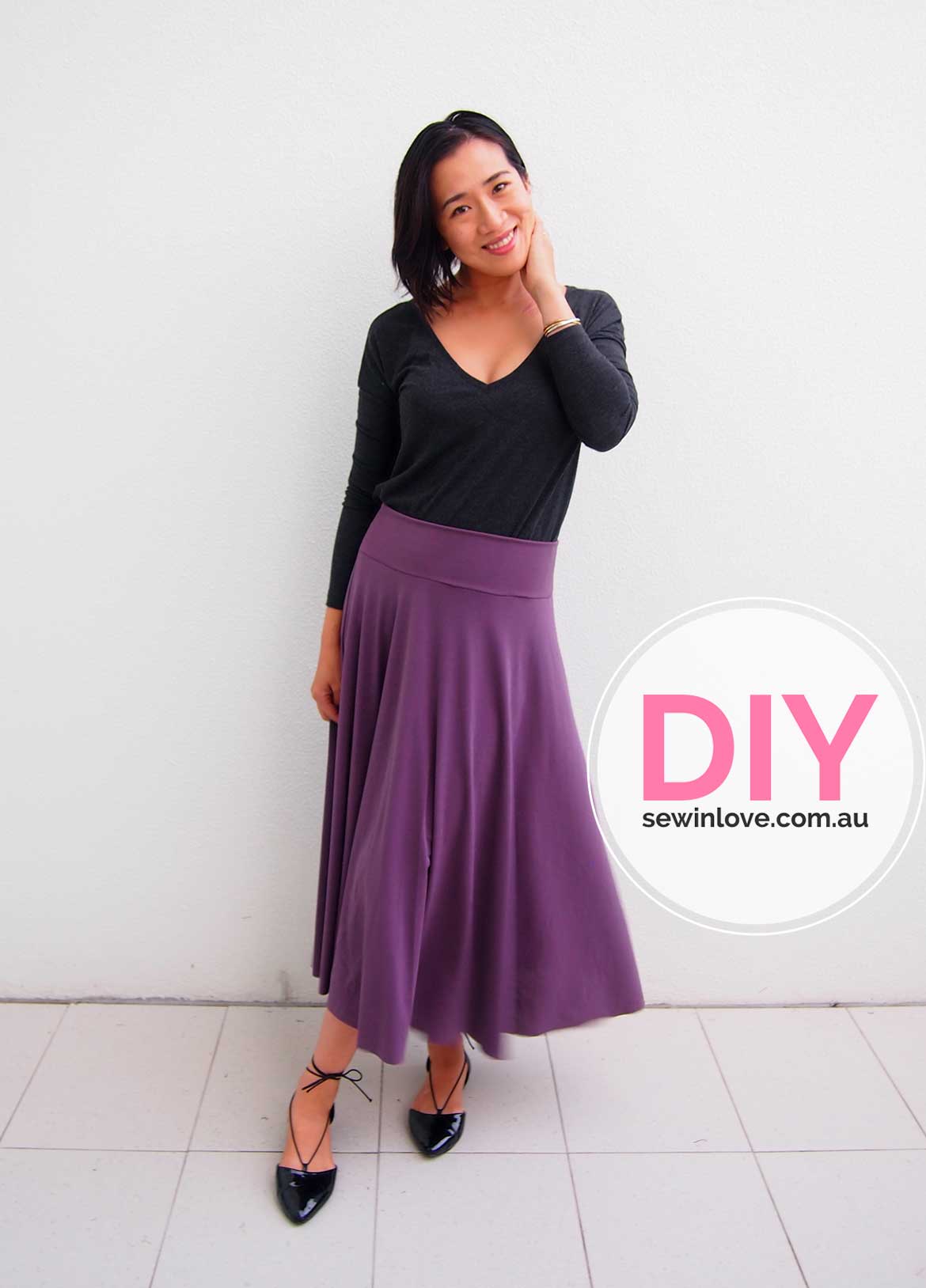 Styling Ideas
I love my jeans, so I don't often wear skirts, but I was recently inspired to wear midi skirts by a Japanese magazine. I picked up VERY, a Japanese fashion and lifestyle mag for mothers at the airport on the way back to Sydney. There was one article about how long, voluminous skirts are great for us Mamas, because:
They look good with flat shoes.
You can run, chase kids and squat down easily.
It makes you feel more feminine than wearing pants.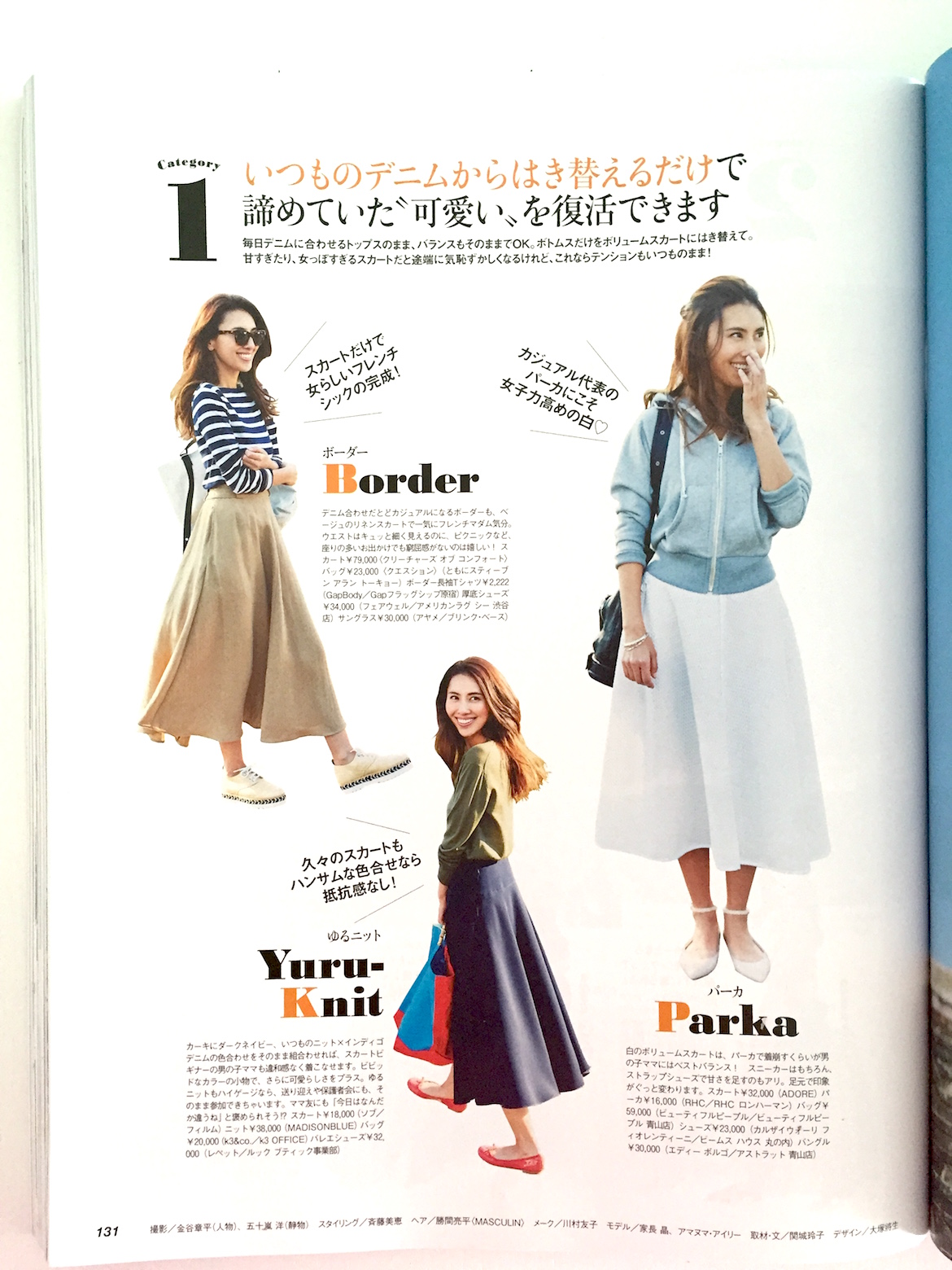 I especially loved their casual styling ideas and can't wait to try swapping my jeans for this skirt (especially during Me Made May). If you are constantly running around and chasing after little ones, I recommend sticking to a midi length. Maxi skirts can be a real pain when you're in a hurry, especially when you're going up stairs because they get caught under your feet!
What are you thoughts on skirts vs pants? Are you a skirt person or a pants person?